Probably most of you fit into 2 categories: rolling your eyes at all the red, white, and blue food and having "just grill me a juicy brown cheeseburger!" type of thoughts OR looking for red, white, and blue food ideas because you're hosting or taking food to a 4th of July party.
This post is for the latter category. ????
If you want a cheeseburger, read this post instead (hmmm, not a bad idea actually, after looking at it to put the link here, makes me kind of hungry for a cheeseburger now!).
I bought a watermelon the other day. Among a few other fruits. It's summer. I think there's a rule that you need to have fruit on hand at all times during the summer. Or maybe it's just a personal preference.
With the 4th of July coming up, I was also trying to think of something 4th of July-ish to make, just because I like excuses to play with food… ha. I always think of raspberries or strawberries (red), bananas (white), and blueberries (blue) when I make patriotic food. I wanted something different, and that's when I thought of my watermelon I had just got. Watermelon actually has 2 of those colors! So, anyway, I ended up making a flag in the rind and used the watermelon for a fruit salad bowl.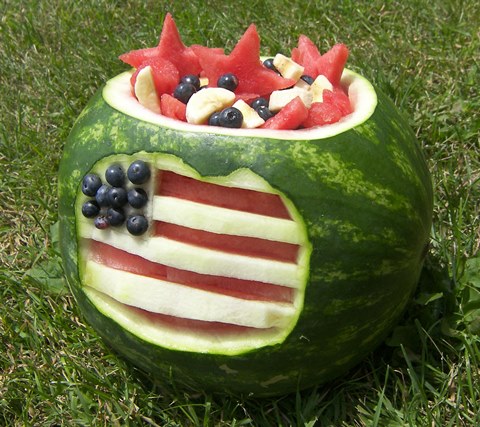 I'll show you how I did it. I'm sure this has been done before and there might be a better way, but this way was easy and quick. It was quick because I'm not a perfectionist. ????
Slice off an area of green, the size you want your flag to be. Just a thin slice, you don't want to go deep enough to see any red! Not to sound mom-ish or anything, but be careful with this step! The rind is tough and slippery and while I was doing it, my knife slipped aaaaaaaand… I'm currently sporting a cut on my thumb from it.
Next, section off a box in the upper left corner for the star section. Then cut stripes. Slice underneath the stripes. Where the red stripes will be, cut the ends and you'll be able to lift the white rind out and tada! red stripe.
I know, I had to cut off a white stripe so I could get my knife in there, then I just secured it back on with toothpicks.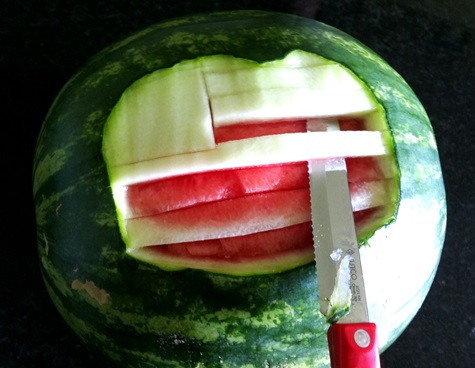 For the star section, I cut divots with the end of a vegetable peeler and then stuck blueberries in… some of them tucked snugly in and some of them had to be pinned in with a toothpick.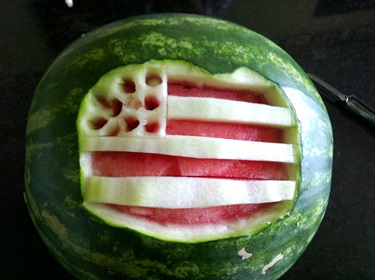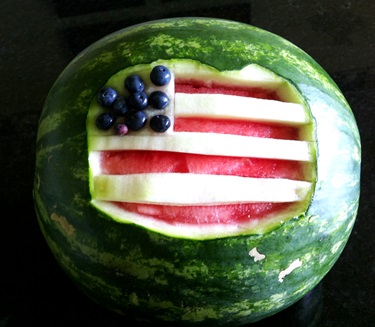 And there you go, a patriotic watermelon.

To make a bowl, cut a thin slice off of the bottom so it has a flat spot to sit on.
Scoop out the watermelon (but don't get too close to the back of the flag, it needs to stay solid red there).
Now, fill your homemade festive American bowl with fruit salad.
It could be any fruit mixture… I just added blueberries and bananas to the watermelon to keep it red, white, and blue, and cut a few stars out of some watermelon just for fun.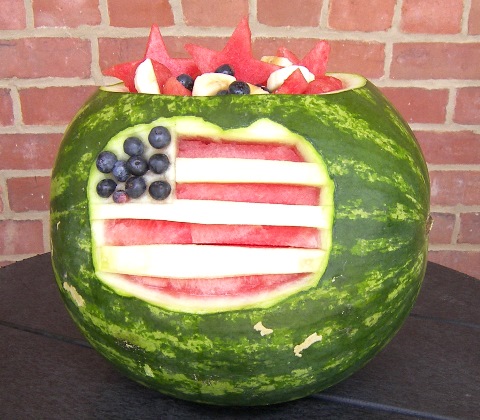 Comments