Posted on April 28, 2011
Filed Under Easy meals, Main dishes
I've been hungry for haystacks since February. Yeah, I know. You'd think I'd have made them before now, what with being in charge of the food around here and all!

How I know it was February is because for a couple weeks in a row, the church bulletin had "Haystack Supper Fundraiser: Friday eve, Feb 25″ in the Upcoming Events section for this area. Seeing that every week got me more and more in the mood for them and THEN we ended up not going to the fundraiser! So, to make a long story short (after I already told the long story), last night was the night, and I finally got my haystacks craving satisfied. Man, I could dig my fork into this pile all over again!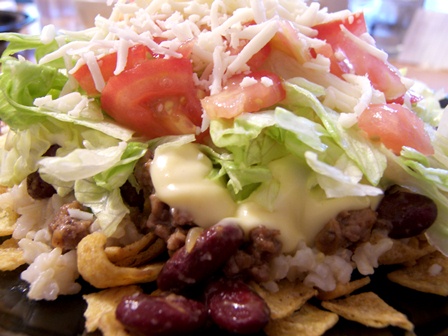 Haystacks are kind of a 'to each his own' thing, so there's not really a set way to do them… the components vary and the order of stacking varies. So, I'll just show you how we like them and you can tweak it from there. I use the term 'we' loosely because I'm the only one who likes rice on it and the tomatoes are not very popular among the little people around here.
Speaking of rice, the rice totally flopped last night. I mean really. Rice. How hard can it be… get it to boiling in a pan and then let it simmer for 45 min WITHOUT lifting the lid, then when time's up, you lift the lid and there is your rice, magically perfectly done, fluff it with a fork and put it on the table. Well, *ahem*. I now know what happens when you accidently put in too little water. The magic doesn't happen. Half of the grains are fluffily cooked and half of them look like you just dumped them out of the bag and half of them look partially cooked— ok, I think I got too many halves here, but you get the picture. I noticed it when I was about to dish everything up, so I put more water in, cranked the burner to High and cooked the rice like crazy for about 10 minutes. It worked ok and was soft enough to eat.
Here are the components to our haystacks. We thought of salsa later, so that's missed on the picture.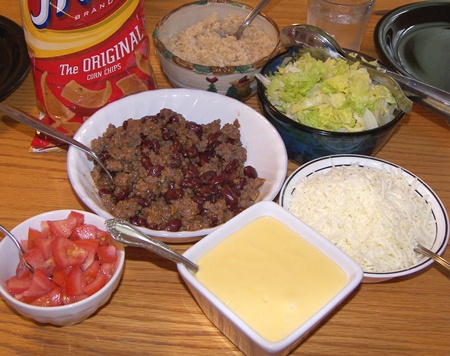 Here's the order I layer it in:
— Corn chips, slightly crushed (you can also use crackers, but I like the extra flavor and crunch of chips)
— Rice
— Meat mixture (brown hamburger with onion, then add a packet of taco seasoning and a can of kidney beans)
— Cheese sauce (1/4 cup melted butter, 2 Tbsp flour, 1 cup milk; bring to boil, then stir in 1 cup cheddar or Velveeta)
— Lettuce
— Diced tomatoes (can also open and drain a can of diced tomatoes, a handy time-saver tip from my friend Linda Y.)
— Shredded cheese
— Salsa
Maybe there is something I miss that would make haystacks even better, so if you make them different than this and if you feel like it, I'd love to hear what variations you do to haystacks!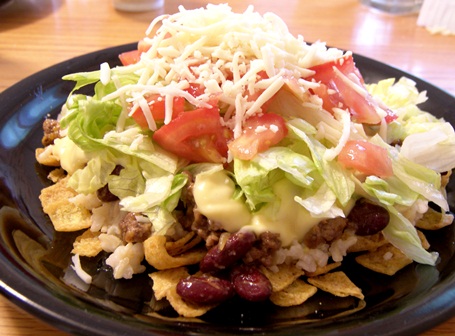 While I was making this, I was thinking that this would be a good meal option for those it's-4:30pm-and-I'm-staring-in-the-fridge/freezer/cupboards-for-a-menu-inspiration moments. Or maybe you guys never do that… I do it more often than I care to admit. Anyway, I think I'm going to keep this meal option on hand from now on… The rice takes very little time to get it to simmering, the meat would be fast (especially if it would be already browned in the freezer), cheese sauce takes very little time and the rest of the stuff is basically just putting it on the table… which the kids did last night. Actually, this meal isn't far away from the kids totally doing!
Speaking of which, my goal this summer after Lexi gets out of school is to perfect about 5 good, but easy enough, meals that the girls can do by themselves. Then, once in awhile, I can say, "Hey, you guys go make ____________ for supper, please." ???? Haystacks may just be on that list.
Not sure what's up next, but it's seems like f.o.r.e.v.e.r since I've made or eaten sinful chocolatey richness, so I see that in my future for this weekend. And since I have to feature it on here in order to make it 'legal', that might just be coming up next……….
Comments