One of our dishes for supper this evening was a new recipe… and a hit!!! Creamy Onion Potatoes . We also had a pork roast done most of the day in the crockpot and served with b-b-que sauce, salad (without homemade croutons, I burned them

), and refrigerated breadsticks (out of a 'pop-able' can). A very good supper with little fuss!
Last night we had a very easy meal too! Mondays always get sort of wild for me for some reason, I guess catching up from the weekend. So, Shannon got home and I hadn't started anything yet, but in about a half hour, supper was on the table… frozen tater tots baked and eaten w ketchup, fried chicken breasts (actually an easy quick diet meat… spray skillet w non-stick cooking spray, thaw frozen chicken in microwave, put it in skillet, season to taste *smiling at that line*, and fry on both sides until not pink in the middle), peas , and refrigerated crescent rolls (out of a pop-able can). I keep those crescent rolls on hand. We just love 'em. You may say that the homemade ones are much better… well, you've never tasted my homemade ones! The whole bread realm, let's just say I need more practice on that!

Back to supper tonight… this recipe is in the Taste of Home's 2004 Quick Cooking Annual Recipes book. I only took one picture, after it was done. There wasn't a whole lot of anything interesting going on because there's not much to making it, so that's why no step-by-step pictures.
Creamy Onion Potatoes
6 cups cubed red potatoes, cooked
1/3 cup chopped green onions
1 carton (16 oz) French onion dip
White pepper to taste
1 cup (4 oz) shredded cheddar cheese
In a bowl, combine potatoes, onions, dip, and pepper. Transfer to a greased 1 1/2 qt baking dish; sprinkle with cheese. Bake, uncovered, at 350 for 20-25 minutes or until cheese melts and potatoes are heated through. Yeild: 6 servings.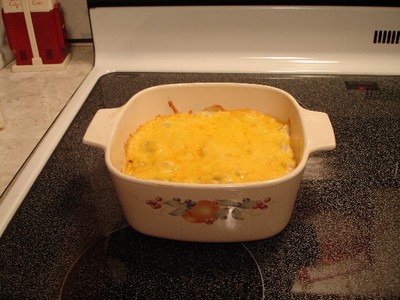 In case you can tell, I made a half batch because 6 servings would've made way too much.
My take on it: Definitely on my would-make-again list!!!! A good way to dress up potatoes. It was so easy and full of flavor, not to mention attractive… what dish isn't attractive that's topped with melted cheese?!

Just a couple 'extra' things here… mgk1102003 , thanks alot for your feedback after trying the banana split dessert! It was fun to hear that someone had tried one of the recipes!

And, misssteph101 , we want your rice crispie roll recipe!

Thanks, vernam06 , for introducing it to us!