Olive Garden Salad
Posted on April 14, 2014
Filed Under Salads, Side dishes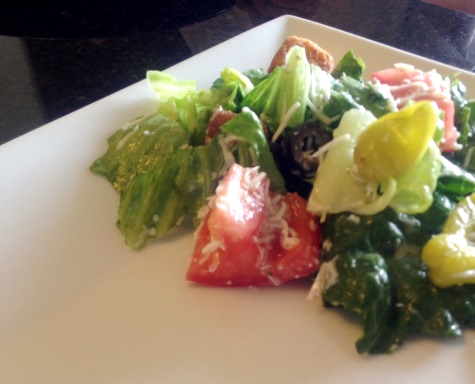 Have you ever had the salad at Olive Garden? What they lack in breadstick perfection, they make up for in salad (my opinion). We love this salad and it often accompanies our meals when we have Lasagna, Spaghetti & Meatballs, or Parmesan Chicken.
There are 7 ingredients: Romaine lettuce, tomatoes, black olives, pepperoncini, shredded mozzarella cheese, croutons, and dressing. Parmesan cheese is optional. This salad tastes exactly like one you'd get at Olive Garden.
Here's why.
I think in any salad, the secret is the dressing. For this salad, I've tried dressing recipes that were named "Olive Garden Dressing", but none of them tasted quite right. Sure, they were good, but not AS good. So, here's my secret: I go into our local Olive Garden and buy a bottle of dressing. ???? It's $5.49 with tax (and I never know whether or not to tip when it's just a quick no packaging carry-out item, so sometimes a do and sometimes I don't). It may be slightly more expensive than other dressings, but you can make 3 salads with one bottle. And it tastes perfect every time AND you don't have to make dressing every time you make the salad. I heard it's available at Sam's Club now. I wonder if it's the real thing. Does anyone know? I just might have to get some there and do a taste test.
Olive Garden Salad …ingredient list came from studying my salad one time at the restaurant, quantities are my personal preference
1 bunch Romaine Lettuce
2 Roma Tomatoes, seeded and each cut into 8 chunks
1/2 cup sliced Black olives, or a 2.25 oz can, drained
15 mild Pepperoncini
1 heaping cup shredded Mozzarella Cheese
1 heaping cup Croutons
3/4 cup Olive Garden Dressing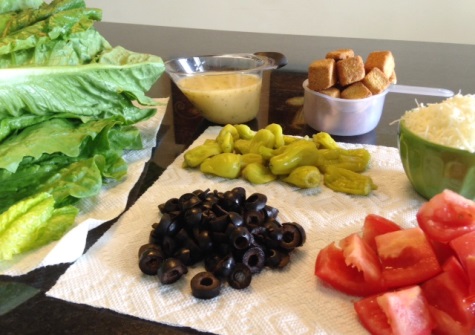 I always drain the olives, pepperoncini, and tomatoes on paper towel for awhile before putting them in the salad.
Wash lettuce. Dry and rip into large bowl. (A lettuce spinner has been on my wish list for about 5 years, but every time I have some extra spending money to blow on kitchen stuff, I decide drying lettuce leaves with paper towel will be fine after all, and end up getting more "toys" for cake decorating instead.) Edited Dec 2014: I am now the proud owner of a Pampered Chef Salad Spinner! I. love. it!!!

Put all ingredients into a large bowl and toss.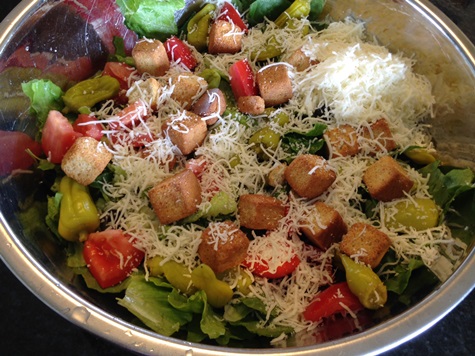 Dump into serving bowl and serve.
For how many this serves:
If using as a side salad, I make a half batch for our family of 5 (and the girls eat about as much as an adult would, even the 3-yr-old).
If using as a main dish with grilled chicken on top, I make a whole batch (as a main dish, the girls don't eat quite as much as an adult would).
In both cases, there's usually a serving or two left over.
For company, I make one batch for every 10-12 people.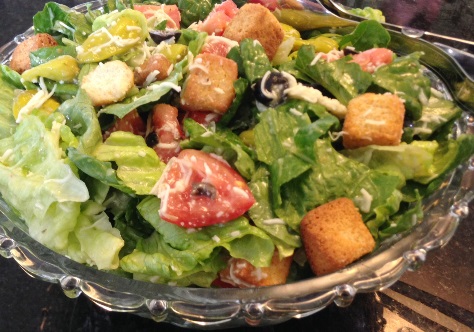 We had this for lunch yesterday and there was a serving of leftovers. Because this salad keeps better than some dressing-mixed-in salads, I put the leftovers in the fridge. I ate it for supper (5 hours later) and the lettuce was still crisp and crunchy. I think it might keep better because it's a low sugar dressing and doesn't make the lettuce soft.
Speaking of lunch yesterday, here is a variation for serving this salad. It's commonly thought of as a side salad, but once in awhile, we like to switch things up from our regular chicken breast salad and use Olive Garden salad for the salad part instead. (By the way, our regular chicken breast salad is featured here almost 3 years ago, but we still do it exactly the same, and still make it often, especially in the summer.) Anyway, we switched it up yesterday and used Olive Garden salad… simply fill a plate with the salad and put a sliced perfectly-seasoned-and-grilled-by-Shannon chicken breast on top.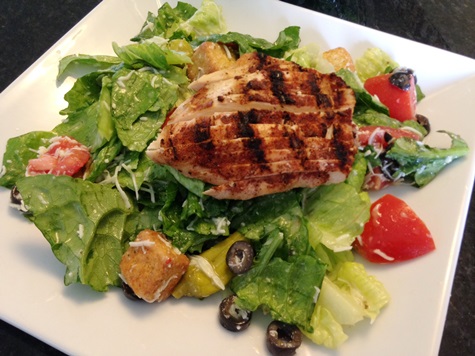 Comments