Posted on August 31, 2009
Filed Under Breakfasts
REESES PUFFS! Any 'amen!'s to that?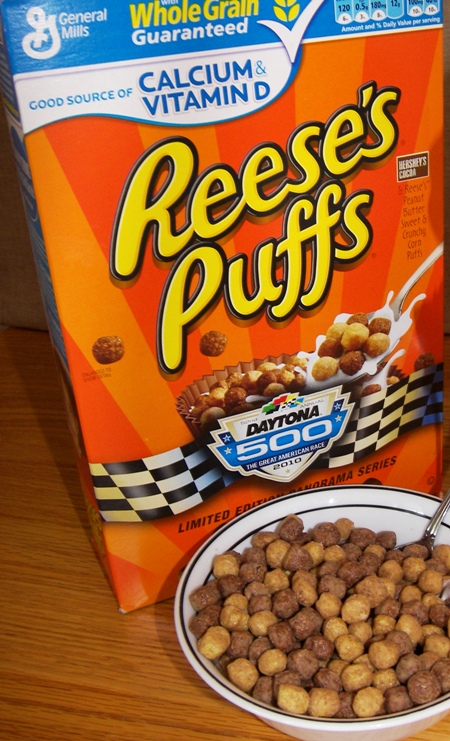 Whoever invented cold cereal with milk was brilliant. It's quick. It's good. It's healthy.
This post isn't going to have a recipe to make your own cold cereal, it's just a post about cold cereal. BUT, if you do want to make something as good as cold cereal to eat with milk, make this granola.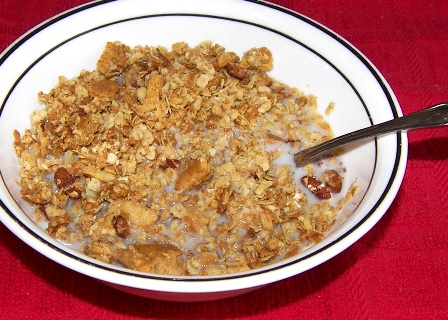 Hands down, the best granola I've ever had. Maybe it's because it has chocolate chips in it. Or maybe it's because it has all regular ingredients in it.
Anyway, back to rambling about cold cereal. I think cold cereal actually started with Mr. Kellogg and Mr. Post, but whoever is behind General Mills came up with the kinds that are the biggest hit in our family. A couple weeks ago, Kelloggs was on sale AND I had Kelloggs coupons, so I bought a bunch of Kelloggs cereal. Well, big mistake. EVERY single day, Tiffany asked for "Yucky Charms" (she can't say her L's) and Lexi asked for Reeses Puffs or Cinnamon Toast Crunch. We were all glad when it was time to get cereal again… welcome to our cupboards again, General Mills! Especially Reeses Puffs!
We do also like Post Honeycomb, Kelloggs Fruit Loops and Big-bite Mini Wheats, Quaker Life and Cap'n Crunch, but not enough for them to be 'regulars' in our cereal cupboard. Give us Golden Grahams, Cinnamon Toast Crunch, Lucky Charms, and Resees puffs any day! Tiffany would eat cold cereal 3 meals a day plus snacks if I'd let her. And it really does make a great bedtime snack!
Anyway, I'm just curious… what kind of cereals are regulars in your cupboard? What do your kids like?
Comments