Summer is coming to Ohio. We think. Today we're wearing jackets, but we've had a few warm days as teasers and the forecast looks promising.
These quesadillas are great for summer for 2 reasons: 1. They're quick (summers seem busier, less time cooking) 2. They don't use the oven.
These quesadillas are great year-round for 2 reasons too: 1. They're easy. 2. They're so good.
Sometimes when we have Grilled Chicken Breast Salad, I purposely have Shannon grill a couple more pieces of chicken than we'll need. When I'm cleaning up after the meal, I chunk up the leftover chicken and put it in the freezer for such a time as this: Chipotle Chicken Quesadilla night.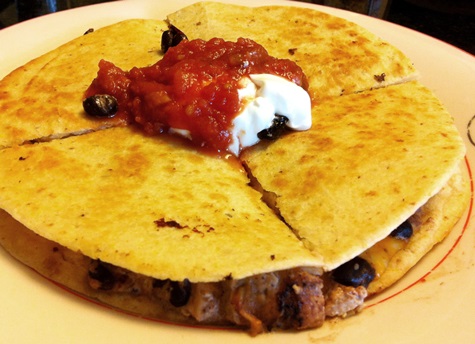 This is not a recipe from anywhere, it's just a thrown together dish.
This is a good walk-into-the-kitchen-30-minutes-before-mealtime-thinking-"what-can-I-make-QUICKLY" option.
So, get out your frying pan and start heating it up, I set mine to 300 degrees, which would probably be medium-low on a stovetop. Get out the sour cream, frozen chicken chunks, tortillas, can of black beans, and shredded cheese. Put the chicken in the microwave for 1 min to thaw. Put a bit of olive oil in the frying pan, add the chicken, and sprinkle with chipotle seasoning. Fry and stir a couple times.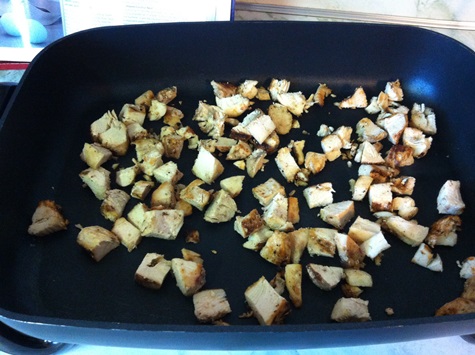 While that's frying, get the other stuff ready… Butter 1 side of each tortilla, drain the beans, open the sour cream and cheese.
Take the chicken out of the pan. Put 2 tortillas in the pan, butter side down. Smear with sour cream. Add chicken, beans, and cheese.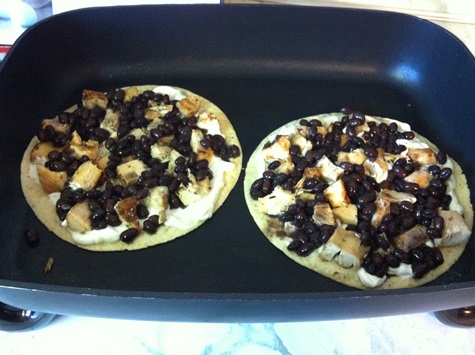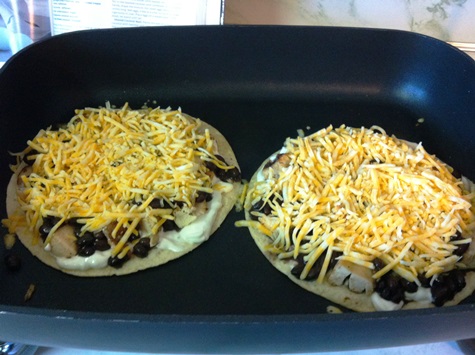 Put the other tortilla, butter side up, on top.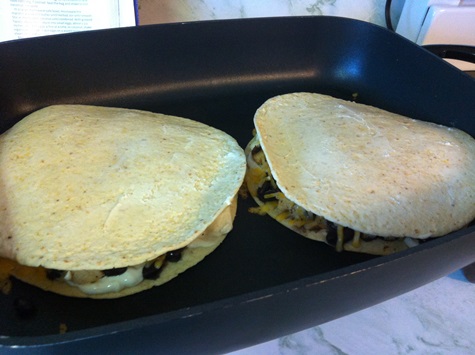 I didn't time how long to fry it before flipping, I just waited til the bottom tortilla was nicely browned and the cheese started melting a bit. Flip quickly, but gently, if that makes sense. If you flip quickly and wildly, you may have beans and chicken chunks hitting the ceiling.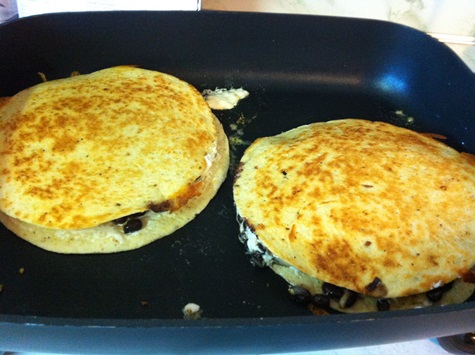 After the second side is fried, put on a plate and cut into fourths with a pizza cutter. Top with sour cream and salsa.
For sides, I serve extra tortilla chips & salsa and applesauce.
I make four quesadillas total (only 2 fit in the pan at a time) and I tried something different for the second batch… Instead of layering, mix the sour cream, chicken, beans, and cheese together. Put 2 tortillas in the pan, divide the mixture between them, spread it out, and put the other tortilla on top. Either way works great and tastes the same.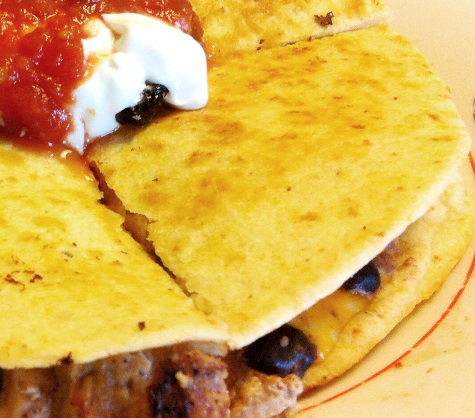 Now, for a bit of a concise recipe that doesn't have pictures mixed in, in case you want to copy and paste it somewhere. These measurements will be very estimated because I never measure them and the chicken amount varies with how much leftover there is at the moment.
Chipotle Chicken Quesadillas …add or subtract to your liking
2 cups of chicken, chunked
1 Tbsp. olive oil
2 tsp. chipotle seasoning
3/4 cup sour cream, plus extra for garnish
1 can black beans, drained
2 cups shredded cheese
8 tortillas, each buttered on one side
If chicken chunks are frozen, thaw in microwave for 1 min. Heat electric frying pan to 300 degrees or medium-low for stovetop. Sprinkle seasoning over chicken and fry in olive oil for several minutes, stirring now and then. Take chicken out and put 2 tortillas in, buttered side down. Put 1/4 of the sour cream, chicken, beans, and cheese on each tortilla OR mix those 4 ingredients together and spread 1/4 of the mixture on each tortilla. Fry for several minutes, flip gently, and fry the other side. Put on a plate, cut into fourths with pizza cutter, and garnish with sour cream and salsa. Round out the meal with tortilla chips, extra salsa, and applesauce. And dinner is served!
Summer, we love you and welcome you! Please come and stay for awhile!