Posted on July 14, 2008
Filed Under Out of My Comfort Zone, Salads
I'm going to throw in another 'Out of my comfort zone cooking' post. Because that's exactly what it was. I didn't know a thing about cole slaw, except that I like to eat it. I don't remember ever buying cabbage in my life. I do, however, remember a science experiment in grade school involving purple cabbage, but I forget what it was all about or I'd tell you. It must not have made an impression on me back then.
I was walking thro' the grocery store the other day and beside the bagged ready-made lettuce salads in the produce section was shredded cabbage. I suddenly got hungry for cole slaw. Instead of going over to the deli counter and ordering a small container of cole slaw, I decided to try homemade cole slaw, made by me. So, I grabbed a bag of the shredded cabbage.
We had a church picnic last night at Dan's (our pastor's) house. There were going to be burgers and hot dogs and from there we were supposed to bring a salad and dessert. I thought of cole slaw for the salad (and what I took for dessert will be featured in the next post). The nice thing about a potluck where there are 50 dishes to choose from is that if something flops, there are enough other dishes to pick from. The other nice thing about a potluck is that if something flops, nobody knows who made it. Unless they ask around. So, I made cole slaw.
I learned something about cole slaw. Saturday evening, I was chatting online with my aunt and I asked her if I should make the cole slaw now so the flavors can blend together or if it would just get mushy and if it would be better to wait till Sunday afternoon. She said she doesn't know (she must not make cole slaw very often either

), and said 'why do today what you can put off till tomorrow'. So, me, being an expert at procrastinating, made it Sunday afternoon, about 4 hours before the picnic. It looked perfect. I covered the bowl with plastic wrap and put it in the fridge and went to take a nap. 3 1/2 hours later, I got it out of the fridge to go to the picnic and it looked totally different! It had gotten runny and the cabbage was softer than it had been! Must've been from the sugar in it. I was so glad I hadn't made it Saturday evening, because it was about perfect at the picnic. It may have gotten too mushy made too far ahead of time.
Another thing I learned is that it is possible for me to make good coleslaw and another thing I learned is that it's SO easy and quick to make! This recipe is taken from the Famous Daves Backroads and Sidestreets cookbook.
Creamy Sweet & Sour Cole Slaw
10 cups chopped shredded red and green cabbage
1/4 cup grated carrot
2 cups Miracle whip
1/2 cup sugar
1 Tbsp. prepared horseradish (I'd recommend not putting this much in unless you're making it for a Memphis-style sandwich or really really like horseradish ???? )
1 Tbsp. dry mustard
1 tsp. white pepper
1/2 tsp. salt
1/4 tsp. garlic powder
1/4 tsp. celery seeds
Toss the cabbage and carrot in a bowl. I used a bag of shredded cabbage and carrots. The bag said there is 7 1/2 cups in it, so I just didn't put all the dressing on.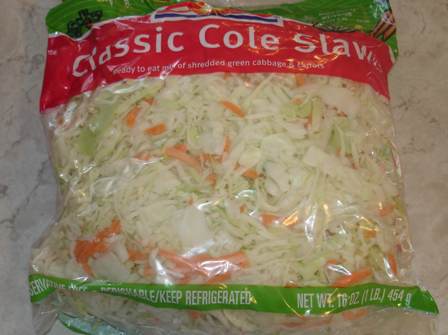 Mix salad dressing, sugar, horseradish, dry mustard, white pepper, salt, garlic powder, and celery seeds in a bowl. Add to cabbage mixture and mix well.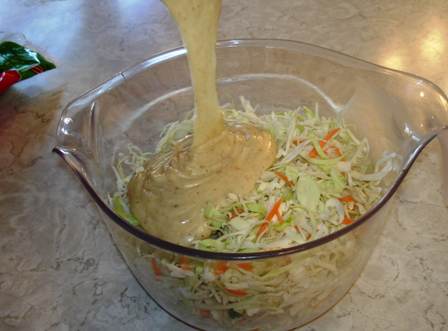 Chill, covered, until serving time. Yield: 6 to 8 servings.
Right after mixing…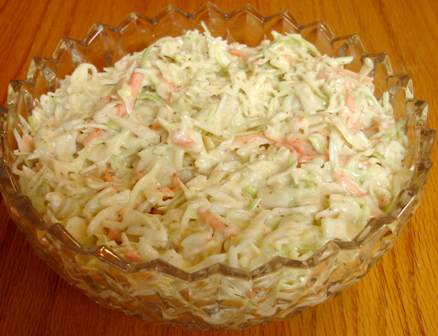 3 1/2 hours later…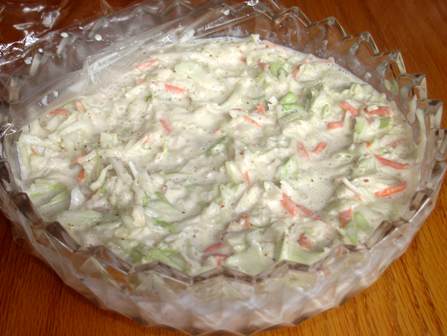 That coloring difference is from different lighting, but it did actually get lighter in color too. Actually, I guess it does look more like real cole slaw in this picture. Maybe all cole slaw recipes do that. As far as the taste of this, it was great! It will be my cole slaw recipe, but I might try others now and then too. I'm just so impressed how easy it was and how flavorful it was. I'd even make it for company. Or for a summer picnic. Or just for anyhow.
Comments