It appears that the cook around here is on strike, doesn't it? I think it's more a thing of needing to hire a scribe because I currently have pictures for 4 posts. I've made supper the last 2 evenings, and for some crazy reason, I can't remember back farther than that. Probably several snacky fend-for-yourself meals in there somewhere. Yeah, we do have those weekly, and then some more on the weekend… that's why I try to keep frozen pizzas, hot dogs, nacho stuff, cheese & pretzels, and cold cereal on hand. Anyway, the last 2 evenings, we've had grilled chicken salad and wet burritos, respectively. I like the grilled chicken salad because all I have to do is throw a couple salads together and possibly pop some refrigerated Pillsbury breadsticks in the oven… the rest is on the grill, which, if you've been reading Kitchen Scrapbook for any length of time, you'll know I don't touch the grill. I have the 4 plates of salad sitting out on the counter and Shannon brings the chicken in AND cuts it up and puts it on top of the salads. On the wet burritos, I read my post on that last night and thought it was strange that I served crescent rolls and salad with it. Huh? That sounds more like lasagna sides! I don't even remember serving that with it; now I serve tortilla chips salsa with it. And sometimes applesauce, just because I have a thing aboout that there's gotta be at least 3 different things on the table, not counting condiments, otherwise it looks skimpy.
I finally made my salad that I'd been craving a couple weeks ago. So, what does the word 'colorific' mean? I decided it must be a made up combo, merging colorful and terrific. And that would fit this salad. I got this recipe from Jolene. Thanks, Jolene, it's a keeper! Connie, thanks for your recipe too, I'd like to try it sometime… I don't go for feta cheese, but I'll bet that could be substituted for mozzarella.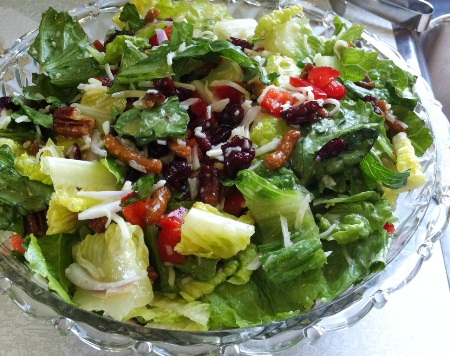 Colorific Salad
1 c. craisins
1 c. red peppers
1 c. honey roasted sesame sticks
1 c. pecans
2 c. shredded cheese
1/2 of a purple onion
1 head of romaine lettuce
Posted on April 16, 2008
Filed Under Thursday Thirteens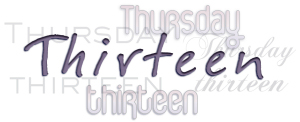 Nobody likes to spend alot of time in the middle of the day making lunch, right? Well, actually I'd love to if I didn't have a never-ending "to do" list hovering over me, following me around everywhere, making me fight off the guilt it gives me when I decide to throw responsibility to the wind and relax in my kitchen, cooking and baking to my heart's content more food than we could ever eat.
Plus, it doesn't seem worth it to make something 'nice' just for the girls and I. Especially since I never know when they're gonna eat alot or when they're gonna take 2 bites and say "Mom, I'm full". If I spent only 10 minutes making lunch, I don't feel as compelled to yell say, "Honey, I just spent 2 hours making this food!"
So, here are some ideas to keep on hand for quick lunches. And, no, 'leftovers' are not on the list! That's not something we need to note to keep on hand on purpose. Leftovers just kind of happen automatically. They can make nice lunches too, though, depending what it is. But, just for the record, I don't like when a meal has leftovers.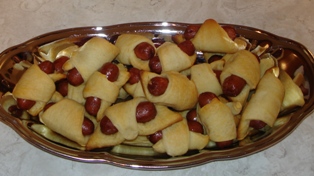 Only two ingredients and 12 minutes of baking time! These are a real hit with kids (and grown-ups too). If you aren't sure how to do them, the recipe name in red is a link to go to the post where they're featured.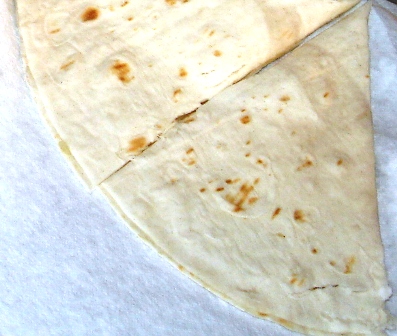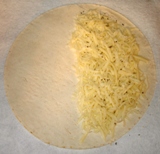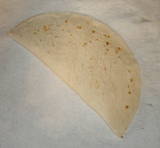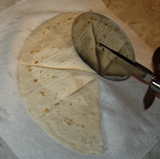 2. Cheese Quesadillas
Only 3 ingredients and about 1 minute in the microwave. Lay 1 tortilla out flat and sprinkle shredded cheese on half.
Sprinkle some Italian seasoning over it.
Fold tortilla over cheese and wet edges with a bit of water and press together. Put it in the microwave for about half a minute, then check it by pressing down on the tortilla. If the cheese feels soft and melted, get it out. If not, let it in for a bit more.

Cut into fourths with a pizza cutter. Good with sour cream and salsa, but my girls eat them plain as a finger food. These could be jazzed up alot more or fried instead of microwaved, but that's is the quickest way to do them.
—————————————————————————————————————-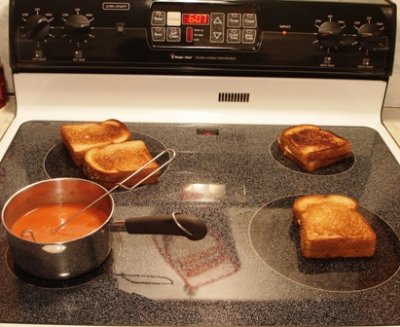 3. Grilled Cheese Sandwiches and Tomato Soup

Tomato soup from a can is what I use. And yes, I do cheese sandwiches directly on my smooth top stove. What about you?
—————————————————————————————————————————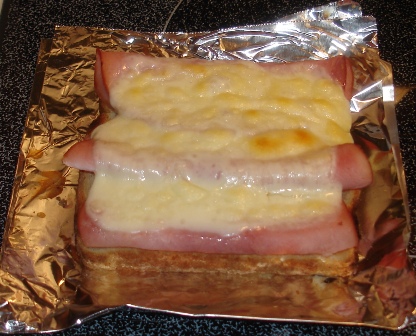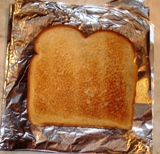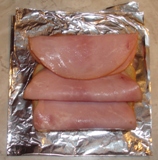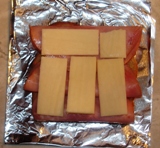 4. Open-faced meat and cheese sandwich
Only 3 ingredients and and a couple minutes under the broiler. And if you use a piece of tin foil, you don't even dirty a pan!
First, a piece of toast.
Then some deli meat.
Then the cheese. Turn the broiler on High and put sandwich on a rack in the highest position. It takes a couple minutes, but check it now and then anyway. This is just delicious, especially with the cheese browned a little!
———————————————————————————————————————–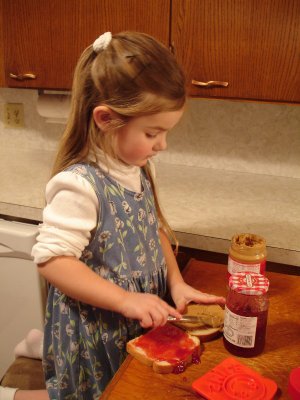 5. Peanut butter and jelly sandwiches
Here's our peanut butter and jelly sandwich making pro. She's quite a pro at making a huge mess too. A couple days ago, I came into the kitchen and there was jelly on the floor. I asked what happened and she nonchalantly said, "Oh, the bread slipped off the counter." You know, no big deal, just spread more jelly on and the mess will take care of itself. It always does. I have tried having her clean up her own messes, but while the first mess may sort of get cleaned up, the process usually makes another whole mess of its own.
6. Quick stromboli

This may look vaguely familiar if you've been on this site recently!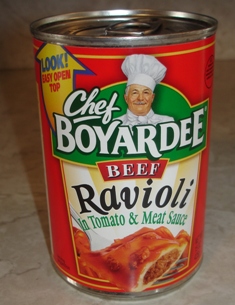 7. Ravioli
This came in handy for me one day last week. I had some morning guests and I wasn't sure how long they were planning to stay, but I had a few lunch options around so I was able to say, "I'll make a quick lunch if you have time for it". We had ravioli, French bread, cheese slices, applesauce, and cookies. The cookies I baked that morning while we were hanging around in the kitchen, chatting and looking thro' cookbooks.
——————————————————————————–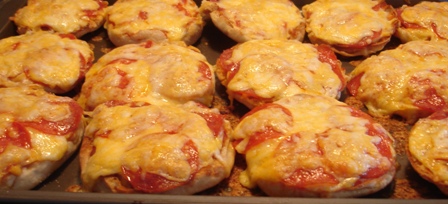 8. English muffin pizzas
Split apart English muffins and toast them. Arrange them on a baking sheet and spread with pizza sauce, some cheese, 3 or 4 slices of pepperoni, some mushrooms if desired, and then some more cheese. Bake at 400 for about 15 minutes or till they're browned to your liking.
9. Good ol' frozen pizza
You're probably all familiar with this. If not, you either need to get out more or lower your standard of eating when in a hurry. The thin ones aren't as good, but they sure bake faster!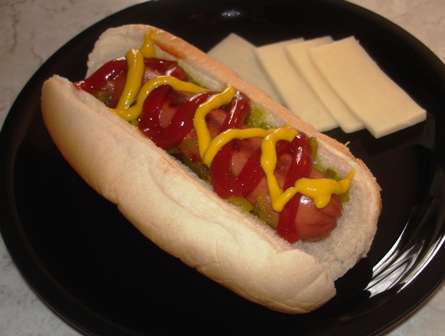 10. Hot dogs
Throw them in a frying pan (fast), or under the broiler (faster), or in the microwave (fastest). Or charcoal grill (SLOW).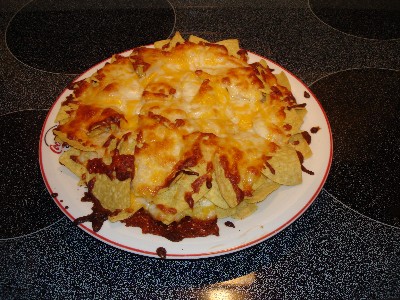 11. Nachos w\ salsa and sour cream
These have only 2 ingredients with an optional 3rd or 4th and take 7-10 minutes in the oven. Or, we've already done them in the microwave too, but the cheese doesn't get brown and crispy then.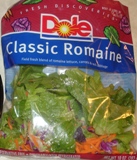 12. Throw a salad together.
Instead of starting with a head of lettuce, a big time-saver is starting with this: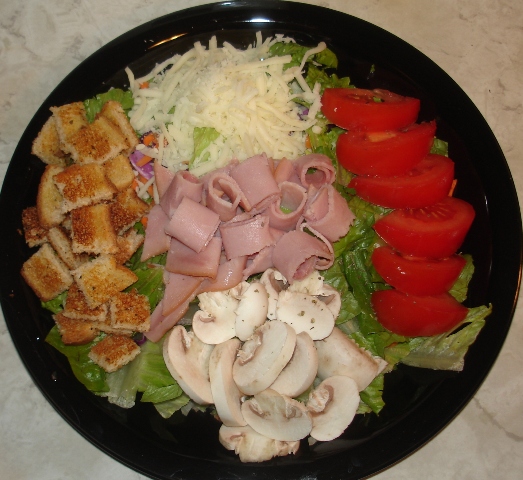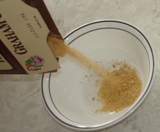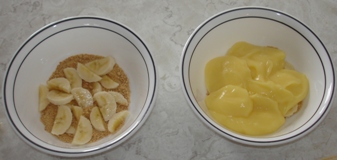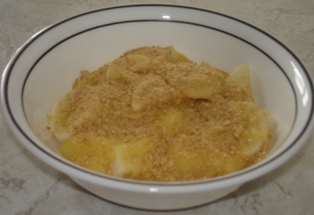 13. Now, for #13, here are some side dish ideas to go with the main course…
—applesauce or other fruit, like apple slices, canned peaches, etc.
—carrots
—cheese slices
—yogurt
—potato chips, pretzels, or other salties
—jelly bread
Desserts
—cookies or cake
—ice cream bars, sandwiches, or plain
—and this: A quick single serving dessert I was inspired with one day…
Dump about 2 Tbsp. of cracker crumbs into a bowl. Top with 1/4 banana sliced. Mix up a box of instant pudding and put 1/2 cup of it on bananas. Slice another 1/4 banana on top of pudding and sprinkle another Tbsp. of graham crackers on top.

This is actually really good! And the neat thing is that you can make exactly how many servings you need and exactly the size of servings you need instead of making a big bowlful and having some left over. We've been in a streak of having it pretty often around here!
Don't forget to visit other Thirteeners at Thursday Thirteen!
Comments
ing.jpg" alt="colorific-salad-before-mixing.jpg" />
Mmmmm… you know it's gonna be a good salad when you have to say "Where's the lettuce?" ????
Oh, one little tidbit… I took the idea from Connie's recipe to saute the pecans… yum! I didn't sugar them though.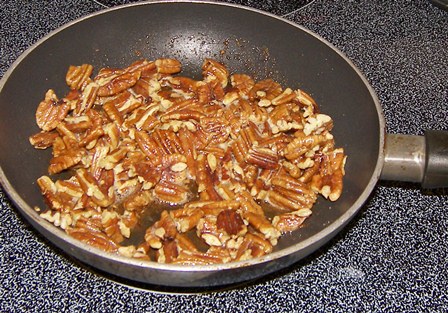 Dressing:
1 T. mustard
1 c. sugar
1/2 c. oil
1/3 c. vinegar
1/4 c. water
1 tsp. salt
1 Tbls. minced onion Blend dressing in blender. I put this picture on here so you can see what color the dressing is…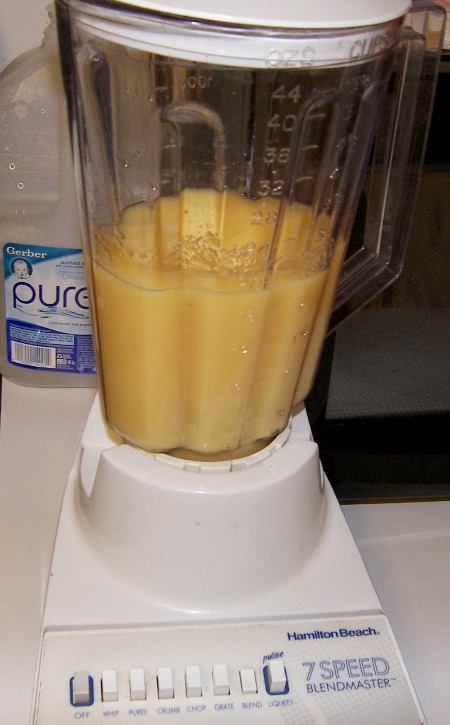 Toss with salad ingredients.
I was taking this to a carry-in meal at church, so I took it in this big bowl with a lid (more room for tossing) and put the dressing in a separate container… you can see it all in the background here.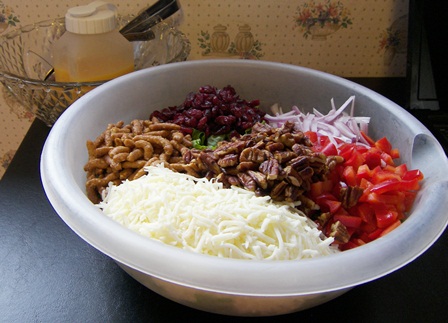 And then, instead of letting the kitchen help take care of tossing my salad, I went out when church was almost over to do it myself so I could get a 'done' picture. ????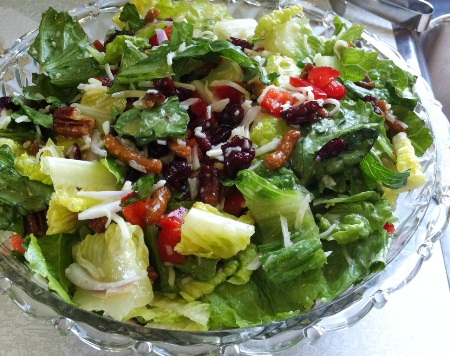 Next up… Megan's puppy birthday cake. How did my baby turn 1 already?!
And this afternoon, I'm planning to bake monster cookies. Yay! I just did last week, but who cares. In a perfect world, I'd bake 'em every week.

Comments