Posted on August 9, 2008
Filed Under Pork and ham
Wow, where did my week go?! Here it is, Saturday morning already. Did you ever wonder why life seems to go faster now that you're older? The first I remember wishing life would pick up a little speed was 6 years old, er , 5 years old, I wanted to be the big 6. And then it was like that up until 19 when I got married. You know all the milestones… 13 – teenager, 16 – driver's license (which I flunked twice, by the way… once was an over all lack of driving experience and the other was getting caught in a funeral procession at a stop light. And worse than the fact that I still didn't have my license was the fact that I had to blushingly tell my friends that, sigh, I flunked again. At 16, it's not easy to admit mistakes to friends. I guess that goes for any age, actually.) Anyway, after I got married, I had no more milestones to be reaching ahead for. I just wanted to settle in and have life slow down. And be in the 'young marrieds' group forever. Now a couple years ago, we got 'kicked out' of that. But, that's not too bad, we just passed our 12th anniversary a few days ago.
Anyway, this has nothing to do with HAM, but I still wonder where my week went!!!!
This recipe comes from the Grandma's Recipes cookbook. I love this cookbook! Maybe one reason is because I know Ray and Elsie, the ones who compiled it. And I must compliment them on the index! It's VERY user-friendly! I think in a cookbook, one of the hardest things would be making the index, categorizing everything and making sure you didn't miss a recipe.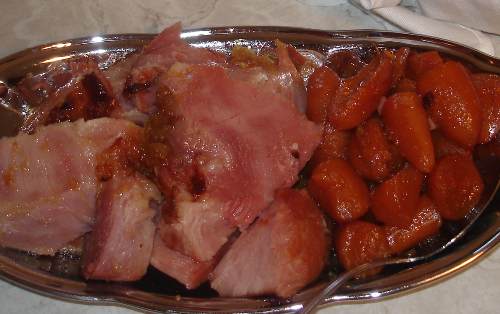 Baked Ham with Sweet Potatoes and Pineapple
1/2 ham, 5-6 lbs.
1 c. brown sugar
6 medium sweet potatoes (didn't have these, so I subbed canned ones)
1 c. crushed pineapple
Rub fat side of ham w brown sugar. Peel sweet potatoes and arrange around ham (or dump in a can or two of canned ones, they didn't get too mushy). Pour crushed pineapple over ham.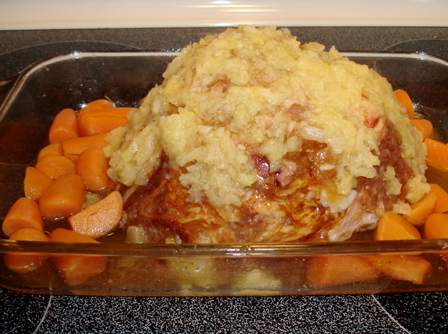 Bake at 325 allowing approximately 25 minutes per pound or until internal temperature reaches 160.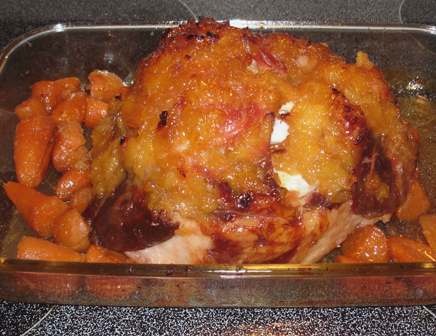 That white part is the bone.
This was great! And easy! No scoring the ham and poking a bunch of cloves in. I baked it uncovered and the ham was really moist. Those sweet potatoes tasted candied, just delicious!!!! Part way through baking time, I took some of the juice and basted the ham and also turned the potatoes over. Not sure if that made a difference or not.
Here was the rest of our meal: Ham and sweet potatoes along with breadsticks and applesauce…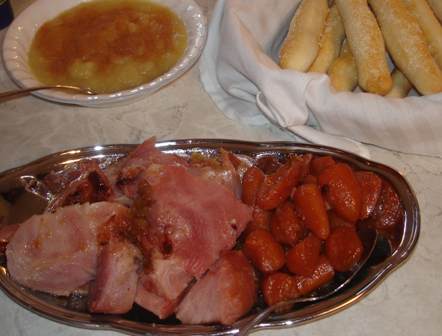 Those breadsticks landed on the 'Don't bother making again' list, but I'll feature them sometime anyway.

Can't have all top notch recipes… as Pioneer Woman would say 'Just keepin' it real'.
Comments