Posted on January 27, 2009
Filed Under Breads Biscuits and Rolls, Soups
When it looks like this outside,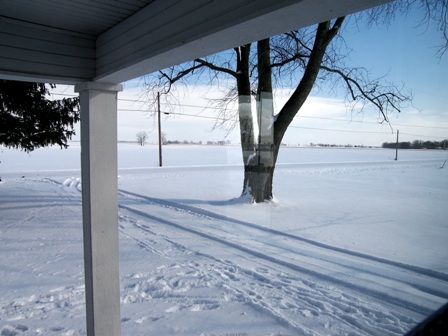 it oughta look like this inside: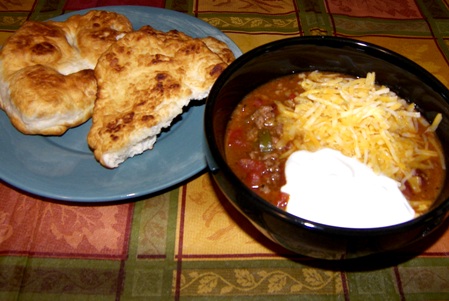 "Huh?! Shouldn't it be chili soup and cornbread?" you say.
Nope.
I do like chili soup with cornbread too. But not nearly as good as chili soup with fry bread!
I grew up with that combo. 'Chili soup and fry bread' was like 'peanut butter and jelly' or 'cake and ice cream' or 'donuts and coffee'… where one was, it was a given that the other would probably be there too. I wonder if my mom grew up with the chili-soup-and-fry-bread combo too. The reason I wonder that is because my fry bread recipe comes from my aunt Dar. She gave me a little collection of recipes when I got married and this was one of them. Aunt Dar and my mom are twins, complete with rhyming names… Darlene Fay and Marlene Kay (just a little tidbit from my family tree).
Navajo Indian Fry Bread …I'll bet you've got all the ingredients on hand for this.

Printable recipe coming soon
4 cups flour
2 tsp. salt
2 tsp. baking powder
1 1/2 cups warm water
Mix by hand. Set aside in a covered bowl for a few hours. Take out small bowl of soft dough and, with hands, stretch and flatten into shape of a pancake, round and flat. Melt 1 cup of shortening in frying pan. Deep fry at 375 degrees.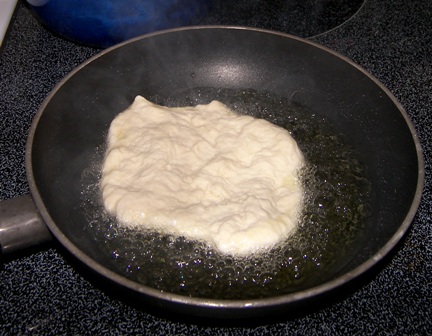 When it looks likes this,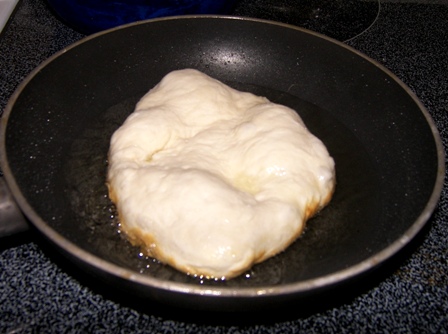 flip it over, browning on both sides.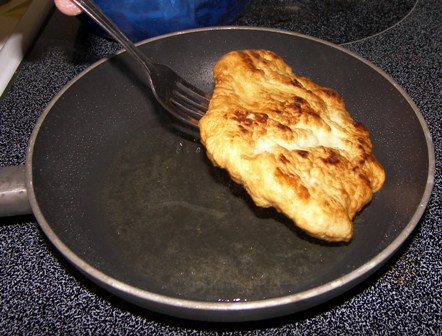 Makes 8 pieces, about 4″ in diameter. This, by the way, is a little saute pan. I only made a half batch of fry bread because they don't make good leftovers, so I just used a little pan. Another really good thing to do with this fry bread is to coat it with cinnamon sugar as soon as you get it out of the frying pan. Would make a good breakfast side dish or an after school snack. Yum!
HOT Chili Soup …as in spicy. This recipe did not come from a cookbook. This is from my kitchen, exactly how I like chili soup… 
Printable recipe coming soon
1 lb. ground beef
1/2 of an onion, chopped
1 28 oz. can diced tomatoes
1/2 cup water
1 Tbsp. flour
2 Tbsp. brown sugar
1/4 cup ketchup
1 16 oz can hot chili beans, juice and all, do not drain
2 tsp. chili powder
1/4 cup canned hot jalepenos, chopped
several shakes of Tabasco sauce
Brown beef with onion. Stir in rest of ingredients.

Simmer, covered, for 30 min. Serve with sour cream, shredded cheese, and FRY BREAD.

You could adjust the spiciness of this to your liking, maybe you don't like your nose to run while you're eating. This isn't very juicy. Or brothy. Or whatever you call it when it's chili soup. That's how I like it. You could always add more diced tomatoes or tomato juice.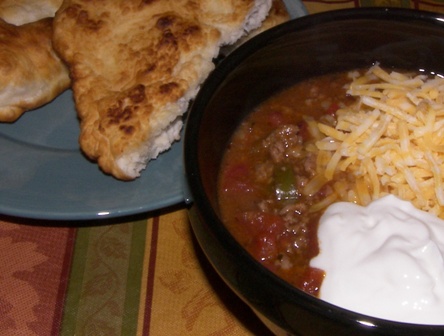 Comments