Posted on July 31, 2008
Filed Under For special occassions
It was a wonderful trip. Lexi and Tiffany travelled well. And if it wouldn't've been for the gum episode (where Tiffany took it out of her mouth and was playing with it and it got on her carseat and the floor and on Shannon's computer case) and the cappuccino episode (where I actually dropped mine and caught it upside down and had to wash up part of the area in and around the cup holders), we'd have had an uneventful trip, disaster-wise.
The wedding was beautiful… have you ever seen one that wasn't?! It was pink and brown w aqua accents. Here are some food-related pictures from the reception…
The cake. Neat, huh?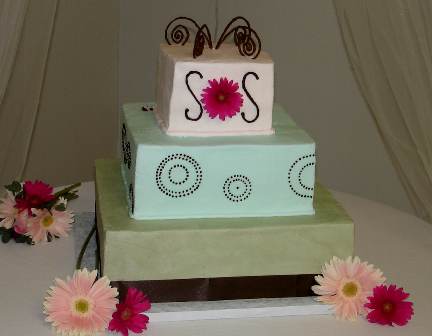 As we entered the reception hall, there was a table with a chocolate fountain and fruit and pretzels and marshmallows and also a punch table that we stopped at before being seated. I don't have a good picture of those tables, but here's my plate from it…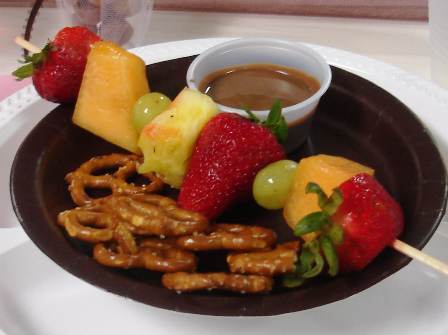 Decor on the guest tables was little cups filled with mini buckeyes and tied shut with tulle and ribbons and there were tea lights sitting on top of coffee bean filled votive candle holders. They looked really neat. Some people were actually munching on the coffee beans. I love the chocolate covered ones, but never ate one plain!

The meal was chicken sandwiches, baked beans, chips, and macaroni salad (I think, for some reason I'm having a hard time remembering the salad and I don't have any pictures of the main meal part). Good food! My b-b-qued chicken sandwich was great!
The dessert area. Instead of the usual cake and ice cream, they had an impressive display of desserts. Cheesecakes, cookies, chocolate roll, trifles, bars, cakes, fruit pizza… Just delicious! It was so hard to choose from…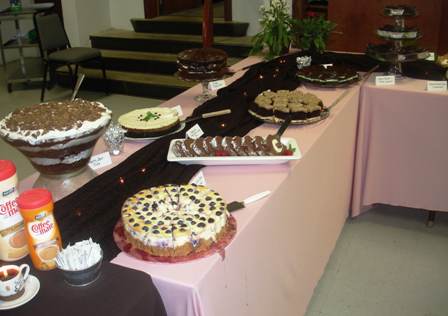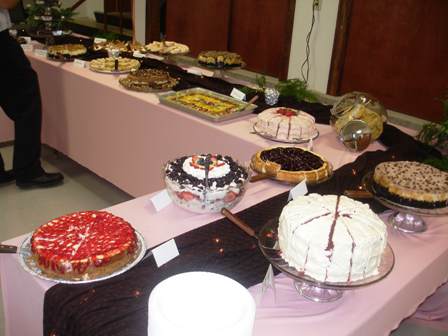 And the bridal table, beautifully decorated…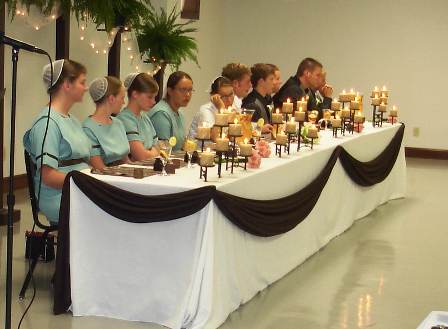 Comments