Baked Potatoes with Kosher Salt
Posted on December 21, 2013
Filed Under Side dishes
Short and sweet.
That's what this post is going to be.
I just want to show you the very best way to do baked potatoes.
Step 1: Rub them with oil of your choice. I use light tasting olive oil for almost everything in cooking. The exception is cake mixes… I use vegetable oil for that. I've never tried olive oil for that, not sure why not.
Step 2: Sprinkle coarse kosher salt on all sides of the potatoes.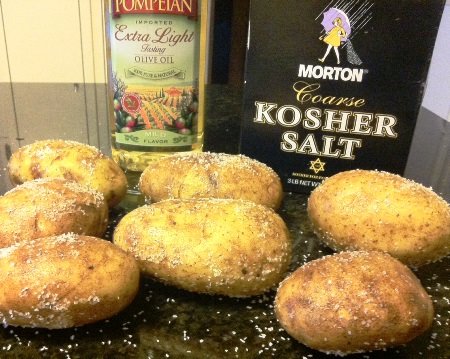 Step 3: Bake them.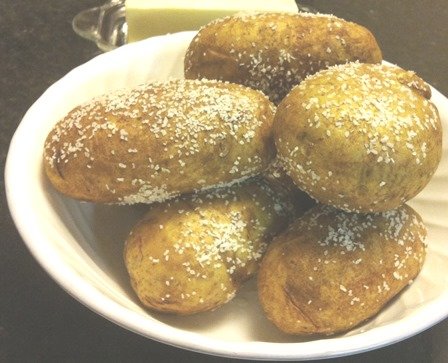 Step 4: Eat them. And enjoy the saltiness and crispiness of the skins. My 3-yr-old decided she doesn't like the skins… so I get to eat hers.

Here are some Do's and Don'ts.
Do Not:
— use tin foil if you don't like crispy skins… it reacts with the salt.
— bake for 3 hours at 275 (yes, I tried this one morning while we went to church), think salty hockey pucks.
— put them directly on the oven rack… unless you want to clean a bunch of salt off of your oven floor.
Do:
— Bake them at 400 for 1 hour.
— Bake them at 350 for 1 1/2 hours.
— Bake them on a cookie sheet or pan, uncovered.
— Serve them to company.
Comments