I haven't been taking much time to cook lately… just stuff like open-faced pork chop sandwiches, ravioli and applesauce, stromboli, and tonight we had baked sweet potatoes and grilled ham and salad. No new recipes and no good ones that haven't been already featured. I'm a very sporadic cook, so I'm going into my reserve of meals that I made in a cooking streak and didn't have time to post. Here's one of them…
Pigs in Blankets
There are different ways of making these, but here's how I did it…
1 can refrigerated crescent rolls
24 Li'l Smokies
Separate rolls and cut each roll into thirds (you can also cut them in half if you like more bread per weiner, then it would be 16 Li'l Smokies instead of 24).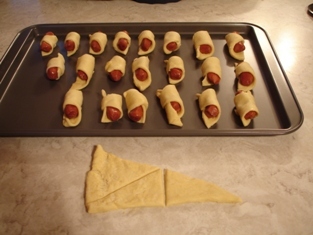 Starting at a wide edge, roll a Li'l Smokie up in it. Put on ungreased cookie sheet. Bake at 375 for about 12 minutes.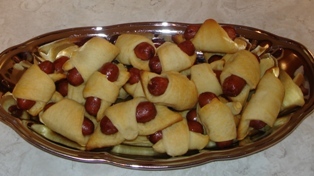 Very good! Quick snack if company is coming. Children love 'em, too!
———————————————————————————————————————-
Broccoli Casserole
2 pkgs (16 oz each) frozen broccoli florets
1 can (10 3/4 oz) condensed cream of mushroom soup, undiluted
1 cup (8 oz) sour cream
1 1/2 cups (6 oz) shredded sharp cheddar cheese, divided
1 can (6 oz) french-fried onions
Cook broccoli according to package directions; drain well. In a large saucepan, combine the soup, sour cream, 1 cup cheese, and 1 1/4 cup onions.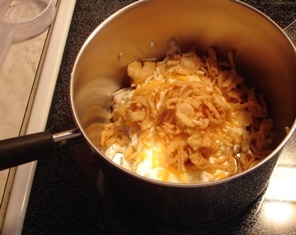 Cook over medium heat for 4-5 minutes or until heated through. Stir in the broccoli. Pour into a greased 2 qt baking dish.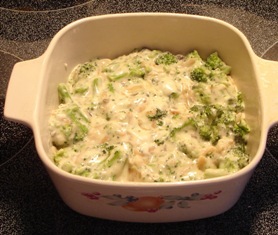 Bake, uncovered, at 325 for 25-30 minutes or until bubbly. Sprinkle with the remaining cheese and onions. Bake 10-15 minutes longer or until cheese is melted. Yield: 6-8 servings.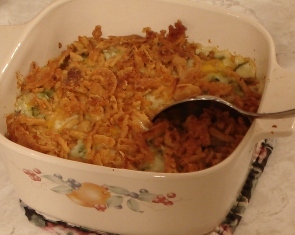 I made a half batch for us. This stuff is SO good!!!! I went a little heavier on the french-fried onions and also used mozzerella and reg cheddar in place of the sharp cheddar (sharp cheese is NOT my thing!).
———————————
Pudding Pumpkin Pie
1 egg white, beaten
1 reduced fat graham cracker crust (8 inches)
1 cup cold fat-free milk
1 pkg (1 1/2 oz) sugar-free instant vanilla pudding mix
1 can (15 oz) solid pack pumpkin
1 tsp. pumpkin pie spice
1/2 tsp. ground cinnamon
1/2 tsp. ground nutmeg
1 1/2 cups reduced fat whipped topping, divided
Brush egg white over crust. Bake at 375 for 5 min. or until lightly browned. Cool on a wire rack. In a large bowl, whisk milk and pudding mix. Stir in the pumpkin, pumpkin pie spice, cinnamon, and nutmeg. Fold in 1 cup whipped topping. Pour into crust.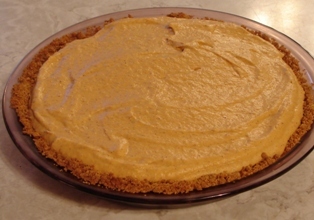 Refrigerate for 4 hours or overnight. Cut into slices; dollop with remaining whipped topping. Refrigerate leftovers. Yield: 8 servings. 1 piece = 180 calories.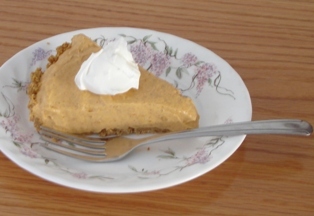 (That color change is the difference between no flash and flash… it doesn't change colors once it's refrigerated! LOL) I couldn't have told this was a diet pie. Could probably be made though with non-diet ingredients. It was really good! Nicely spiced. Will definitely make again!
Comments