Posted on February 28, 2008
Filed Under Cookies and bars
I guess I never paid enough attention, but do you know how many cookie recipes take eggs?! I'd say roughly 99% percent of them! Lexi wanted to make cookies and we had no eggs, so I started going through cookbooks. There were nobake cookies in the Derstine Cookbook, but we wanted 'bake' cookies. Finally, we found "Mary's Cream Cheese Cookies" in the Treasured Recipes for our Mothers cookbook by the Lebanon Valley Christian School in PA.
"Who's Mary?" Lexi asked.
"We don't know her. She just gave the recipe to put in the cookbook", I said.
"Well, we should cross out her name and just call them Cream Cheese Cookies cuz we don't know her." was Lexi's reasoning.
We didn't cross anything out… Mary is still getting credit for the cream cheese cookies in our cookbook.
Mary's Cream Cheese Cookies
1 c. butter
6 oz. cream cheese (we just threw in the whole 8 oz)
1 c. sugar
1/2 tsp. salt
2 c. flour
4 tsp. baking powder
2 tsp. vanilla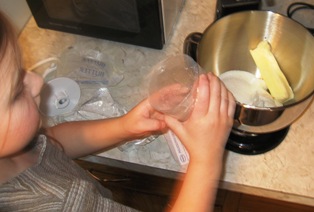 Cream butter, cream cheese, and sugar. Add rest of ingredients. Refrigerate for 1/2 hour. (Ha, the dough didn't last in the fridge for 30 min! With 2 eager helpers asking every 10 seconds if it's ready yet, I got it out after about 5 min. Worked just fine.) Form balls and roll in crushed Wheaties.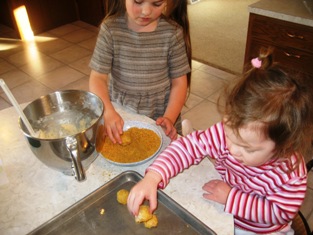 (This is still at the beginning of rolling. Tiffany hasn't started playing in the Cornflakes yet. What a mess it turned out to be!)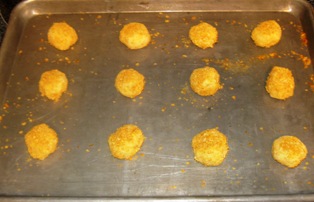 Bake 350. That's all it said. Not how long to bake them or anything. I baked them for 10 min, then thought they didn't seem quite done, so I let them in for 2 more min. and that seemed perfect. So, 12 minutes it is. The batch made exactly 3 dozen cookies. Also, we didn't have Wheaties, so we used crushed Cornflakes.

On whether we liked them or not, let's just say that those 3 dozen cookies look like they might not last a full 24 hours around here! They are nice and soft and moist, not dry like regular sugar cookies. Must be because of the cream cheese. I think I might try these sometime for frosted sugar cookies (without the Wheaties/Cornflakes), like at Christmastime. I'm sure they'd need to be refrigerated the full length of time to be rolled out though.
Comments