Posted on April 9, 2011
Filed Under Garnishing, Side dishes
Is this recipe made up, you wonder?
Yep, it is.
All because I fell in love with some chipotle mayo from Yutzy's Farm Market and I use it on everything that I think it might possibly go with.
We had a fish fry last night. One of the couples from church (Jr. and Darla) go up to Lake Erie to fish every year. Then, they clean the fish. And then, they GENEROUSLY share them with us. I know. We're privileged. And we realize it and are very grateful.
They and their kitchen helpers fry/bake the fish (there's some of each) and make a big roasterful of scalloped potatoes and do pork chops for anyone who doesn't like fish. Then, the rest of us bring salads and desserts. It's quite a spread… the row of food tables is roughly the length of an airport runway (give or take a few hundred yards) and is lined down both sides with food food food. Good stuff! I'm wishing right now that I'd have taken my camera along to take a picture of it.
So, anyway, I was trying to decide what to make in the salad category. I just got a new Dessert Decorator, and it HAD to be something that I could use that for. The decorator was a just-for-anyhow gift from my husband, which are THE best kind of gifts.
So now, we're only eating soft foods that can fit thro the decorator… but hey, at least we're eating pretty stuff. ????
I made twice-baked potatoes a couple days ago and piped them into the shells with the decorator, but then I had a problem. I hadn't thought of the cheese. So it was forfeit cheese and see the beauty or have potatoes with yummy melty cheese on top. The cheese won. Oh well. I still had fun doing it.
Anyway, back to what to take to the fish fry, I thought of Deviled Eggs.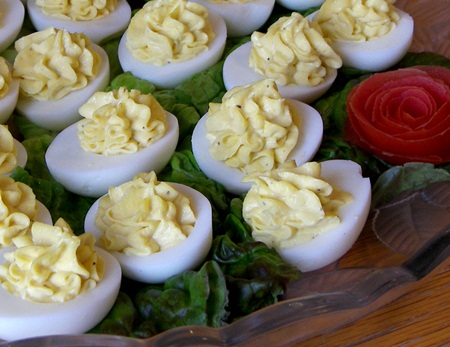 And while I was getting the yolks out of the whites, I thought of my beloved Chipotle mayo and decided to throw some of that in there. Next time, I'd add more… it adds a little kick and I didn't want to add too much kick for some unsuspecting person at a church fish fry who doesn't like kick.
Chipotle Deviled Eggs
12 eggs
3/4 cup mayo (use less if you prefer a stronger egg yolk taste)
2 tsp. Dijon mustard
1 Tbsp. Roasted Chipotle Mayonnaise (more would be better ???? )
1/4 tsp. salt
1/2 tsp. pepper
Hard boil the eggs. Peel and cut in half. Put yolks in a food processor; set whites on a serving tray.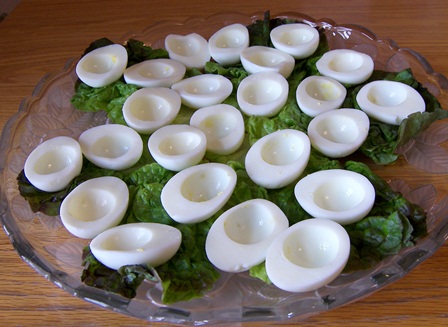 Running the yolks thro' the food processor makes for a creamier filling. After there are no chunks left, add the rest of the ingredients. Pipe the filling into the egg white shells. (Side note: sometime, try piping egg filling into an egg white with one hand WHILE holding still enough to take a picture with the other hand

)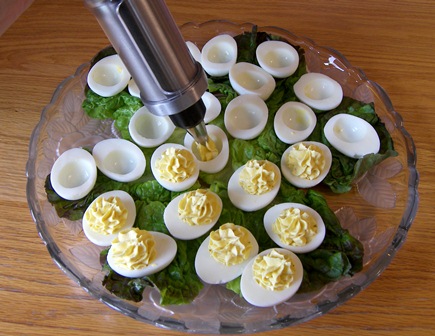 Here's a little tip: when you're getting the last of the filling out of the bowl, it's nice to have one hand to hold the bowl and one hand to use the scraper, putting the filling right into the decorator as you're scraping. This leaves no hand to hold the decorator so… prop it in a cup.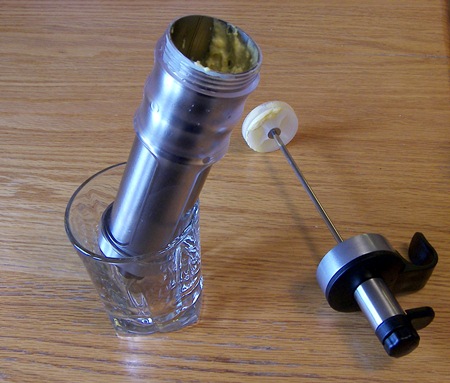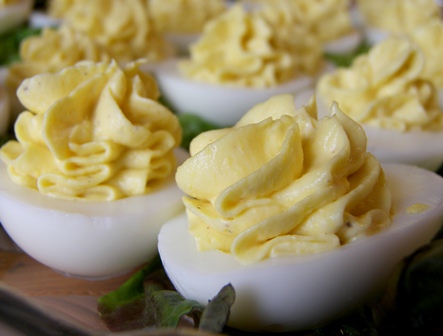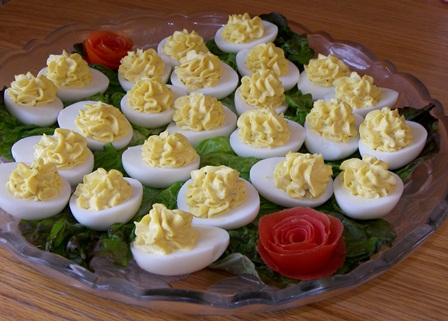 If you want to garnish the tray with tomato roses, but don't know how, this link is for you: How to Make Tomato Roses.
Coming up in the next few posts: Tiffany's ladybug birthday cake, Fun play-with-your-food Spring-themed stuff, and Donut Muffins.
Comments