Posted on March 5, 2008
Filed Under Breads Biscuits and Rolls, Side dishes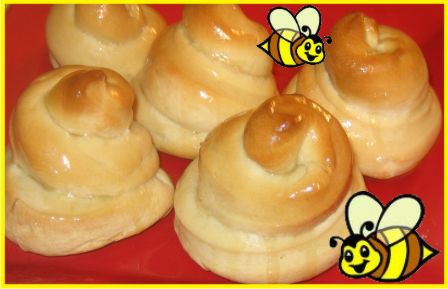 These buns have tempted me for awhile now and this afternoon, I finally gave in and made them. And it was just as fun as I thought it would be, they turned out just as cute as I expected they would be, and they tasted just as good as I hoped they would be! Things don't always go that well in my kitchen! With things that have no chocolate involved anyway.
I just realized that I LOVE honey. Almost every evening for supper, we have hot fresh rolls or bread of some sort and it's always good ol' strawberry jam that goes on the table. Well, these rolls are loaded with honey inside and out and they were so good! We may just deviate from the jam now and then. That reminds me of apple butter. We love apple butter too, my husband especially does. I'd like to find a good recipe and make it sometime, but I'm afraid it just couldn't measure up to the stuff we had at Der Dutchman's in Sarasota, FL. That's what I always think of when I think of apple butter. Actually, I also remember my mom making it when I was young, I should ask her for her recipe.
Anyway, why am I talking about apple butter?! Back to the beehives…
Beehive Buns …taken from an Easy to Bake Easy to Make recipe card
1 envelope (.25 oz) active dry yeast
1/4 cup warm water (105F – 115F)
2/3 cup warm milk (105F – 115F)
1/2 cup honey, divided
1/4 cup (1/2 stick) plus 2 Tbsp butter, softened, divided
1/2 tsp. salt
3 1/2 -3 3/4 cups flour (I ended up using only about 3 cups because the dough seemed plenty stiff)
Dissolve yeast in warm water in a large bowl; let stand 5 min. Stir in milk, 1/4 cup honey, and 1/4 cup butter. Stir in salt and enough flour to form a soft dough. Knead dough on lightly floured surface until smooth and elastic, 6-8 min. Place dough in greased bowl, turning to grease top. Cover; let rise in a warm place until almost double in size, about 1 hour. Lightly grease baking sheets. Punch dough down; divide in half. Roll each half into a 6″x12″ rectangle. Cut 1″ strips from long edge of each rectangle.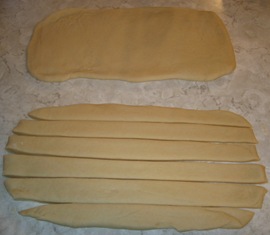 Curl each strip into beehive shape with a wide base and narrow top onto prepared baking sheet.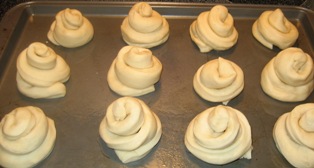 Cover lightly; let rise until almost double in size, about 15 min. Preheat oven to 375. Bake buns until golden, 15-20 min.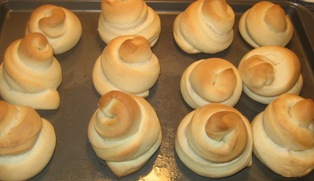 Combine remaining honey and butter in a small saucepan. Heat until butter melts. Brush warm glaze over buns. Remove from baking sheet; place on wire racks. Yield: 1 dozen.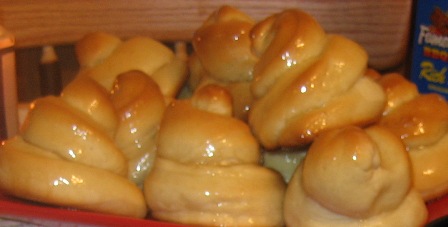 These seriously are SO good! And it was nice to have a variation in shape and taste.
The rest of our meal was a rotisserie chicken (done at the local grocery store), carrots and dip, and oven-crisp potato wedges. The potatoes were also a new recipe, so I'll add them here too.
Oven-Crisp Potato Wedges …from a misc recipe card in my stash of loose recipes
1 1/2 lbs small red potatoes
1 Tbsp olive oil
4 tsp. finely minced garlic
3/4 tsp. coarse salt
1/2 tsp. paprika
1/4 tsp. freshly ground pepper
Preheat oven to 525. Quarter potatoes and place in large bowl.Drizzle olive oil over potatoes and toss. Sprinkle seasonings over potatoes; toss to coat well. Line a baking sheet with foil and lightly spray with vegetable cooking spray. Arrange potatoes on prepared baking sheet.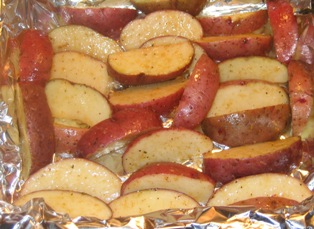 Roast for 20 min, stirring once or twice during cooking. Raise heat to broil. Broil potatoes until crisp, watching closely not to over-brown, about 1-2 min. Serves 4.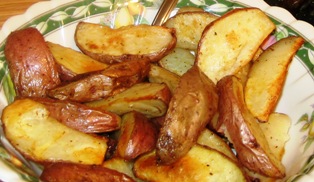 I made a half batch and I also baked them at a different temp because I needed the oven for the beehive buns too. I baked them at 375 for about 40 min, then broiled them while glazing the buns. Worked great.
We liked these potatoes ok, but they were nothing special. We ate them with ketchup. I'll probably make them again sometime, but they won't be on the 'definitely make again' list like the glazed meatloaf is… that meatloaf is probably the new recipe on this site that I make the most often. It is hands down the BEST meatloaf I have ever had… without the carrots, that is!
Comments