Posted on April 1, 2011
Filed Under Candy, Tidbits
You know how when you have a problem, you try to find a solution? And then sometimes the solution doesn't work because it hinges on another problem? And then you have to back up and fix that problem before you can fix the initial problem?
Is anyone still with me? If you didn't follow, I'll explain it using a few more words… I know I was kind of concise in that first paragraph. Ok, just kidding.
Well, here's my problem: I miss this cooking site. And having fun in the kitchen. And trying new stuff, making tried-and-true stuff, playing with food, etc.
Solution: Ok, duh, so start cooking, making, playing, and updating!
Problem hinging on that solution: I'm on a South Beach diet, and I couldn't eat 90% of the stuff I'd make. And if I can't taste it, how would I rate it? Plus, it would take ALOT of the fun of cooking away. I started posting alot around Christmas time and was planning to keep it up, then one day in January, I looked in the mirror, and decided to go on a diet, and well, you know the rest of the story (see above).
So, I found a solution: Make a diet exception. So, I did that. I decided that I can have 1 serving of anything I put on here. It'll just be, you know, a cross I have to bear, you know, because I really DO actually want to stay on my diet, you know.
Anyway.
I hope you won't get tired of me posting cheesecakes ALL. THE. TIME! ????
When I was thinking out loud, rambling to Shannon about my problem/solution/problem/solution and told him how I'm solving it all, his comment was (as if he was saying this one day after my blog was up and going regularly again), "37 posts on Kitchen Scrapbook today?! and 24 yesterday?!!!"

Here's where the out-of-my-comfort-zone tidbit comes in… I'm putting on a Before/After picture of myself. WAY out of my comfort zone…even if I keep the pictures small …and even if the pictures are in poor lighting. But by posting this, it'll give me some accountability to keep on and get to the Final picture. So, here you go, this is what the halfway mark looks like, I just passed it a few days ago…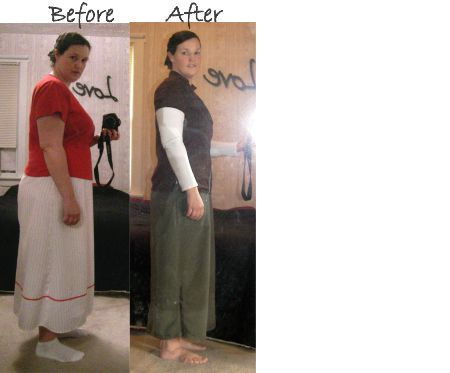 Now, onto the mints. Not sure if you can trust my judgement on these… of course they were good! Hello… it's CARBS!!
Ahhh, carbs. How I love thee.
Maybe if I was eating normally, they'd get a good/average rating instead of a 'they were absolutely awesome' rating. I don't know. So, just make them yourself… they're easy enough!
This recipe was not taken from a cookbook. It was taken from the book The Hand that Rocks the Cradle. The book title doesn't even have to finish that sentence …we all already know that we rule the world.

If you're a mom and don't have that book, you should. It's great. Every 2-page spread is loaded with inspiration, Bible verses, real life experiences, and here's my favorite: little sayings/quick quips/advice. A few pages have some fun little recipes on them, like page 145 with Mint Patties.
Mint Patties
1 lb. powdered sugar (I'll save you some research… that's 3 3/4 cups)
2 tsp. cream
1 Tbsp. soft butter
1 egg white (unbeaten)
1 tsp. vanilla
Mix together and shape into patties. Dip in chocolate.
And there you have it, simple as that. I got done putting all the ingredients in and then thought "Uhhhh, MINT patties? It must mean mint patties in looks only, because there's no mint in the recipe." So, I added about 1/2 tsp. of peppermint extract.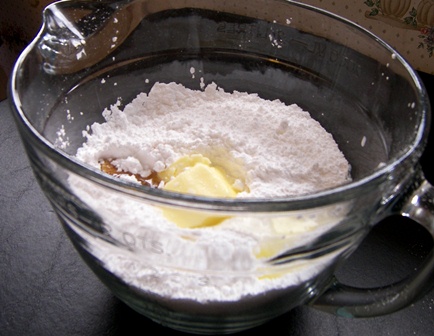 I just threw everything into a bowl and mixed it, but it made little pea-sized balls, so I added a bit more cream and then it all blended together like a dough.
Instead of shaping the patties (which I thought would be too time-consuming), I rolled the 'dough' out and used cookie cutters. Got a variety of shapes that way too, which inspired me to make a mental note that these could go with any theme or holiday… just make it in whatever shape is right for the occasion!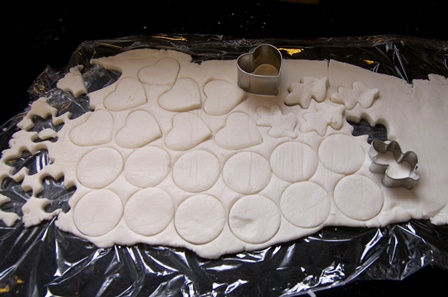 I chilled the patties in the fridge for about a 1/2 hour before dipping them. I dipped some, half-dipped some, and 'scribbled' on some. You could even leave some plain, or add a tint of green food coloring.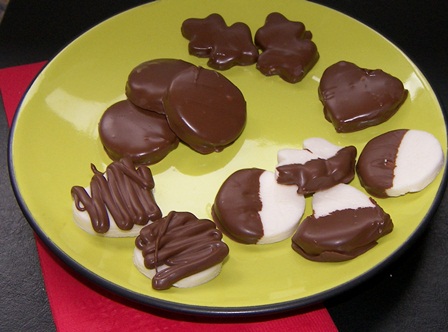 This recipe made about 6 dozen mint patties.
So, I can only have 1 serving… how many patties is 1 serving? Just wondering, because the recipe doesn't say. Oh well, I'll just assume the whole batch is 1 serving. ????
Comments