These fresh fruit kabobs drizzled with chocolate are the perfect item for adding a bit of beauty and pizzazz to the table without a lot of time-consuming work. You can't beat that, right? So, keep it in mind next time you need to take food somewhere. It doesn't even require a fork so it works for "bring finger food" occasions. These particular ones were made for my husband Shannon to take to a company potluck at his office at Keller Williams Real Estate.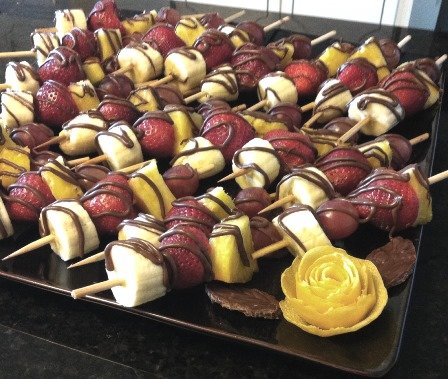 There is no recipe, just use any kind of fruit you want to… They all work great. Well, except apples. Apples sometimes split when you put them on the skewers. If you're using apples, the thinner the skewer the better. Just for the record, apples and chocolate go together awesomely! Is awesomely a word? I figure as long as you know what a word means, it doesn't really matter if it's technically not a word. ????
Chunk up/slice all the fruit that gets chunked or sliced. Take stems off of fruit that gets de-stemmed. Toss fruits that get brown with lemon juice (more on that later).
In other words, before I start threading them on skewers, I like to have them all ready to go.
Then, start poking fruit on until: 1. Fruit is gone, 2. Skewers are gone, or 3. You have the desired amount.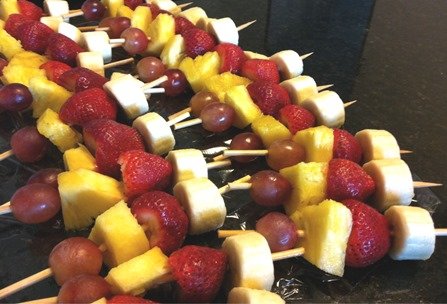 After the fruit is all on the skewers, put about a half cup of chocolate chips or candy melts in a sandwich bag, but don't seal shut. Put it in the microwave for 30 seconds. Flip it over and microwave it for 20 second. Work the bag with your hands and put them in for 10 seconds. Do this until all the chocolate feels smooth and no chunks are left.
I need to get back in my zone… that zone where I automatically remember to take pictures at each step! I was having too much fun and just kept rolling instead of stopping for pictures.
Now, you're ready to drizzle. Put the kabobs all really close together so less drizzle lands on the table. Snip a little corner off of the bag and just scribble back and forth over the fruit. Then immediately separate them or else the chocolate will harden and pull drizzles off of its neighbor.
Put them on a plate. Garnish if you want to.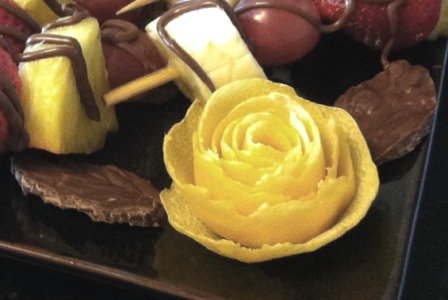 Here are tutorials on the rose and leaves, in case you want to make some:
Rose • Chocolate leaves
The rose tutorial is actually for making a tomato rose, but it's the same technique.
Now, about the bananas and keeping them from browning.
Lemon juice is the secret here. I did a little test where I checked them after 3 hours and after 6 hours. A little after the 6-hour mark, my girls came home from school and I let them eat my experiment for an after school snack… and then thought of it later that I should've tested the bananas longer, like 24 hours. But what I did learn is that lemon juice works its magic for at least 6 hours, and that was the info I needed because unless they have to set/freeze/marinate/etc, I rarely make things more than 6 hours ahead of time. Maybe that's because I'm a procrastinator.
So here we go, the experiment. The pictures above were taken right after I made it, where even a fresh banana would still be looking good. The pictures below were taken 3 and 6 hours afterwards.
3 hours after being tossed with lemon juice: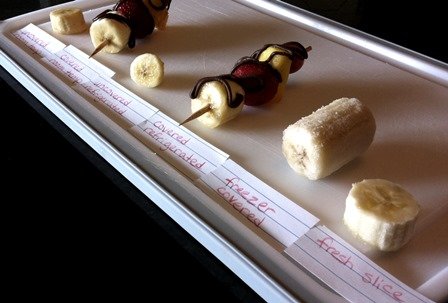 From left to right: uncovered room temp, covered room temp, uncovered refrigerated, covered refrigerated, covered frozen, and a fresh slice.
The fresh slice is NOT 3 hours old, it's just there for comparison. The frozen one is thrown in there for fun… it actually has no lemon juice on, it was peeled and put into the freezer right away and is probably more like 3 months old.
6 hours after being tossed with lemon juice:



The middles are starting to get a little brown, but are still fine.
What I was surprised was that between all the lemon-juiced ones, there was pretty much no difference! I'm glad about this tidbit because it gives flexibility. Here is a closer up. They all stayed firm too, no mushiness.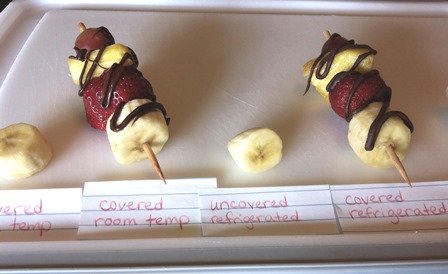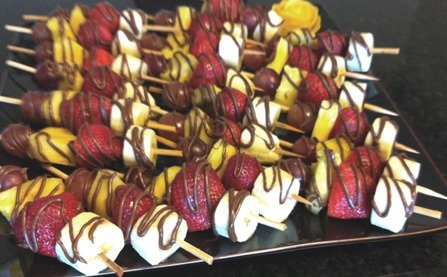 Here come the Holidays… make some of these pretty things!  It's a delicious, healthy snack to set out on the snack table (with the chocolate covered Ritz crackers, cookies, red-green-silver-foil-wrapped Hershey kisses, and party mix).
Comments