I'm going to feature our supper last night. Some of us around here have been sick, so suppers haven't been happening much this week… until last night. We made up for it then!!!!
Grilled Shrimp & Mushrooms
Stuffed Baked Potatoes
Grilled New York Strip Steak
Sauteed Mushrooms
Texas Toast
Veggies & Dip
Our friends who came over last night supplied the steaks… these are, incidently, the same friends I mentioned a couple weeks ago who brought hot ready-to-eat carry-out pizzas over for supper. Anybody else have friends like that?
Grilled Shrimp & Mushrooms
55 large (not jumbo) shrimp
Butter
Lawry's seasoning salt
Chef Paul Prudhomme's Meat Magic seasoning
Sliced mushrooms
There is actually no recipe for this… it was created by Shannon. He doesn't measure ingredients or anything, but I know that it uses pretty much butter and less mushrooms than shrimp. Thaw the shrimp under cold running water. Mix the shrimp, butter, and seasoning all together in a bowl and skewer it on skewers, putting a mushroom on now and then.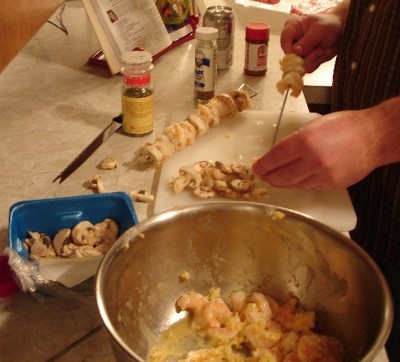 Grill it till browned. You can either serve them on the skewers or slide them off in to a bowl. Serve with cocktail sauce. So delicious! They cool quckly, so it's a good idea to put them in a bowl that's been heated up or eat them right away… or both.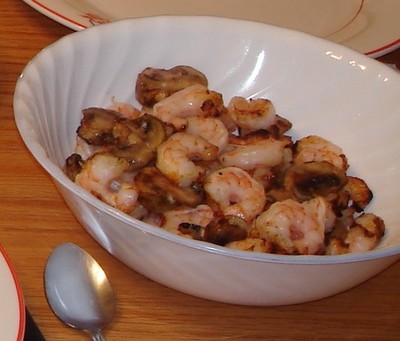 Stuffed Baked Potatoes (also known as Twice Baked) This recipe comes from a Weber Gas Barbeque Cookbook (came with our Weber grill).
3 lg baking potatoes
3 Tablespoons softened butter or margarine
3/4 teaspoon salt
2 egg yolks
1/2 cup sour cream
1 Tablespoon fresh snipped chives
2 Tablespoons grated cheddar cheese
1/4 cup broccoli florets
Wash and dry potatoes. Prick with fork. Bake until done, about 1 hour. (Mine took 1 1/2 hours @ 400, but they were BIG). Halve potatoes lengthwise. Carefully scoop out pulp, reserving 4 shells. (I just cut the top 1/4 off, then let the shell pretty thick. It doesn't break as easy then when your scoop out the pulp.)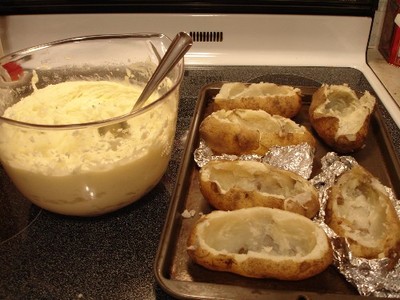 Mash potatoes with butter while still hot. Blend egg yolks and sour cream; mix with potatoes, chives, and salt. Mound mixture into reserved shells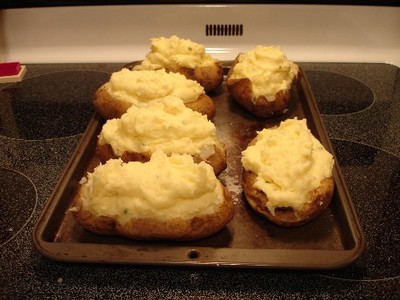 and place in a foil pan.
Place pan in center of cooking grate of gas grill (over indirect/medium heat) and cook until potatoes are heated through, about 20 minutes. Top each potato with cheese and continue to cook until cheese has melted. Garnish top with cooked broccoli florets before serving. I usually do them in the oven instead of the grill… bake on ungreased cookie sheet @ 375 for 20 min, then top with cheese, bake 5 min longer. Garnish top with broccoli.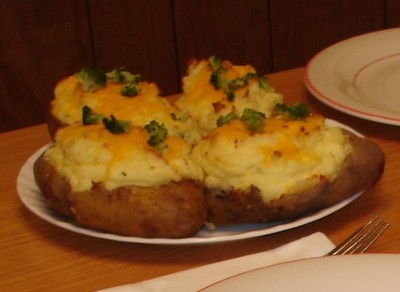 Grilled New York Strip Steak
4 12-oz. New York Strip Steak
Lawry's seasoning salt
Chef Paul Prudhomme's Meat Magic seasoning
Again, no actual recipe here, but this is how Shannon does it… Trim fat off,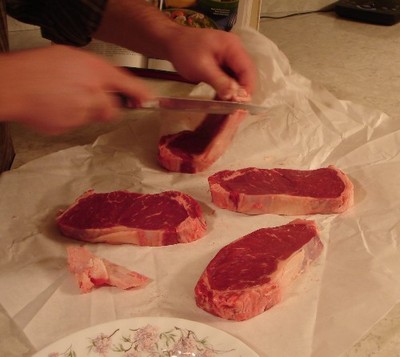 then let set till room temperature. Put seasoning on just before putting on the grill. Don't put seasonings on ahead of time because the salt in them pulls out the moisture. In a charcoal grill, over to the one side, have HOT coals piled up almost up to the grate. The heat should be so intense that you can't hold your hand there, even for a second. Sear the steaks there for about 1 1/2 minutes, then flip over to regular coals to finish grilling.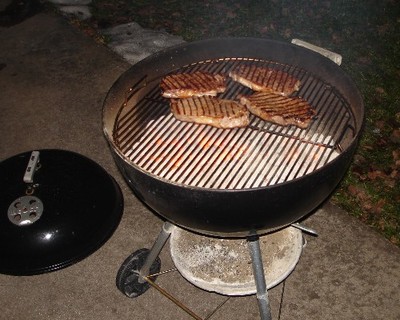 How long it takes depends on how much heat there is. Grill until steaks reach an internal temperature of 145 – 150. We like A-1 sauce with our steaks… ok, Ruthie, just some of us do.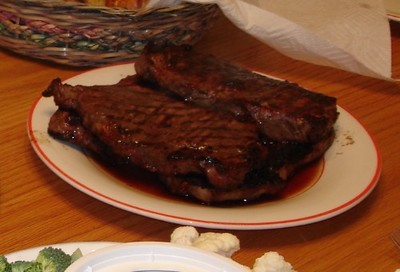 And, you can't have steak without…
Sauteed Mushrooms
1/4 cup butter
2 8-oz cartons whole mushrooms, washed
I don't know an actual recipe for this, but this is how I do it… When butter is about all melted in frying pan, put mushrooms in. Fry over medium/high heat stirring and flipping pretty often until they look darker and smaller and done… not sure exactly how to descibe it, ya just kinda know. Line a bowl with paper towel and scoop mushrooms into bowl. Then, pull the paper towel out from under them and serve them in the bowl. (The paper towel gets rid of some extra grease.)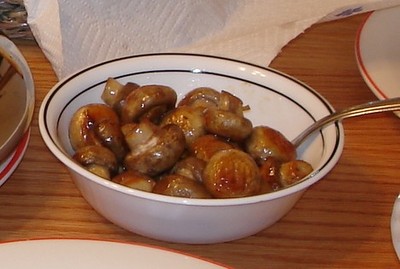 Texas Toast
Loaf of French bread
Lots of butter
Garlic powder
Again… this is just how we do it. Slice the loaf on an angle into 1″ thick pieces. Spread butter heavily on both sides. Sprinkle garlic powder on top… less for this kind of meal, more for an Italian meal.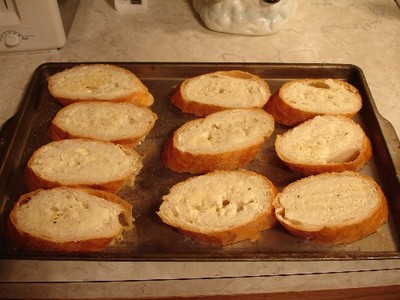 Put under broiler for a few minutes, but don't forget about it or you'll be reminded by smoke curling out of the oven… been there, done that! When the first side is done, get them out, flip them over, and broil the other side. You shouldn't have alot of other stuff going on while doing this, like fussy babies or making veggie trays or very involved conversations. Texas toast is what we call this bread, so if that's an incorrect term, then we're talking about a different Texas.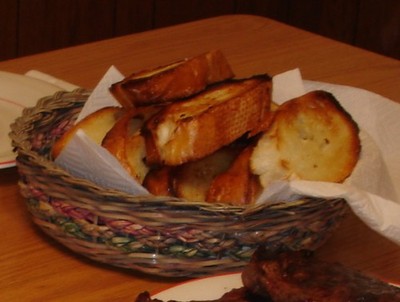 Veggie Tray
Baby carrots
Broccoli
Cauliflower
Green Peppers
Ranch veggie dip
Yeah, ok, this was more for healthy looks than anything. The guys didn't even touch it. It was the only thing on the table not loaded with calories.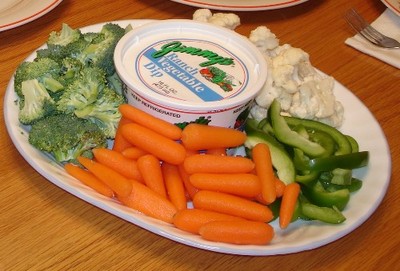 We didn't have dessert, but later in the evening, we ate some of the irrestistable Raspberry Cream Cheese Rolls that were left over from when I made them (again already) yesterday morning.
Comments