Tired of looking at roses? Me too! Time to dust off this site again and put something fresh on here.
I'm going to feature a full meal today, a napkin folding post soon, and hopefully some inspiration will come by the weekend for some Thanksgiving ideas!

This meal is taken out of the 2003 Quick Cooking Annual Cookbook on pages 8 & 9… I know, I'm like a broken record, Quick Cooking cookbook this, Quick Cooking cookbook that. I just love those cookbooks, and you know why? Because they have PICTURES!!!!

Pepper Jack Meat Loaf
1 egg or 1/4 cup egg substitute (I used an egg)
1 cup seasoned bread crumbs
1/4 cup chopped onion
1/2 to 1 tsp. salt
1/2 tsp. pepper
1 1/2 lbs lean ground beef
1 cup (4 oz) shredded pepperjack or monterey jack cheese, divided (I used all pepperjack cheese.)
In a lg bowl, combine the egg, bread crumbs, onion, salt, and pepper. Crumble beef over mixture and mix well. Press half of the beef mixture onto the bottom and halfway up the sides of a greased 8″x4″x2″ loaf pan. Sprinkle 3/4 cup cheese over meat to within 1/2″ of sides.


Pat remaining beef mixture over cheese.


Bake uncovered at 350 for 50 – 55 minutes until meat is no longer pink and a meat thermometer reads 160. Sprinkle with remaining cheese. Bake 5 min longer or until cheese is melted.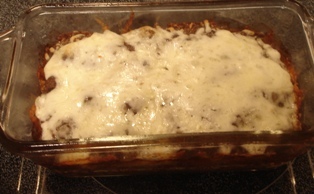 Let stand for 10 min before slicing.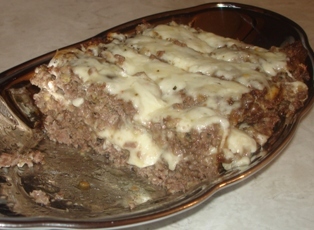 Yield: 6 servings. We really liked this! It was good for something different, although I still prefer meatloaf with ketchup stuff on top. That pepperjack cheese really gave it some kick. Lexi (who is 4 and a picky eater) said it's too spicy. Tiffany (who is 19 mos and eats anything) chowed it right down. We ate it with ketchup.
Potato Chip Potatoes
6 medium potaoes, peeled and cut into 1/2″ cubes
3/4 cup crushed potato chips, divided
1/2 cup chopped onion
2 Tbsp butter or margarine, melted
3/4 tsp. salt
1/4 tsp. pepper
In a bowl, combine everything, except 1/4 cup of potato chips; toss to combine.Transfer to a greased shallow 2 qt baking dish. Sprinkle with remaining potato chips. Bake, uncovered at 350 for 40 – 50 min or until potatoes are tender.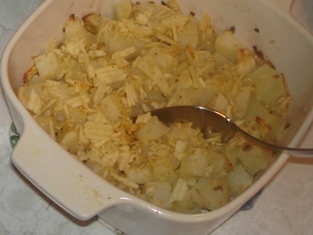 Yield: 6 – 8 servings. This was good, but nothing special. We ate it with ketchup because it was kinda blah without anything. It's a good way to use up those last broken up chips at the bottom of the bag.
Creamy Pea Salad
2 pkgs (16 oz each) frozen peas, thawed
1/2 cup diced cheddar cheese
1/2 cup diced mozzarella cheese
1 medium onion, chopped (onion AGAIN!)
1 cup mayo or salad dressing
Salt and pepper to taste
4 bacon strips, cooked and crumbled
In a bowl, combine everything except the bacon; mix well. Refrigerate until serving. Sprinkle with bacon.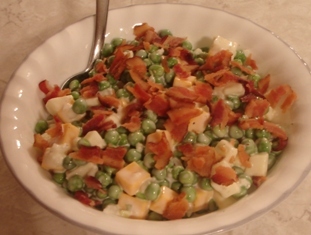 Yield: 6 – 8 servings. Ok, I'm not even gonna pretend… this was NOT at all good! I don't like cold peas or raw onions, but I decided to be open-minded and give it a shot, thinking maybe the other ingredients would make it good. None of the others liked it either. I ended up fishing out and eating the cheese and bacon and threw the rest away.
Chocolate Cherry Angel Cake
1 pkg (16 oz) angel food cake mix
1/3 cup finely chopped maraschino cherries, well drained
1 square (1 oz) semisweet chocolate, grated I put an ounce (at least an ounce

) of milk choc chips in a food chopper.
GLAZE:
2 Tbsp. butter (no substitutes)
1 square (1 oz) semisweet chocolate Again, I used milk choc… I try to stick to the recipe, but with chocolate, whenever I use semisweet like the recipe says, I always end up saying 'next time I'll use milk chocolate'. So I'm just going to start always using milk choc the 1st time.
1 Tbsp. light corn syrup
1 cup confectioners' sugar
3 to 5 tsp. maraschino cherry juice
Maraschino cherries and fresh mint, optional
Prepare cake mix according to directions. Fold cherries and chocolate into the batter. Pour into an ungreased 10″ tube pan.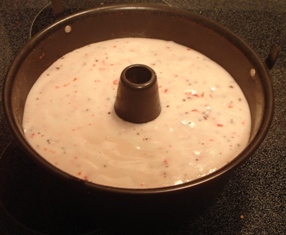 Bake at 350 for 40 – 45 minutes or until cake springs back when lightly touched. Immediately invert pan; cool completely. Run a knife around sides of cake and remove from pan. In a saucepan, combine butter, chocolate, and corn syrup. Cook and stir over low heat until chocolate is melted. Stir in confectioners' sugar and cherry juice until glaze reaches desired consistency. Drizzle over cake.


Garnish with cherries and mint if desired.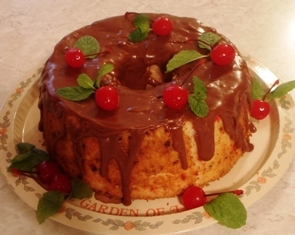 Yield: 12 servings. YUM!!!! This tasted as good as it looked! If you like chocolate covered cherries, you'll like this! Shannon doesn't like cherries and he even kinda liked it. It would be GREAT for around Christmas time too… doesn't it look sorta Christmas-y?