Posted on December 7, 2006
Filed Under Breads Biscuits and Rolls, Desserts, Seafood, Side dishes
Flavorful Fish Fillets
Dilled Green Beans
Mini Italian Biscuits
Strawberry Yogurt Trifle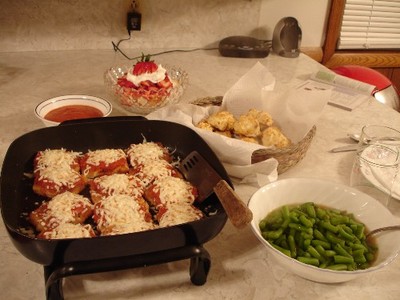 This past summer, for awhile I was doing the meals they already put together in the Quick Cooking and Taste of Home annual cookbooks. It had kind of (well, totally actually) petered out, so I thought this would be a good time to start it again. I'm going to try to do one every week. This one comes from the 2006 Quick Cooking annual cookbook. I just got this one from one of my friends ( appalolly on xanga) for my birthday in October.
These recipes always say "Prep/Total Time: 20 min." or some other little minutes. Three of these recipes say 20 and one says 15 min. From the time I started making supper till it was on the table was an hour and 5 min… not too bad, considering there were a few minor interruptions from the kids. But I do always kinda chuckle at the times they put on recipes!
Flavorful Fish Fillets
1 pkg (18.7 oz) frozen breaded fish fillets
3 T. olive oil
1 jar (26 oz) speghetti sauce
3 T. prepared horseradish
1 cup (4 oz) shredded mozzarella cheese
In a large skillet, cook fish in oil for 4 min on each side or until crisp and golden brown.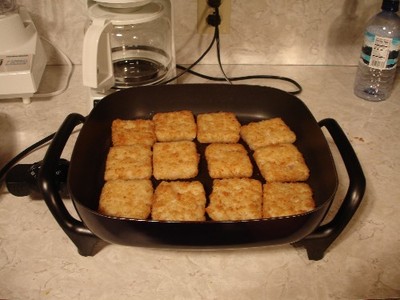 Meanwhile, in a lg saucepan, combine the speghetti sauce and horseradish; cook until heated through. Spoon over fish; sprinkle with cheese. Cover and remove from the heat. Let stand for 5 min or until cheese is melted. Yield: 4 – 5 servings.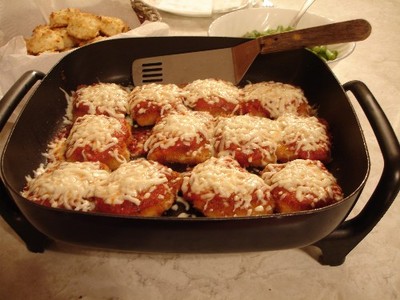 My opinion: Very good! Would definitely make again! Very easy to make! I wasn't sure about pasta sauce with fish instead of tartar sauce, but it was just tops!!! Way too much sauce though… next time, I'd cut the sauce in half. I served the rest of the sauce with the meal to spoon on extra, but we didn't really need it.
Dilled Green Beans
1 cup water
1/4 cup chopped green pepper
2 T. chopped onion
2 t. beef bouillon granules
1/2 t. dill seed
2 pkgs (9 oz ea) frozen cut green beans
In a lg saucepan, combine the water, green pepper, onion, bouillon, and dill. Bring to a boil. Reduce heat; cover and simmer for 5 min. Add the beans. Cover and simmer 8-10 min longer or until beans are crisp-tender; drain. Yield: 5 servings.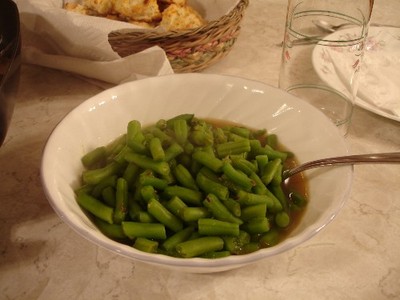 Oops! I see I didn't drain them!


My opinion: Good, but nothing outstanding. Wouldn't make again. With that much work, esp for a side dish, it should be dancing with flavor. It had extra flavor, but not as much as I was hoping it would.
Mini Italian Biscuits
For those of you who have this cookbook, I added the biscuits in here because I think meals should have 3 things, not counting dessert. This recipe comes from the same cookbook.
2 cups biscuit/baking mix
1/2 cup finely shredded cheddar cheese
1/2 teaspoon garlic powder
1/2 teaspoon dried oregano
1/2 teaspoon dried basil
2/3 cup milk
In a bowl, combine the biscuit mix, cheese, garlic powder, oregano, and basil. With a fork, stir in milk just until moistened. Drop by rounded teaspoonfuls onto a lightly greased baking sheet. Bake at 450 for 7-8 min or until golden brown. Serve warm. Yield: about 3 dozen.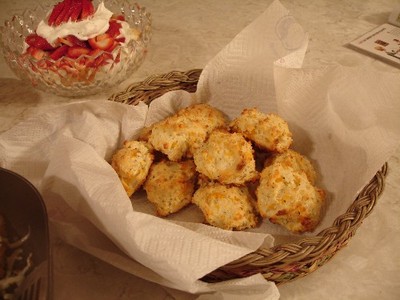 My opinion: Very good outstanding flavor, but too dry. But then, all my biscuits always get dry, so I would take any advice on making moist biscuits that just melt in your mouth! I'm going to find out if I'm doing something wrong and keep trying these biscuits because they are sooooo good!
Strawberry Yogurt Trifle
5 cups cubed angel food cake
1 carton (8 oz) vanilla yogurt
1 cup whipped topping, divided
3 cups sliced fresh strawberries
1 Tablespoon flaked coconut, toasted (optional

, I didn't have any toasted and didn't feel like toasting 1 tablespoon, so I skipped it completely)
Place cake cubes in a 2-qt bowl.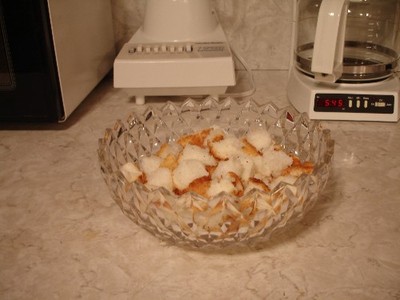 Combine the yogurt and 3/4 cup whipped topping; spoon over the cake.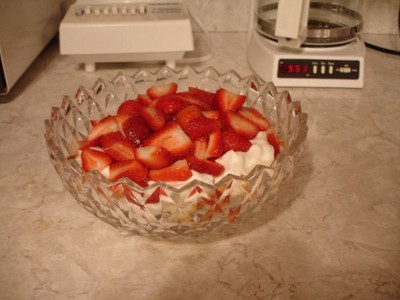 Top with strawberries and remaining whipped topping. Sprinkle with coconut. Yield: 4-5 servings.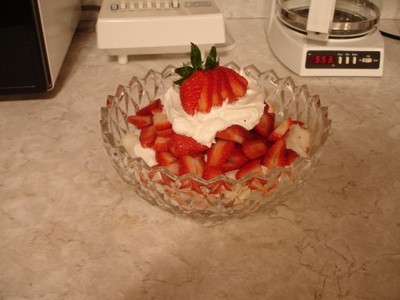 My opinion: Another keeper! A look at the ingredients tells you that you couldn't go wrong. I made a half batch. These are the changes I would make next time… I would make 2 layers (cake, goop, strawberries, cake, goop, strawberries, rest of whipped topping) instead of all the cake on the bottom. It's better to have more cake touching the yogurt part, I think. Also, I would make a little more of the yogurt mixture next time… it just 'lubricates' everything nicer.
We both thought this was a very good meal! Especially the dessert and the fish.
Tomorrow afternoon, Lexi and I are planning to make her birthday cake (it's supposed to be a house). I'll post it on here then… if we get done before midnight! Also, I'll put her other 3 birthday cakes from previous years on with it.