It's July. And it's blitzin' hot! Right now, mid-evening, the thermometer says 89 degrees. Perfect… it's July.
The girls and I had some red, white, and blue fun today. This is when we were ready to start. Excitement was high. I had a few ideas, but I didn't know what the end result would be… there was gonna be alot of experimenting going on…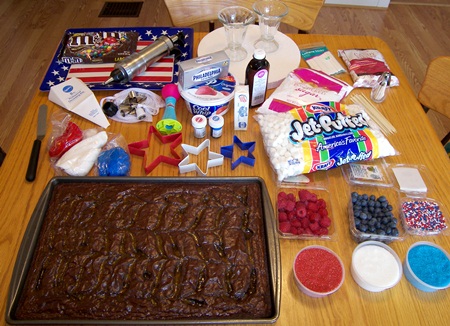 And here was the end result: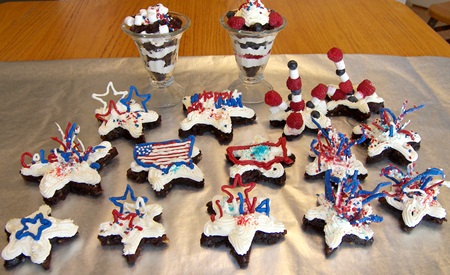 It's basically 4 different things… parfaits, berry shish-kabob decorations, fireworks, and randomly decorated brownies.
I made a big pan of brownies and then cut them out with star cookie cutters. I thought that would be faster because my star baking pan has only 6 wells and I'd have had to bake 3 or 4 batches. But, having it to do over, I'd use the star pan. You know how brownies kind of stick to the knife when you cut (unless you use a plastic knife)? Well, they stick to cookie cutters too. It wasn't too bad, though, and worked fine, but next time, I'll use my star pan.
Or, instead of brownies, it could be done just as easily on sugar cookies, cupcakes, or mini cupcakes.
The parfaits…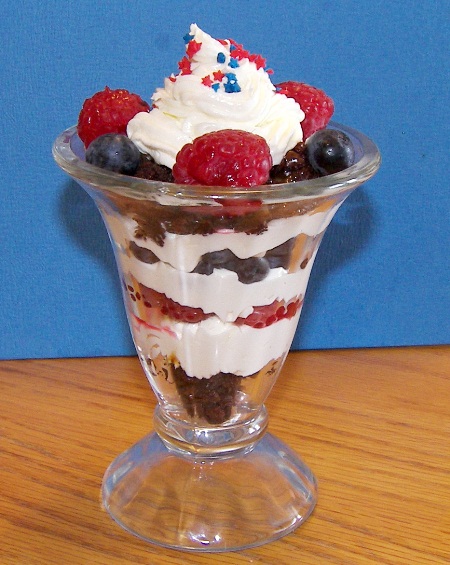 The parfaits tasted awesome and were easy and could be made in a large pedestal bowl instead of individual parfaits. This one is a layer of brownies, then cream cheese filling, then raspberries, filling, blueberries, filling, brownies, and then you can either put Cool Whip or filling on top and garnish with a bit of fruit and sprinkles. You could make a pan of brownies and cut them up into little squares to make this, or you could do what I did and use the brownie scraps left over from cutting out star brownies. ???? The filling is: 8 oz cream cheese mixed with 1/4 cup powdered sugar, then that gets mixed with 8 oz Cool Whip.
The fruit shish-kabob decorations…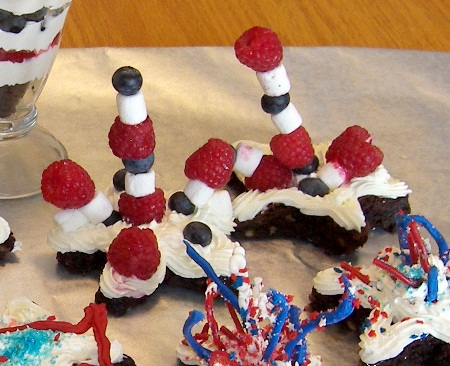 These shish-kabob things had serious issues… they kept falling over. We had to keep standing them up before each picture. We originally thought we'd try to make them look like fireworks, but we kept lowering our standards til our only requirement for them was to be red, white, and blue. We should've just skipped the sticks and made a mound of fruit on top. Oh well, the girls had fun stabbing the stuff on… and obsessing about making sure to get them in the right order of red-white-blue… but one time, one of them asked, "Mom, would blue-white-red be ok, as long as white is in the middle?" See? Obsessing. And you know what TOTALLY makes my day after all that fuss? I didn't notice it before, but just now I see that on the one tall one, it's red-white-blue-white-red-blue. ????
The fireworks…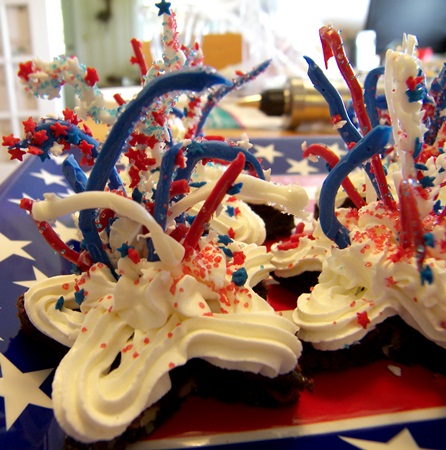 Oh, what fun! Didn't turn out quite like I had pictured, but that may be because the girls did most of it (also not what I had pictured) and I mostly just did damage control. We colored white chocolate blue and red and then piped the 3 colors on Saran wrap over a cutting board, then sprinkled on some colored sugar and star-shaped sprinkles, and put them in the fridge to harden.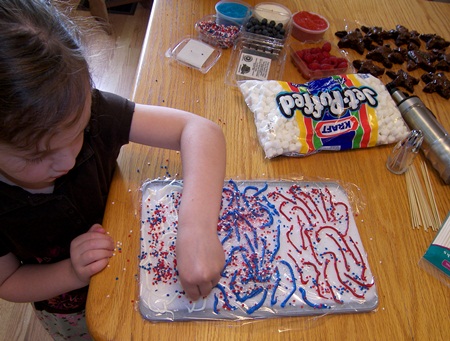 After 15 minutes or so, they were hardened and ready to assemble, which included jamming the sticks into the frosting on the brownies. Does 'jamming' sound a bit harsh for delicate little chocolate sticks? Yep. Harsh, but accurate. ???? I really should've taken a video clip of that process… it was hilarious to watch and listen. ????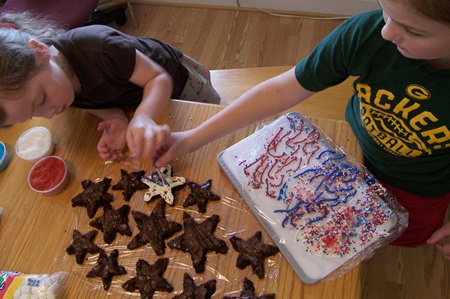 So, did it end up looking like fireworks? I don't know, but we at least have to give them credit for creating something that looks like some type of explosion…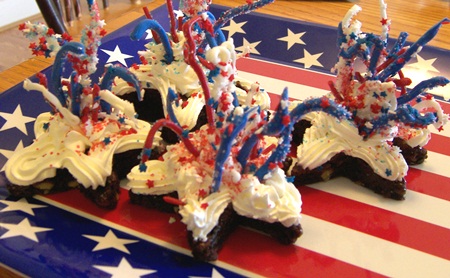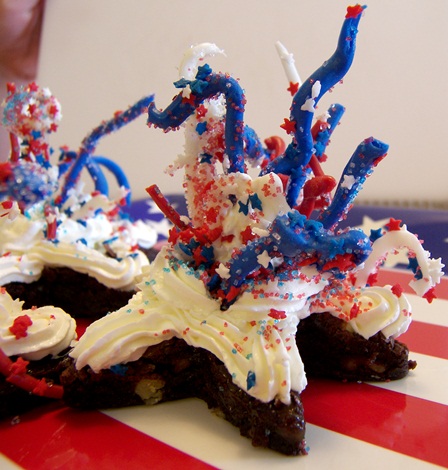 The randomly decorated brownies…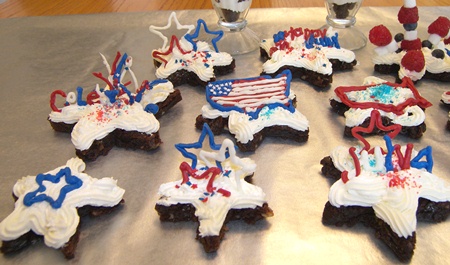 This was fun. I got an inspiration for this that I'll do more in the future for any occassion. Make a page on the computer of writing or shapes or outlines or whatever. Then, print it out and put it on a cutting board under a piece of Saran wrap. Then, pipe over it with chocolate. It'll make writing more even and shapes more accurate. Here is the Before/After…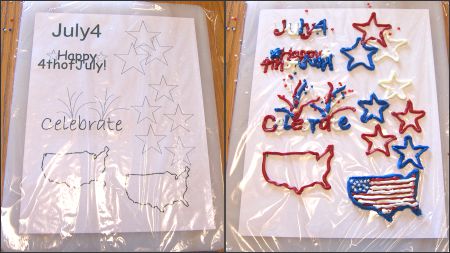 Then, put it in the fridge to harden. Peel off and garnish. The possibilities are endless with this print-out-and-pipe-chocolate thing! One tip is to make sure it's pretty thick. Another tip is don't hold it very long before putting it on because your warm fingers will start to soften it and it'll weaken and break.
Here are a couple of close-ups. Next time, I'd make an extra little thing sticking down to go into the frosting because, like July 4 down there, the Y looks like a V and the 4 looks like a triangle.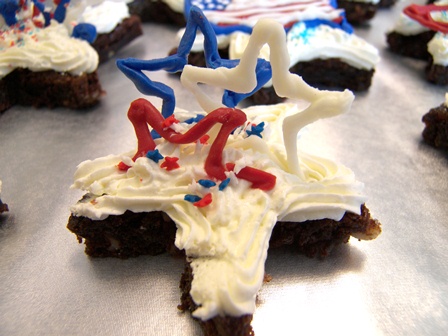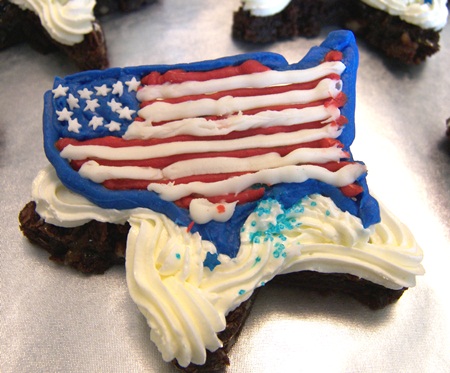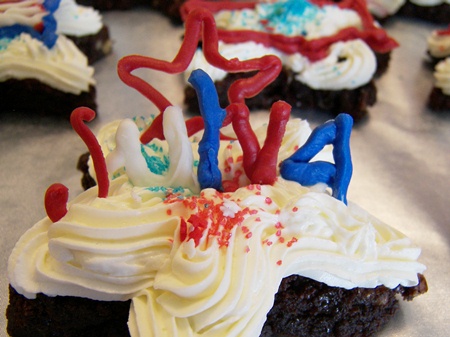 And, last but not least, United States rice crispy bars. After cutting it out, I put all the scraps together and re-flattened it out and cut out stars, then, sprinkled colored sugar on top. The flag is M&Ms… I had the kids separate out all the blue and red ones from a package.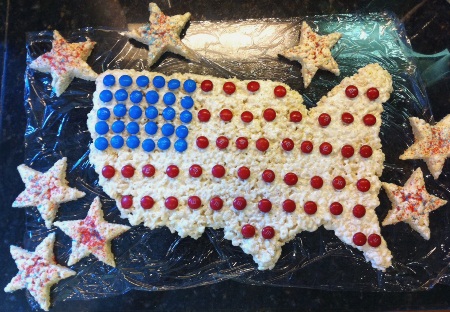 I used to have a plastic United States shaped mold. I had put it away for the year and when I went to get it out this year, something heavy was laying on it (a 15-lb dumbell, to be exact… yeah, don't ask, I have questions myself!) and it was hopelessly smashed. So, I just cut this freehand. The top does look a little odd from Michigan to Maine, but hey, you can at least tell what shape it's supposed to be, right?
Happy 4th of July from all of us! (even from Shannon, who was at work when we self-timered this picture)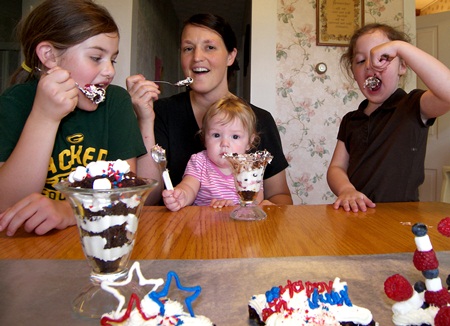 Excuse us for eating in front of you, but we couldn't help it when we saw that parfait sitting there. We're going to kick back and relax this weekend, maybe grill a burger or two and watch some fireworks. See ya next week!
Comments