Golden Potato Rounds
Tortilla Beef Bake
Salsa Strips
Chocolate Ice Cream Syrup
These recipes were all in a row in the "Give Me 5 or Fewer" section in the 2001 Quick Cooking Annual Cookbook . They all have 5 or less ingredients, so it was very fast and easy to throw this meal together. I actually halved the recipes so we wouldn't have leftovers, if you wonder about how little the dishes look.
Golden Potato Rounds
1 cup crushed cornflakes
1 1/2 tsp seasoned salt
4 med potatoes, peeled and sliced 1/2″ thick
1/4 cup butter or margarine, melted
In a bowl, combine the cornflakes and seasoned salt. Dip potatoes in butter, then coat with cornflake mixture. Place on greased foil-lined baking sheets.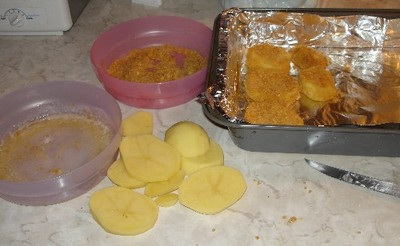 Bake at 350 for 55-60 min or until tender. Yield: 6 servings.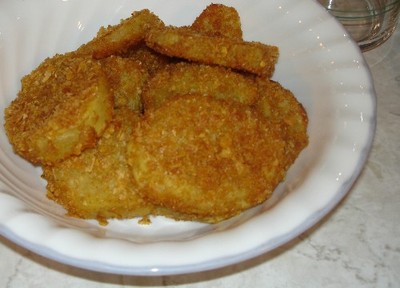 These were great! They were even better with ketchup. I made this meal last night for supper, and this morning we were driving and just out of the blue, Lexi said, "Mom, those potato rounds were so good!"
Tortilla Beef Bake
1 1/2 lbs ground beef
1 can (10 3/4 oz) condensed cream of chicken soup, undiluted
2 1/2 crushed tortilla chips, divided
1 jar (16 oz) salsa
1 1/2 cups (6 oz) shredded cheddar cheese
In a skillet, cook beef over medium heat until no longer pink; drain. Stir in soup. Sprinkle 1 1/2 cups tortilla chips in a greased shallow 2 1/2 qt baking dish. Top with beef mixture, salsa, and cheese.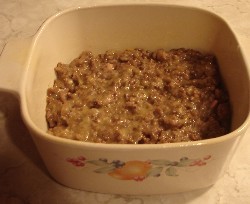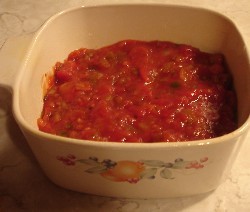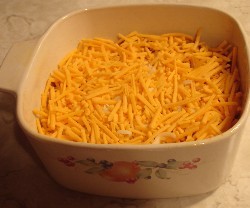 Bake, uncovered, at 350 for 25-30 min or until bubbly. Sprinkle with the remaining chips. Bake 3 min longer or until chips are lightly toasted. Yield: 6 servings.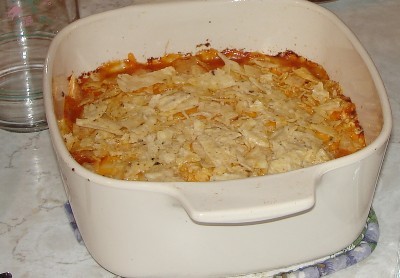 The tortilla chips on here gave it a nice crunch. It was very good and SO easy! We liked the salsa giving the zip to it instead of the usual taco seasoning that's usually in Mexican dishes. A winner!
Salsa Strips
1 tube (8 oz) refrigerated crescent rolls
2 Tbsp Dijon mustard
3/4 cup salsa
1 cup (4 oz) shredded mozzarella cheese
Minced fresh cilantro or parsley
Unroll crescent roll dough and separate into 4 rectangles. Place on greased baking sheets. Spread mustard and salsa on each rectangle.

If you wonder about the crescent rolls in the pan, I halved the recipe, then had 4 rolls left over, so just made reg crescent rolls and sprinkled a little cheese on them too. Bake at 350 for 10 min. Sprinkle with cheese; bake 8-10 min longer or until golden brown. Cool for 10 min. Cut each into four strips; sprinkle with cilantro (or parsley). Yield: 16 appetizers.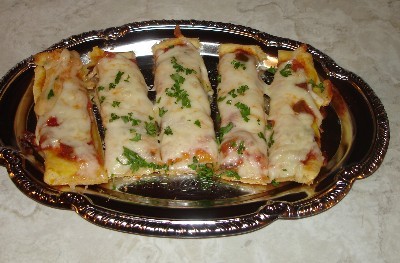 These were good, Shannon thought they were really good. My problem was that I don't like mustard and you could definitely taste it! Next time I'd put on only 1/2 of what it calls for… at least on my half! These salsa strips would be great to serve with a snack for company some evening.
Chocolate Ice Cream Syrup
6 squares (1 oz ea) unsweetened chocolate
3 Tbsp butter (no substitutes), cubed
2 cups sugar
1 can (12 oz) evaporated milk
Ice cream
In a heavy saucepan over low heat or double boiler over simmering water, melt the chocolate. Add butter; cook and stir until melted. Add sugar alternately with milk, stirring constantly. Cook for 15 min, stirring often.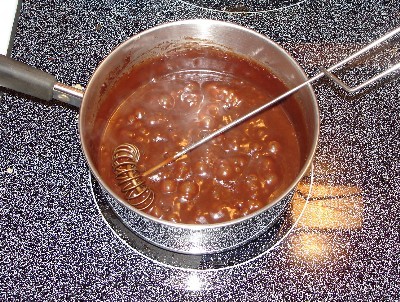 Serve warm over ice cream. Refrigerate leftovers. Yield: 2 1/2 cups.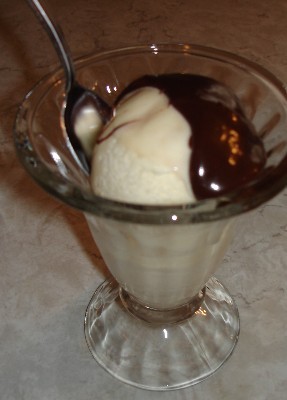 Editor's note: If desired, add 1 tsp vanilla extract or 1/2 tsp orange or peppermint extract. Stir into syrup after removing from the heat. As I was making this, I was thinking about that Reeses hard-shell stuff you can buy to go on ice cream and was sure this was the first and last time I'd be making this. But, it turned out so yummy and gooey and fudgey that I know I'll just have to make it again now and then!!!! Just a tip: Let it sit (before putting it on the ice cream) while you eat, then by the time you're done eating, it's not so piping hot and stays on top of the ice cream better without just slipping down the side and melting the ice cream.