Posted on May 21, 2009
Filed Under Birthday cakes
I am planning to make a Thomas the Tank Engine birthday cake for Trevor this afternoon. Here he is:

He's my friend Beth's little boy and he's turning a big whoppin' 3 years old! The party is tomorrow.
I'll be taking progress pictures and hopefully this pile of miscellaneous stuff will have turned into a Thomas the Tank Engine cake by this evening.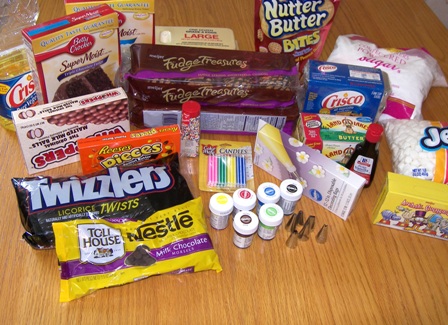 (Hopefully, the upside-down Whoppers don't bug any perfectionists out there… just noticed it now and I don't feel like taking another picture.)
Next step is to bake the cake. Or cakes. I'm actually not sure if it'll take one or two, so I'll probably make 2 right away so I for sure have enough. I'm planning to make the engine, a caboose, and 4 cars in between.
I'll be back after the cakes are baked and cooled…
– – – – – – – – – – – – – – – – – – – – – – – – – – – – – – – – – – – – – – –
Back again, but not with cake yet. For anyone who thinks I have my act together here, I'll admit a little tidbit that I could easily hide. And the only one who would've discovered it is Beth, after they've eaten the last of the cake and she's throwing away the thing it was on.
I was about to start and then thought, "Oh! What am I gonna put this train on?!" Usually, I buy those little cake board things or cover my cutting board with something, but a train requires something strong and long. So, I wandered thro' my house looking for something. In the storage room, I saw a sturdy Dewalt cardboard box. So I cut it up till I had 6 rectangles, stacked them in 2 stacks of 3, and covered them with aluminum foil. Sounds crazy, I know. But the result is a sturdy cake board that's the right size (but doesn't all fit on my 4′ dining table!)…



By the way, those pieces of cardboard on there are just for an idea of how the train will fit on. Who knows what it'll actually end up looking like or what size the cars will be, but that's just something to go by. I'm going to leave the cake board in 2 pieces for easier moving around and transporting to the party. Ideally, when they're pushed up against each other, it won't be too noticeable where the crack is.
You know, I was just thinking… I don't think I've EVER used the word Dewalt before in a birthday cake post! Or in a cooking post of any sort.
Now, I'm gonna go make some frosting…
Here is the frosting recipe that I always use:
Wilton Buttercream Icing
1/2 cup solid vegetable shortening
1/2 cup (1 stick) butter or margarine, softened
1 tsp. vanilla extract
4 cups sifted confectioners' sugar (approximately 1 lb.)
2 Tbsp. milk
In large bowl, cream shortening and butter with electric mixer. Add vanilla. Gradually add sugar, one cup at a time, beating well on medium speed. Scrape sides and bottom of bowl often. When all sugar has been mixed in, icing will appear dry. Add milk and beat at medium speed until light and fluffy. Keep bowl covered with a damp cloth until ready to use.
For best results, keep icing bowl in refrigerator when not in use. Refrigerated in an airtight container, this icing can be stored 2 weeks. Rewhip before using.
For thin (spreading) consistency icing, add 2 tablespoons light corn syrup, water or milk. I do this step for the frosting I use to frost the cake. Then for decorating, I either save some frosting out before adding these 2 extra Tbsp. of milk or add some powdered sugar.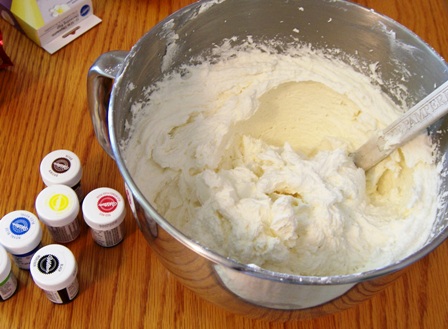 After a bit of stacking cake and carving, meet Thomas: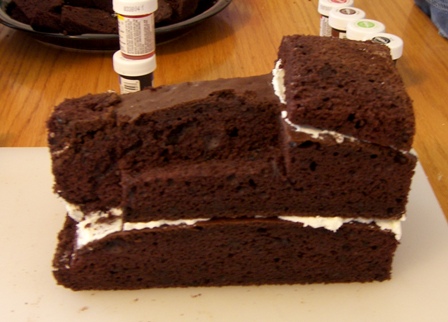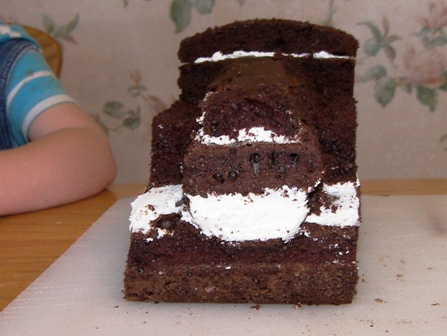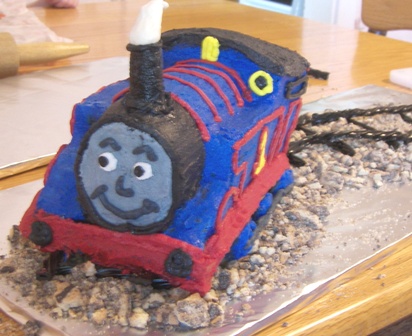 Thomas the Tank Engine is done. I don't like the face. I messed around with it for quite awhile, trying to texture it (as in 3D), but just couldn't get it to look right, so I just made it flat and piped a face on.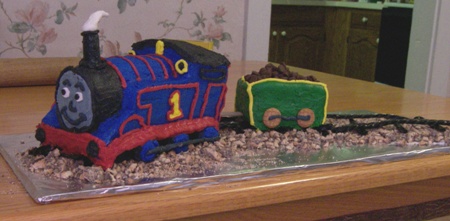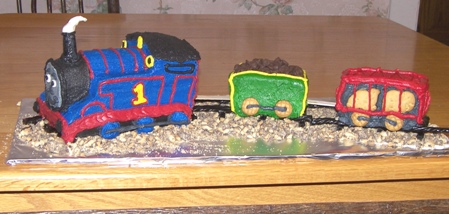 Thomas, coal car, circus car…
I'll post the rest in the morning.
Good morning!



Thomas the Tank Engine, coal car, circus car, tanker, boxcar, caboose.

And now for some close-ups (you can see all the flaws better, but I'm fine with that)…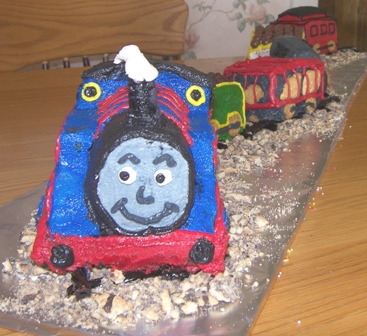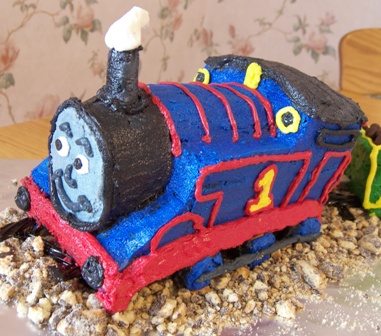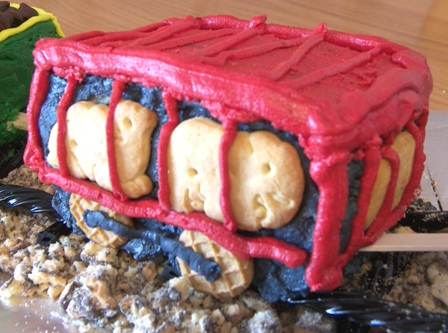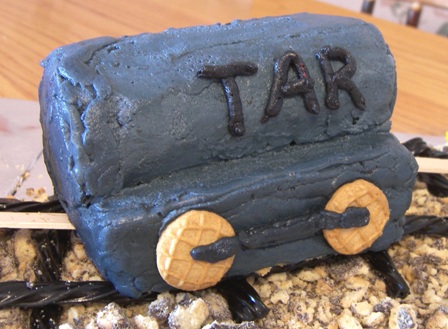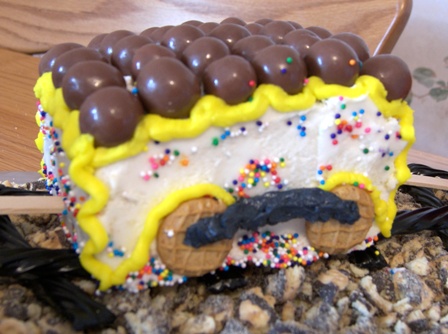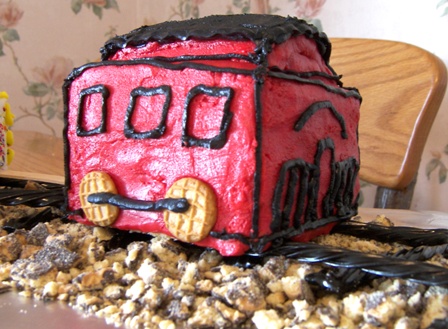 You know that pile of misc stuff up there? Well, some of that was a total guess of what I'd need. I didn't use all the stuff, but I used some stuff that wasn't on the pile. Like, speghetti, a carrot, and popsicle sticks. ????
Ah, what fun this was to make! Hope Trevor likes it! Happy birthday, Trevor!

Comments