Posted on January 15, 2009
Filed Under Cooks in Training, Side dishes, Snacks
Well, our little cooks are back! Actually, they never went anywhere and have been quite busy in the kitchen, it's just that they haven't been making recipes on their own lately. One reason I know they've been in the kitchen is because I'm often tripping over their little chairs that they stand on.
It seems like a hassle, the way they have to move their little chairs around while working in the kitchen… put them in front of the sink, climb up and wash their hands, get down, move the chair over to the cupboard, climb back up, etc. I do wonder how it would be to be working in the kitchen and the counter is at eye level though, so I guess it's worth all the moving around.
The food I'm featuring here barely merits calling it a recipe. But, we got it out of a cookbook and it was in recipe form, complete with amounts. We got a kid's cookbook (a Betty Crocker cookbook named Kids Cook!) for Lexi for Christmas. She loves it. She often gets it off of the cookbook shelf and sits around looking at it and saying, "Mom, we should try this!" So, one time I told her she could pick something to make sometime soon because we're going shopping and we should see first if we need any ingredients. And THIS is the recipe she picked. It is called:
Ants on a Log (Gag! Who ever named them that?!)
Celery
Peanut butter
Raisins
I'll spare you the recipe details and let the pictures and video show you how it's done. Or how it WAS done anyway, maybe not how it oughta be done (there was a bit of licking fingers by the 2-yr-old). One nice thing about the mini cooks making this is that it didn't involve the oven or stovetop or mixer. It did, however, involve a sharp knife for a little bit, but that was closely supervised, and when we were done with that step, everyone still had all fingers intact.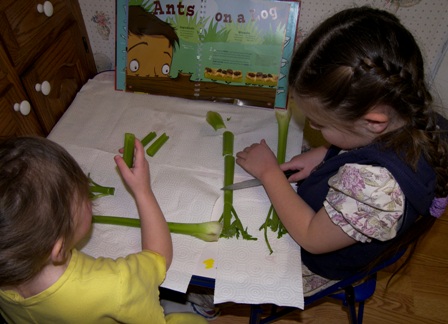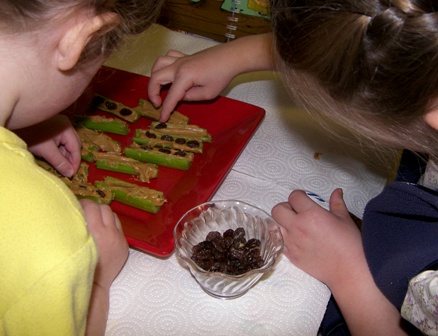 And here it is in action:


Comments