Posted on January 10, 2011
Filed Under Cookies and bars, Holiday cooking
Ok, people, take note. I am about to write a phrase that I have NEVER written before and that I will probably never write again. Ever.
White chocolate was better than milk chocolate. Oh, that sounds weird. Seems wrong. I feel like a traitor to milk chocolate.
But I made this cookie dough, split it in half, and added milk chocolate to one half and white to the other. When they were baked and cooled, I tasted them. In all my die-hard loyalty and love for milk chocolate, I'll have to admit that white chocolate just plain goes better with craisins.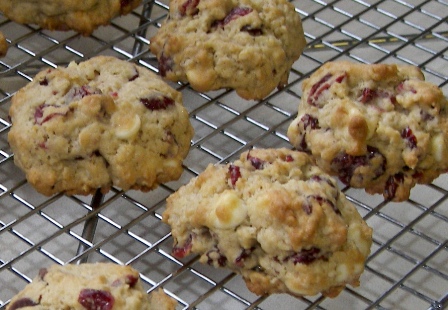 This all reminds me of a little conversation Shannon and I have had now and then about the museum at Lambeau field. I know, it might seem strange that chocolate reminded me of that conversation, but I have always loved analogies. Analogies help me understand things, see them in a different perspective. And this is an analogy… in which I am the milk chocolate, Shannon's brother Preston is the white chocolate, the Packer museum is the cookies, and Shannon is the taste-tester. In this conversation, we talk about his dream of some day going to Lambeau field and spending a day there going thro the museum, reading every piece of info and history, and when he does, it's not me (you know, ME, his favorite person ever) that he wants along …the person he wants to go with is his brother. Evidently, strolling thro' a football museum is not date material, holding hands as you go from one display to the next.?????

I do totally get it, though… I wouldn't want to browse Hobby Lobby and Michaels with him for a day. Things are always the most enjoyable when you get the right combo.
Like craisin cookies and white chocolate.
White Chocolate Craisin Cookies …recipe ripped out of either Taste of Home or Country Woman magazine, I forget which one
2/3 cup butter, softened
2/3 cup brown sugar
2 eggs
1 1/2 cups oatmeal
1 1/2 cups flour
1 tsp. baking soda
1/2 tsp. salt
1 6oz. package craisins
2/3 cup white chocolate chunks or chips
Preheat oven to 375. Beat butter and sugar together until light and fluffy. Add eggs, mixing well. Combine oats, flour, baking soda and salt. Add to butter mixture in several additions, mixing well after each addition. Stir in dried cranberries and white chocolate. Or do the taste-test for yourself and split the dough and try dark or milk chocolate.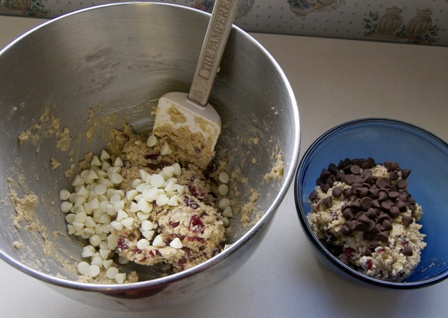 Drop by rounded spoonfuls onto ungreased cookie sheets. Bake for 10-12 minutes or until golden brown.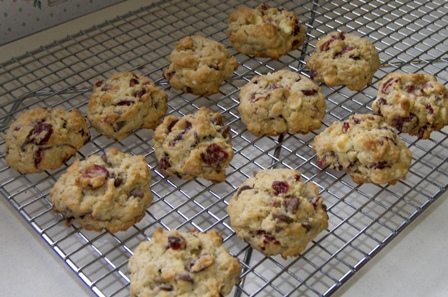 This made 28 cookies.

These are wonderful for Christmas! Or for any time of the year, since Christmas is about 11 1/2 months away… (read: didn't get it posted in time for Christmas). ????
Comments