Posted on August 4, 2008
Filed Under How to…, Pies
Ok, I'll just show you how I do it, but don't expect alot of tips and all. Who knows, after this post, you might be giving me a lot of tips! ???? That would be great, it would make us all better pie crust makers. And you might laugh at how I do it, for example, I use Saran Wrap in the pie-crust-making process. *Huh?!*
Warning: Eyes may glaze over… there are lots of pictures and it got a little wordy.

First, the recipe. This is the only pie crust recipe I use and I don't even try others because this one works great and has only 4 ingredients and it gets compliments now and then:
Pie Crust
1 1/3 cups flour
1/2 tsp. salt
1/2 cup butter-flavored shortening (Does shortening have an 'e' in it? I keep adding then erasing it. I should go look on the can.)
3 Tbsp. ice water
I put the flour and salt into a bowl and give it a few stirs w the teaspoon that I measured the salt with. Yeah, I about always measure stuff, I'm not one of those 'just dump it in' people. Then, I mix the shortening in with a potato masher…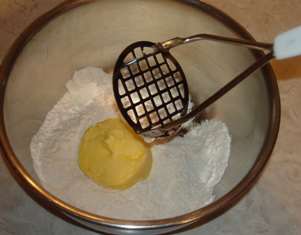 I've tried a pastry blender, two knives, a fork, and nothing works quite as good as a potato masher.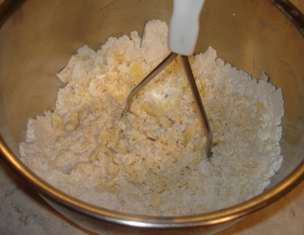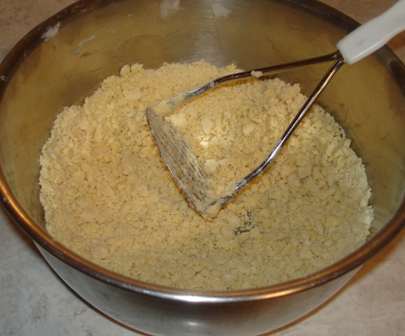 When it looks about like this, pour the water in all at once and quickly stir it with a fork. More like pourthewaterinallatonceandquicklystiritwithafork. Not sure why, but I feel some urgency to get it stirred in, maybe because I'm afraid it would soak into the part where it's pooled, then not get evenly dispersed. Anyway, I think that little tidbit might fall under the category of 'Weird Quirks' instead of 'Pie-Crust-Making Tips'.
When it looks like this,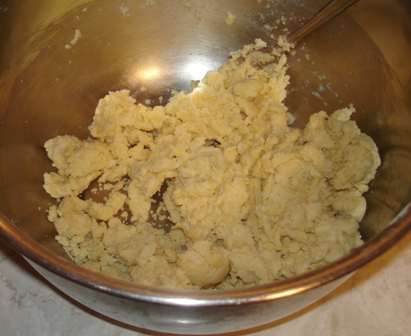 stop stirring and get a piece of Saran wrap, lay it on the counter, and sprinkle it with flour. Then, with your hands, get all the dough and squeeze it together into a ball, then flatten it a bit and put it on the floured Saran wrap.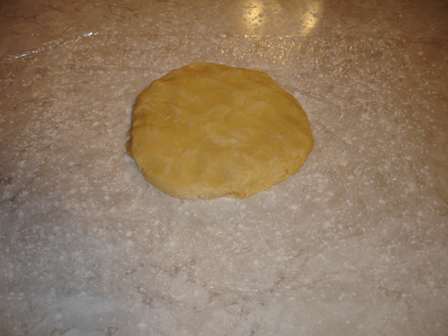 Sprinkle flour over the top.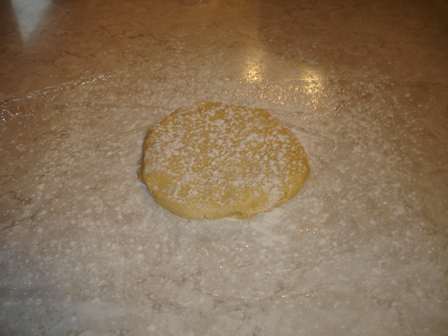 Take the rolling pin and roll it this way,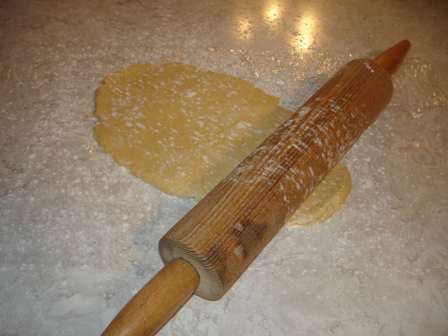 then that way.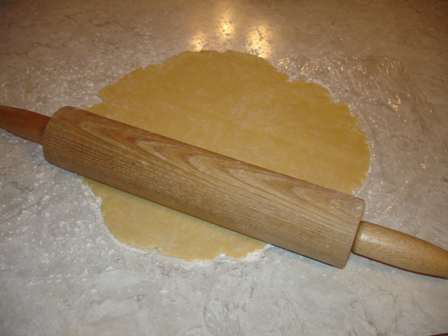 Sprinkle some more flour on because the rolling pin will be starting to stick a little.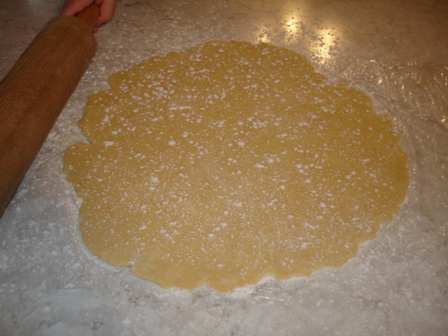 Roll it out some more till it's a couple inches bigger than the pie plate all the way around. Put one hand under the Saran wrap and the other hand on the back of the pie plate, and flip the whole works over.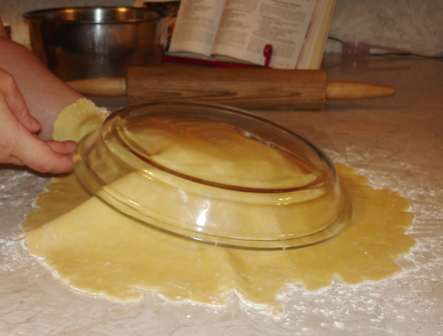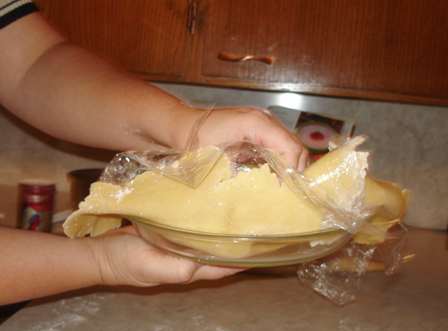 Peel off the Saran wrap. Now, here's an actual tip: Instead of just pressing the crust down into the pan, lift it up off the edge and let it line the pan without pushing down on it. Otherwise it will stretch the dough, then it'll shrink when it bakes. I don't really know how to explain it, but just DON'T make the dough stretch by pressing it down into where the side and bottom of pan meet.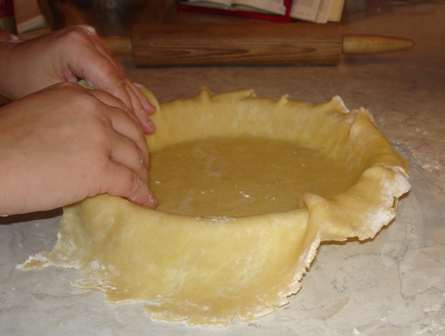 You can't really see it, but I'm not just pressing the dough down in with my fingertips… I'm lifting up the edge and putting it down in to line the 'corner'. Once it's all in there, press down a little around the top edge, this'll make it easier to cut the extra dough off. Take a knife and cut it off.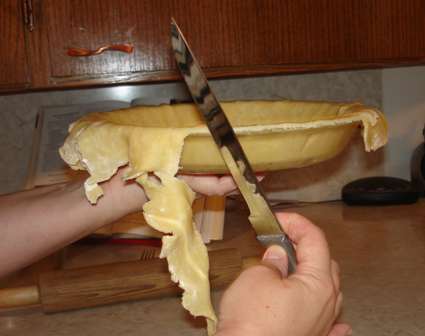 Here's where my extra dough always goes…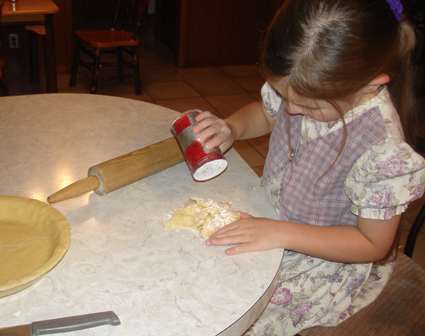 And she'd get my camera and take pictures of her own pie dough creations. Close up pictures. And the camera would focus on stuff behind the subject being photographed…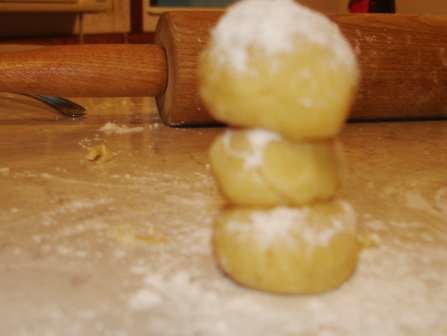 I usually crimp the edges of the dough between my thumb and finger.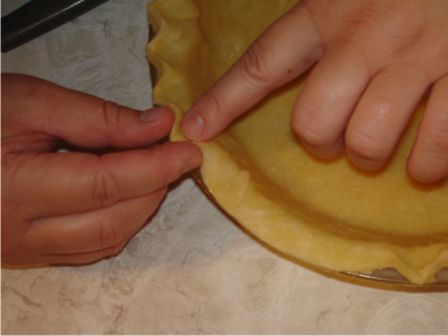 Poke the bottom and side of crust with a fork.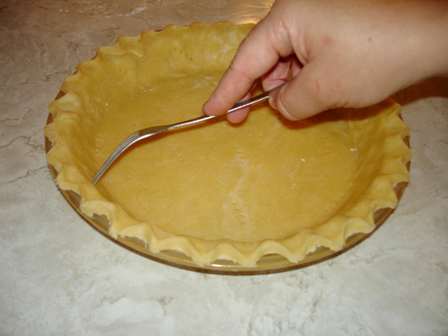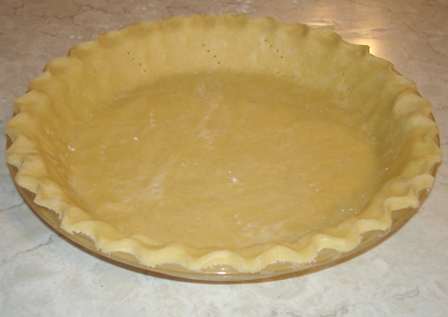 Bake at 375 for 12-15 minutes. And you've got a pie crust.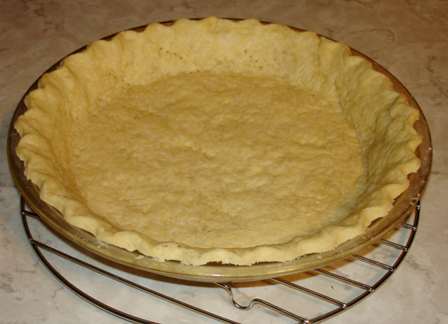 Yeah, it does shrink just a tiny bit, but it's good enough for me. I'd rather have that than mess with putting beans in it to bake it.
And, last but not least, the famous pie crust question… Is it flaky? I think so…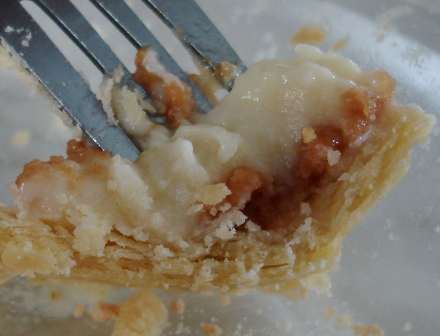 Now, let's hear from you… I know alot of you out there make pies. Please give us some more tips!

Comments