We have snow!! So I'm gonna post a snowman.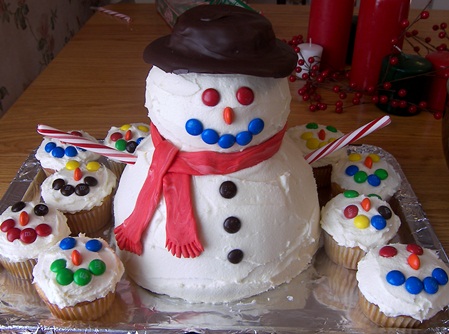 You know, I was just thinking… after I wrote those first 2 sentences, I looked out the window for awhile at the snow I was talking about… you know the snow that I used TWO exclamation marks after when I said we have snow, and I realized how my standards have changed. Do you know how much snow we have right now?
About 1/2 inch.
1 inch at the deep parts.
Wow.

I was born and raised in northern WI and moved to OH 3 years ago. If we'd get this much snow in WI and Shannon's dear grandpa from PA would call and say, "What's the weather like out there? Do you have snow?", same as he'd always start every call with between Sept and May, we'd say "No, not really, just a little dusting." I do really like the mild winters here though. I think it's pretty cool that in Ohio right now, it's mid-January and I still haven't gotten out my winter coat… my temp mark for bulk-of-winter-coat-is-worth-it-for-the-extra-warmth-over-light-coat is about 25 degrees, unless I'm going to be out for a long period of time.  I haven't gotten my boots out either because… I have none. I threw them away last year because they were so out of style and I was so in love with them… so when I was tempted to wear them, I'd weigh the pros (love them) and cons (out of style)… and love always won. So the only way to make myself stop wearing them was to throw them away.
All that to say that I'm in the market for boots. I love the style of boots right now… especially the sorta short ones with a heel and slouched and black and a bow-type thing on the side… so I'll probably be back in my out-of-style-but-love-em predicament again in 5 years.

Maybe I'll buy some boots tomorrow… we seriously need to get out of the house because we've been sick for nearly a week around here and I think we're all functioning at 85 – 100% power today now… so what better thing to do on a Saturday than to go out on the town.
Anyway… let's circle back around to where we started… "I'm gonna post a snowman".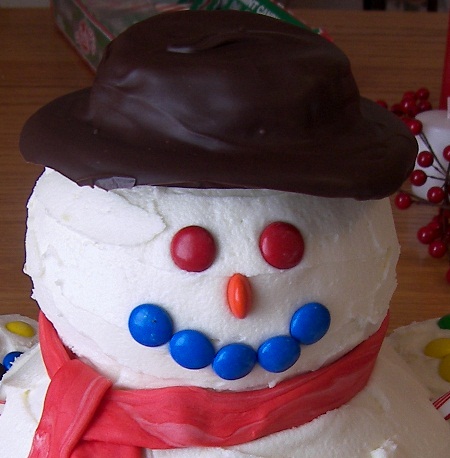 Isn't it crazy how M&Ms can almost seem to make something have a personality?

I feel like I need to talk really fast to interrupt any crazy "I'd never have time for that!" thoughts. It's simply 2 cake mixes… dump one in a mixing bowl instead of a 9×13, dump the other one in a small mixing bowl and the rest in cupcake liners. Bake. Frost… you don't even have to add food coloring because snow is conveniently white!

Press M&Ms on. Make a melty chocolate/peanut butter hat. Fruit roll-up scarf. Eat. There is no carving or shaping of cake going on here. I made this for dessert for hot lunch at school.
Get your 5-yr-old to decorate the cupcakes… Tiffany did all of them while I did the snowman. We used orange M&Ms for noses only and put them sideways so they stuck out a little more.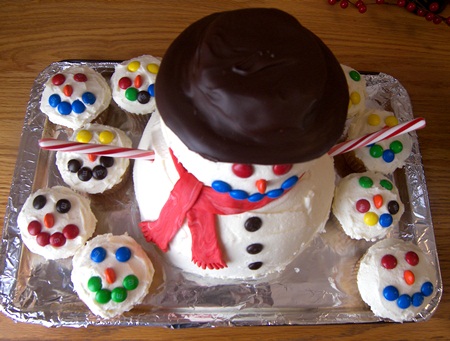 Keep the 18-month-old demolition-crew-of-one as far away as possible. Or do what I did and count one cupcake and a small handful of M&Ms as loss and set her up to destro—, I mean, decorate it.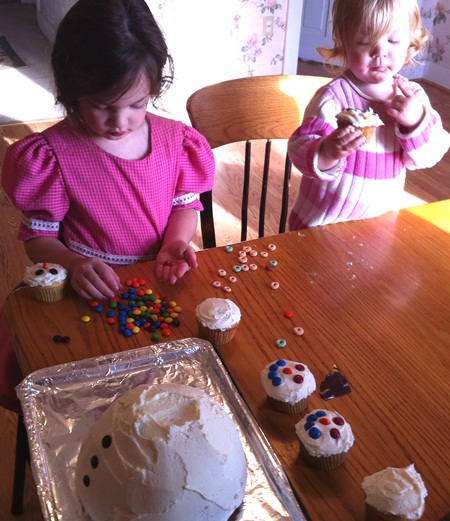 *cell phone pic alert* Yeah, we tried just giving Megan some Apple Jacks to munch on so she could happily watch while munching, but nope, no luck, she was more into M&Ms and gooey frosting.
One thing I should say about the baking… I was afraid the cake wouldn't get done in the middle, so I looked around the kitchen, saw a glass Coke bottle (filled it to make it heavier), covered it in tin foil, and put it in the middle, like it's sitting in the mixing bowl here… kind of an angel food cake pan effect. It worked perfect. I don't know if it would be necessary or not, though. I baked the cake for 1 hour.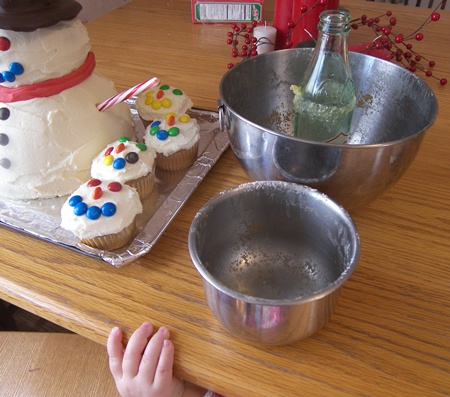 I used candy canes for the arms (broke off the curved part), but you could use pretzel rods or whatever. The hat is a chunk of leftover buckeye-type peanut butter filling dipped in melted chocolate with too much chocolate poured on top so it ran down beside it, making a hat brim. Then I put it in the fridge until it hardened. You could pretty much use anything… like a chocolate-dipped small cookie or whoopie pie or something.
*gasp* Did I just used the phrase "too much chocolate"?! Sorry, it should read "extra chocolate" instead… I'm more comfortable with that term.
Add a fruit roll-up or fondant the color of your choice for the scarf. Snip the ends with a scissors to give a tassle effect.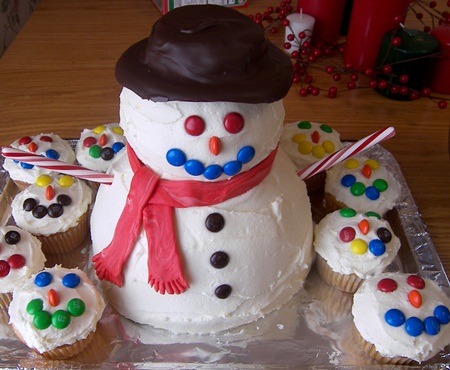 And there you go… celebrate winter with your kids! Whether you have 2 feet of snow, a 1/2 inch of snow, or only dream of snow.
Comments