Posted on July 20, 2009
Filed Under Easy meals, Side dishes
If you want quick-n-easy, here you go. These would honestly fit into a "30 minutes to mealtime" category. And 20 of those minutes is the potatoes cooking, so that's some free time to fry some chicken, make a salad, or whatever else is for dinner. All you do is peel a stripe around the potatoes, throw them in a kettle to cook, then 20 minutes later, toss them with a butter and herb mixture and put them on the table.
This is one of those recipes I clipped a long time ago. Well, I didn't technically clip it, I scribbled it down. When I have a clipped recipe, sometimes I can tell where they came from, but when I just wrote it, it's only a guess. Maybe it was out of a magazine in a doctor's office or somewhere (because, you know, I'd never rip a recipe out of someone else's magazine!). I've seen this potato recipe in my stash of clipped recipes pretty often, but never tried it… maybe because it's so hard and complicated. Just kidding.
Anyway, this recipe is definitely a keeper. It's simple enough for a regular weeknight meal, but dressy enough for Sunday company. As I wrote that part about being dressy, I wondered what I thought makes it dressy and I guess it's because of the peeled stripe around it and the parsley garnish. ????  We ate these with sour cream, but I wish I'd have thought of Ranch dressing. I'll bet that would've been really good with them too!
And here's the recipe:
Herbed new Potatoes
12 small new potatoes
4 tsp. butter
1 1/3 tsp. dried parsley (or 1 1/3 Tbsp. chopped fresh parsley if you prefer)
1 1/3 tsp. chives
Fresh parsley for garnish
Peel 1/2″ strip around center of each potato. Place in cold water in saucepan. Boil potatoes about 20 minutes or till done. Don't overcook.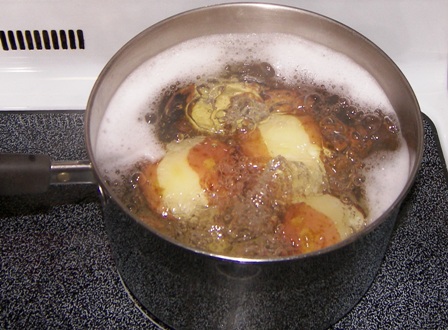 Drain and cover. Melt butter and stir in chives and parsley. Pour over potatoes and toss to coat. Spoon potatoes into bowl and garnish with parsley. Serve immediately. Serves 4. Variation: Can also sprinkle with bacon or finely minced greeen onions.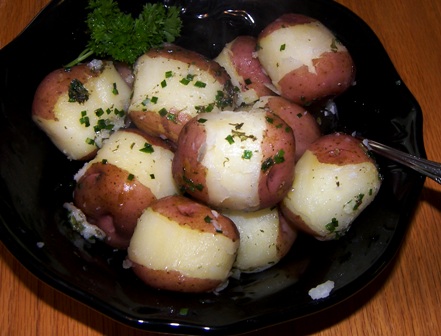 Oh, and about ripping a recipe out of someone's else's magazine… *ahem* … Confession: I did one time several years ago at an oil change place while waiting on my car to get done. But only that one time. Seriously. ???? I forget, but I probably didn't have a pen and paper on me. It was a garlic biscuit recipe of some sort, but not these Red Lobster ones.
Change of subject now: This article hit the news last week. ???? By Melissa Dutton for the Associated Press: http://www.wral.com/lifestyles/story/5579539/ I guess now you'll know what Lexi's 7th birthday cake will be.

Comments