Posted on April 22, 2011
Filed Under Snacks, Sweet rolls and Coffee cakes
If cooking was basketball, this would be a slam dunk! Seriously, these little things are aWeSOmE!!! (I only put 3 exclamation marks there because I know some people get annoyed when bloggers go wild with exclamation marks, but in my mind, I'm adding about 30 more.) You've gotta try them… your taste buds will love you. They won't take much of your time… 40 min from walking into the kitchen to popping one in your mouth.
STOP.
What was it that you could be doing 40 minutes from now?
Ok, just wanted to be sure you caught that.
Here's a little unnecessary tidbit… I made these with one hand. I was going to quickly get them into the oven before putting Megan down for a nap. Well, just as I was ready to start, she got crabby and clingy, it was over, naptime was NOW.
Unless I was holding her.
So, I thought 'oh well, no age is too young to start training a little cook'. Actually, I didn't think that, I just thought it right now, but it would've been a cool reason to hold her while making these! So, yeah, from measuring the first ingredient to spooning the batter into the pan (including taking pictures), I had a 24-lb 10-month-old on my hip. She was tired enough to just lazily watch and not grab stuff. Then, while they were baking, I put her to sleep. Yep, I rock my babies to sleep. My babies were never trained to just lay down and go to sleep on their own. Not saying it's for everyone, but it's definitely for me. It's 18 months out of each of their little lives that I rock them to sleep and that's some cozy little moments that I'll never regret. And it gives me plenty of time to try to memorize the feel of them in my arms in hopes that when they're all grown up, I can reach in and grab those memories again… and remember.
Ok, where was I? (Yeah, I know this is a cooking blog, but I don't do a personal blog, so I like to (and my mom likes me to) stir bits of life into here sometimes.)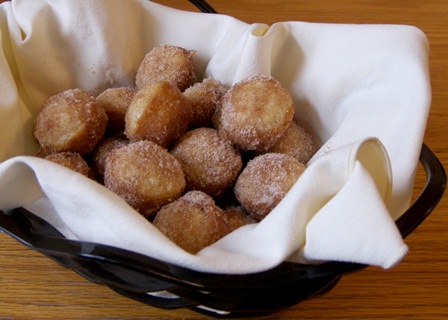 Donut Muffins …taken from here, but I'd have probably never found and tried them if my friend Diane hadn't alerted us to them on a message board I frequent. So, Diane, if you're reading this, thanks a ton!

1/2 cup white sugar
1/4 cup margarine, melted (I used butter)
3/4 tsp. ground nutmeg
1/2 cup milk
1 tsp. baking powder
1 cup flour
1/4 cup margarine, melted (it's up to you… you can either add a few Tbsp more right away or you can melt more butter when you're running out halfway through dipping them ???? )
1/2 cup white sugar
1 teaspoon ground cinnamon
Preheat oven to 375. Grease 24 mini-muffin cups. Mix 1/2 cup sugar, 1/4 cup margarine, and nutmeg in a bowl.

Stir in the milk, then mix in the baking powder and flour until just combined.

Fill the prepared mini muffin cups about half full. Yeah, I know these aren't all evenly filled, but I was never a perfectionist, and probably never will be. Plus, I was holding a baby and by this time, my left arm was starting to kill me.

Bake until the tops are lightly golden, 15 to 20 minutes. During this time, a mouth-watering nutmeggy smell will be wafting throughout your house. While muffins are baking, place 1/4 cup of melted margarine in a bowl. In a separate bowl, mix together 1/2 cup of sugar with the cinnamon. Remove muffins from their cups, dip each muffin in the melted margarine, and roll in the sugar-cinnamon mixture.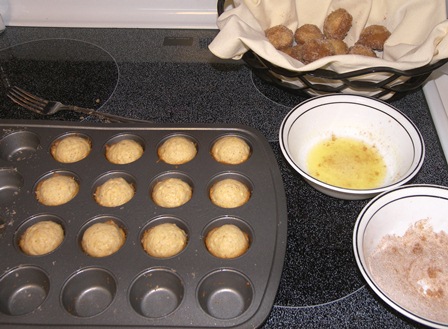 Let cool and serve. I don't know WHY it says 'cool and serve'! I say 'serve warm'! I only had one and that was a warm one and it was such incredible melt-in-your-mouth awesomeness that I'd try to serve them warm on purpose, if possible.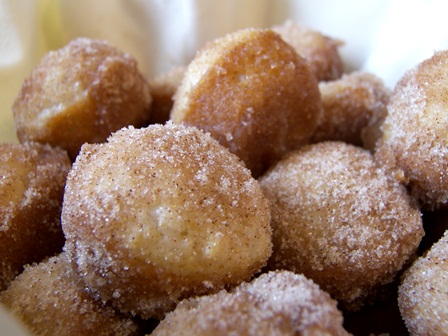 I don't know what category to put these in. They're so versatile.
— Make them for an after school snack.
— Take them to a 'bring food' church function.
— Make them for brunch.
— Serve them for dessert.
— Make them this evening for a bedtime snack.
Coming up next… a Lightning McQueen cake. ????
Comments