Posted on October 29, 2010
Filed Under Desserts
Desserts should be:
… attractive
… easy to make
… made without dirtying alot of dishes/utensils/appliances
… able to tell what kind they are by looking at them
… quick to make
… yuuuuuuuuummy
Let's see how this Turtle Sundae Dessert measures up. (you know where this is going, don't you?) ????
Attractive. I'd say it passes, especially with those maraschino cherries on dollops of whipped topping. And drizzled caramel and chocolate are always a nice touch too. ????
Easy to make. Yep. No recipe needed. And there's no mixing, baking, cooling, flipping upside down, or rolling out. Just scoop ice cream into a cake pan, drizzle with caramel and chocolate ice cream toppings, sprinkle with pecans, dollop Cool Whip here and there, and put a cherry on top of each Cool Whip. Skill level for this would be about 2 on a scale of 1 to 10 where 1 is what your 4-yr-old could do and 10 is like Grandma baking brown sugar pies.
Made without dirtying alot of dishes. I used 1 ice cream scoop, a couple of small spoons, and 1 cake pan. Not bad.
Able to tell what kind it is by looking at it. Definitely a 100% score on this one. Not only can you tell what kind it is, you can actually SEE all the ingredients! If you wonder why it's good to know what kind a dessert is before digging in because, you know, "all desserts are good", ask my husband about that one. *ahem* one word: rhubarb.

Quick to make. I made this in 15 minutes flat. Actually, I didn't time it, but it really doesn't take long to scoop, drizzle, sprinkle, and dollop because nothing is meticulous here, although you could get fancy with the Cool Whip and pipe it on with a flower tip.
Yuuuuuuuummy. This is, of course, a matter of opinion, but it passes with flying colors in my book. You know what, though, I think next time, I'll bake brownies in the pan and THEN put this turtle combo on top. Extra yummy and that would also make it more of a complete dessert, too.
One more good point and then one bad point about this:
Good point: This is a great way to make turtle sundaes for a crowd, like if you don't have enough fancy little pedestal dessert cups for everyone. It would be perfect to whip out of the freezer while you're clearing away the main course. Another reason it would be great for a crowd is because if it's individual servings, 'Sally' might force the last of hers down while 'Joe' is wishing for another one. This way, they can take however much they want.
Bad point: While this works great for a crowd at your house, it doesn't works for all crowds. I took this exact dessert pictured here to a carry-in/potluck/whatever you call it. Well, at that type of meal, the people in charge of food set ALL the food out and people file through the line filling their plates. So, it was sitting out there for quite awhile and pure ice cream with nothing else mixed in does not take long at all to melt! Let's just say Lesson learned. When I went thro the line, about 3/4ths of the people had already gone through and there was a bottom-cover of melted ice cream and about 5 or 6 very very soft scoops swimming in it. From now on, I'll just make this for occasions when the dessert can be gotten out when it's time for dessert to be served.

And yeah, I want to try it with the brownies underneath too.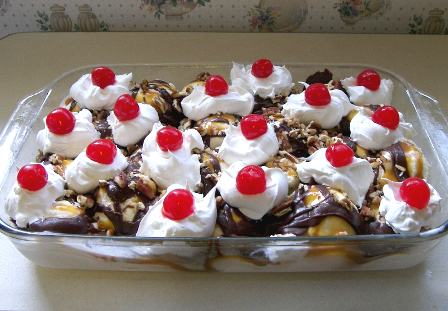 Comments