Glazed Ham
Mashed Potatoes
Salad
Dinner Rolls
Glazed Ham … recipe from the 2006 Taste of Home Annual cookbook
1 fully cooked bone-in half ham (8 – 9 lbs)
3 Tbsp. whole cloves
2 cups packed brown sugar
1/2 cup unsweetened apple juice or fruit juice of your choice
2 tsp. ground mustard
Place ham on a rack in a shallow roasting pan. Score the surface of the ham, making 1/2″ deep diamond shapes; insert a clove in each diamond.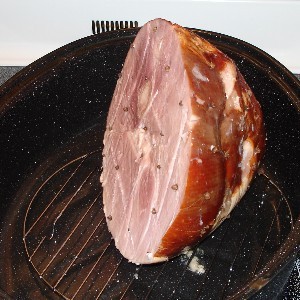 Bake, uncovered, at 325 for 2 hours. For glaze, combine brown sugar, juice, and mustard; spoon some over ham. Bake 30 min longer or until meat thermometer reads 140, basting occasionally with remaining glaze. Let stand for 15 min before slicing. Yield: 16 servings. I didn't get a picture of the ham before lunch

, so here it is after lunch…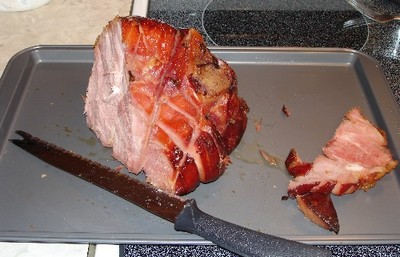 This was really good and really easy!!!!
Extra Good Mashed Potatoes … recipe from Fix It And Forget It cookbook
5 lbs potatoes, peeled, cooked, and mashed
8 oz pkg cream cheese, softened
1 1/2 cups sour cream
3 tsp onion salt OR garlic salt (I used onion powder, I'd go a little scant on it next time)
1 1/2 tsp. salt
1/4 – 1/2 tsp. pepper
2 Tbsp. butter, melted
Combine all ingredients. Pour into slow cooker. Cover. Cook on Low 5-6 hours. The potatoes may be prepared 3-4 days in advance of serving and kept in the refrigerator until ready to use.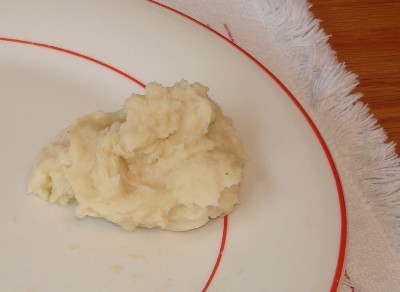 These were also very easy and would be well worth your time! Yum! With all the stuff in it, it doesn't need gravy.