Posted on April 30, 2008
Filed Under Main dishes
Whenever Saturday evening rolls around, my cooking brain always automatically thinks pizza-crust-pepperoni-cheese thoughts. Maybe it's because I was raised with pizza every Saturday night. So, whether it's pulling a frozen pizza out of the freezer or calling 1-800-WE-NEED-SOME-PIZZA-DELIVERED or going out for pizza with friends or whipping up something from scratch, we somehow usually end up with pizza of some sort on any given Saturday night. If it's a pizza from scratch night, it might be Real Stromboli (pizza variation instructions at the end of the recipe), Quick Stromboli, Saturday Night Pizza, or Redneck Double Pizza (honestly, we only made this once!).
Sometimes I feel in a rut with my cooking. Like right now. And I don't mean just with the Saturday night pizza thing. I mean with all my cooking. Whether it's Sunday-lunch-pot-roast or fried chicken breasts (which we have at least once a week and I really should feature sometime), it seems I kind of make the same type of things way too often.
I automatically skip over recipes that I'm not used to the ingredient combinations or that take ingredients that I'd need a dictionary for. Dishes like: Dark Chocolate and Pine Nut Crostata, Hawaiian Seafood Chowder, Rhubarb Chili Cubano, Artichokes with Tarragon Butter. I mean, really, wouldn't you skip over the Rhubarb Chili Cubano, thinking "How could rhubarb and chili ever belong in the same dish?!"? That recipe, by the way, comes from the latest Country Woman magazine and from reading over the recipe, I saw that it is in fact regular chili with rhubarb in it!
So, anyway, I'm going to get out of my comfort zone and make myself try one recipe every week that gives me some apprehension and raised eyebrows. Who knows, I may discover that apples baked with cheese is good or that I really do like fruit in my lettuce salads.
But for today, I'll stay in my comfort zone. Surrounded by the ingredients we know and love.
This is actually an experiment of rolled pizza… a variation in looks of regular flat pizza and quick stromboli. We had this last Saturday night. I'm quite sure I won't make it again because it didn't turn out as beautifully swirled as I thought it would. So, why am I featuring it then? Mainly so you know that things flop in my kitchen and because I still think it's a neat idea and maybe you can offer suggestions to make them more attractive… there will be some troubleshooting going on at the end of the recipe.
Pizza Roll
1 refrigerated Pillsbury pizza crust
Pizza sauce
Pepperoni
Shredded cheese
Parmesan cheese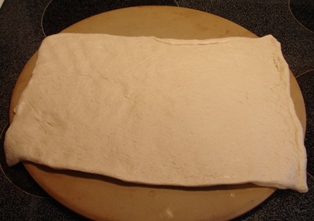 Roll out pizza dough into a rectangle.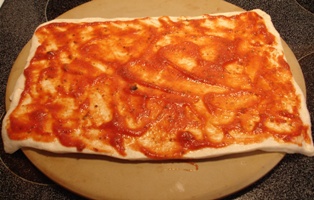 Spread with pizza sauce.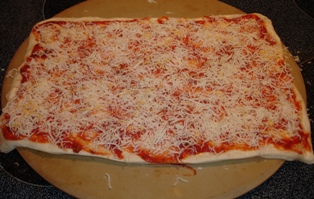 Sprinkle with some cheese.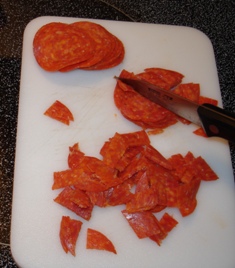 Chop up pepperoni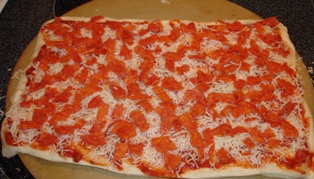 and put on top of cheese.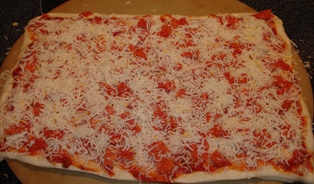 Add more cheese and Parmesan cheese.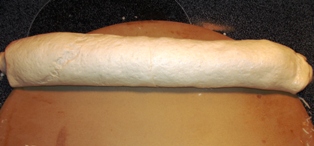 Starting at a long side, roll up like a jelly roll.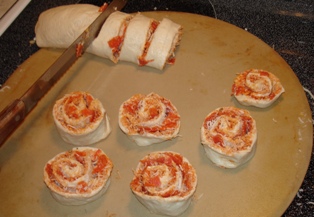 Spray a bit of cooking spray on a sharp knife and cut the roll into 1″ thick pieces. Lay cut side down on baking sheet.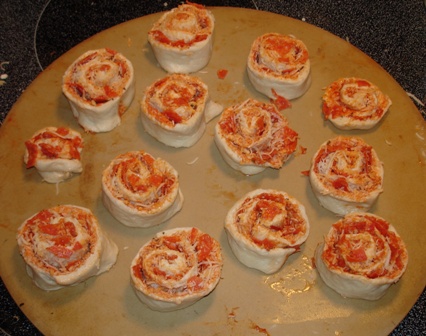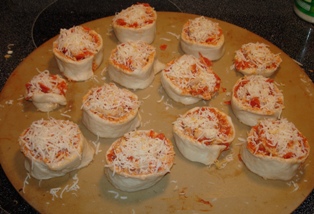 They looked pretty messy, so I gave up on the swirl effect and sprinkled some cheese on top.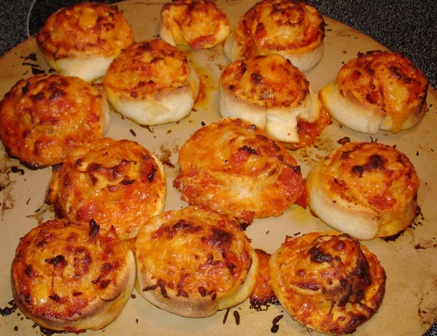 Bake at 400 for 15 – 20 min or until browned.
Now, what to do different… I still think they could be an attractive thing to serve, esp for an evening snack when you have company or something. They, of course, tasted really good, but the appearance had much to be desired.
What should've I done different?
— Were the toppings too thick?
— Would've a stiffer dough done better (like frozen bread dough thawed)?
— Should've I skipped the extra cheese on top? Would've the swirls looked less messy after baking?
— Are you rolling your eyes, thinking 'Just make regular pizza, for crying out loud!'?
— Would cutting it with a string (instead of a knife) make them look neater?
Ok, now I need to start looking for an out-of-my-comfort zone recipe… I don't think I'll have to look too far. I've got that Country Woman magazine sitting here on my computer desk.
Comments