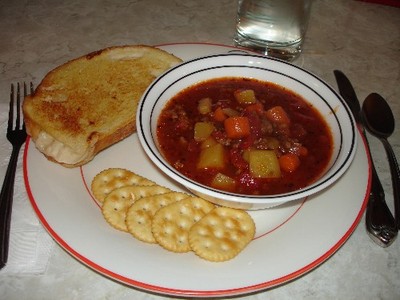 This was a very easy meal to make! I've had my eye on these sandwiches and have been wanting to try them for awhile. The domestic part of me gets a kick out of making soups from scratch, altho' we don't have soup very much. I'm more used to popping open a can when we do have soup, so there's something kind of 'fun' about starting with raw potatoes and carrots!

Quick and Easy Italian Vegetable Beef Soup …This recipe comes from the Fix-It and Forget-It Cookbook , all the recipes use a crockpot.
1 lb ground beef or turkey, browned and drained
3 carrots, sliced
4 potatoes, peeled and cubed
1 small onion, diced
1 tsp garlic powder
1 tsp Italian seasoning
3/4 tsp salt
1/4 tsp pepper
15 oz can diced Italian tomatoes or 2 fresh tomatoes, chopped
6 oz can Italian-flavored tomato paste
4 1/2 cups water (I put in only about 3 cups to cut down on the broth, I like soups full of stuff without a lot of broth)
1 quart beef broth
Combine all ingredients in slow cooker. Cover. Cook on high 6-8 hours, or until potatoes and carrots are tender. So easy. I had it in the crockpot by 10:00 a.m. and didn't have to touch it till supper… well, ok, I couldn't help but stir it now and then. It made about 12 cups, fit nice in my 4 qt crockpot. It was a good hearty soup. We liked it.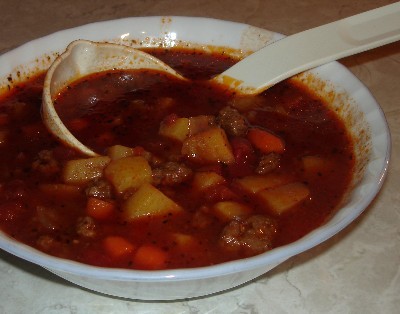 The Ultimate Grilled Cheese … This recipe comes from the 2001 Annual Quick Cooking Cookbook.
1 pkg (3 oz) cream cheese, softened
3/4 cup mayonnaise ( I used a little less than 1/2 cup the second time and that tasted better)
1 cup (4 oz) shredded cheddar cheese
1 cup (4 oz) shredded mozzarella cheese
1/2 tsp garlic powder
1/8 tsp seasoned salt
10 slices Italian bread (This isn't with the regular bread, at our grocery store anyway. It's over by the bakery.)
2 Tbsp butter or margarine, softened
In a mixing bowl, beat cream cheese and mayo until smooth. Stir in cheeses, garlic powder, and seasoned salt. Spread 5 slices of bread with the cheese mixture, about 1/3 cup each.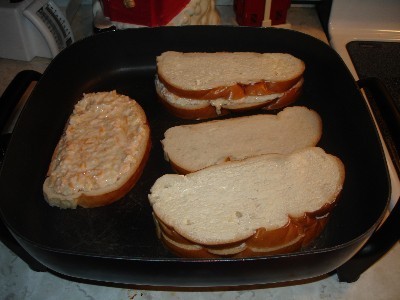 Top with remaining bread. Butter the outsides of sandwiches; cook in a large skillet over medium heat until golden brown on both sides. Yield: 5 servings. I buttered the bread, put the bottom piece in the skillet, then put the stuff on, the put the other buttered piece on top… seemed like it would be a little less handling and a little less messy that way. We had one left over and it was really good reheated in the oven! I made this meal Wed evening and it tasted like too much mayo in these sandwiches, so when my sis-in-law Liz came over yesterday, I made them again and put less mayo in and it was better. We had some of the leftover soup and Liz brought salad to go with it. Anyway, Shannon and I really liked these sandwiches (I'll let Liz speak for herself

). It was a nice variation from reg grilled cheese.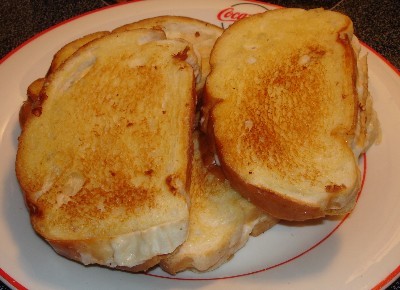 ---
This tip was in a "Sandwich Secrets" section in the same cookbook: "Here's a hurry-up way to make grilled cheese sandwiches for a crowd: Prepare the sandwiches as you would for the griddle, but place them all on a cookie sheet instead. Bake in a 350 oven for 5-8 minutes on each side until they're golden brown." I just saw that tip, so I didn't get a chance to try it yet, but I plan to do it next time I get the chance.
---
On a different note: On the last post, someone commented on my smooth top range and wondered how I like it… I absolutely love it! I've had the other and this is much better… no getting down in under burners to clean and there's a cleaning solution you get with the smooth top that works like a charm. My mom and dad built a new house and got new appliances. Mom got a smooth top and really likes it too. I've heard that it's not good for them to do alot of canning on them, but that's not an issue for either of us. I didn't know that about the cast iron, ski_n_beach_bum. That's interesting.
So, let's hear from you… which do you like best, what are the pros and cons, or maybe you prefer gas over electric?