Posted on June 28, 2008
Filed Under Cookies and bars
I love looking thro' recipes, cookbooks, etc. It can keep my attention as good as any interesting book. And one nice thing about it is that it is calorie-free… the looking and reading, that is! Where I get into trouble is when something reaches out and grabs me and I can't help but go out to the kitchen and make it. That's why I purposely don't keep chocolate chips on hand. Chocolate is my weakness. And I do believe that I've become immune to getting sick from it.
Anyway, it was raining yesterday evening and the church ballgame got cancelled, and I was in the mood to bake something. So, I started going thro' recipes. I had no chocolate in the house, so any recipe with that was out. I also had no brown sugar, so that threw out alot of cookie recipes. Then this lemon bar recipe caught my eye, and I had everything on hand, including fresh lemons. I didn't know if any of us even liked lemon bars, but they sure looked tempting on the picture, so lemon bars it was.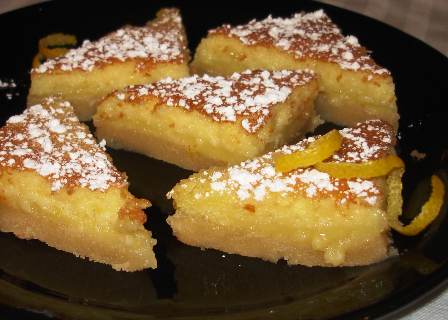 Sweet Lemon Bars …recipe taken from an Easy to Bake Easy to Make recipe card
1 cup flour
1/2 cup butter
1/2 cup powdered sugar
2 eggs
1 cup sugar
1/4 tsp. salt
2 tsp. grated lemon rind
2 Tbsp. lemon juice
1 3 oz pkg cream cheese, softened
Preheat oven to 350. Line bottom of 8″ square baking dish with parchment paper. I didn't do that, I just greased the pan well. Mix flour, butter, and powdered sugar together using hand mixer until fine crumbs form. Using drinking glass, press crumbs evenly into bottom of lined baking dish.


This was sort of a joke. I started like that, but then ended up using my hand. Worked great!
Bake until crust is lightly browned, about 15 minutes.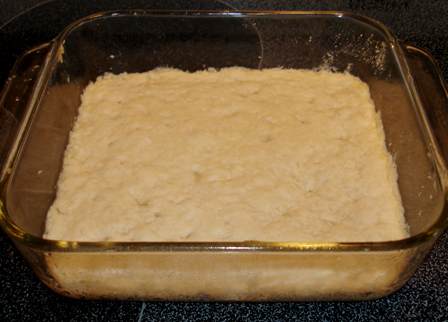 Meanwhile, beat eggs, sugar, and salt until light and fluffy. Add lemon rind and lemon juice. Blend in cream cheese. Pour over baked crust.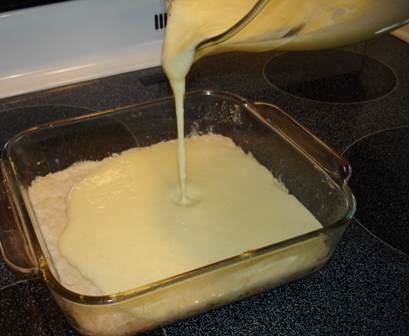 Return to oven and bake until firm in the center when touched, about 25 minutes longer.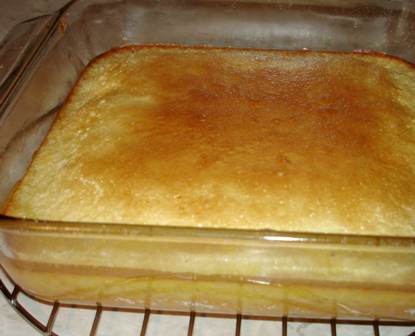 Cool to room temperature; sift powdered sugar over top.

Cut into 9 squares and cut each of the squares in half diagonally to make triangles. Serve or store in refrigerator. Makes 18 triangles.

For the grated lemon rind and the lemon curl garnishes, I used the tool pictured below. Not sure what it's called, maybe a lemon zester/scorer. It's a Pampered Chef item and it works like a charm! I cut off a string of peeling with the part in the middle of the tool, then curled the peel around a pen so it would be more apt to curl on the plate later. I tried to find a utensil with a round handle and had none, so I used a pen. Yeah, even my wooden spoon handles aren't round! The grating was actually lemon zest, done with the top part. I do it in as tiny pieces as possible so it dissolves or whatever it does that you don't see it or feel the texture of it in the finished product.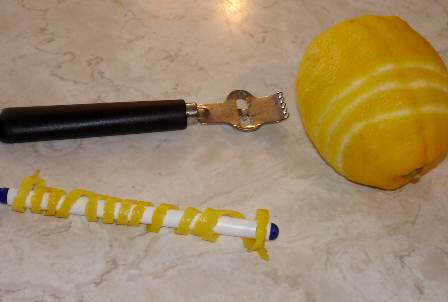 I liked these bars the best chilled. When I told Shannon that, he said he's tried them at every temperature from slightly warm to chilled and they passed with flying colors at all stages. They were just tops and I do know now that baked stuff doesn't have to be chocolate to taste great and leave you coming back for more. So, we were pretty hard on them and I don't think I'll tell you how much of the pan is left! And we're not sharing, so you'll just have to make them yourself.

Comments