Being a mom and having guilt go together like pancakes and syrup. It just goes with the turf. You wake up in the morning and right away you can think of things to feel guilty about. I should spend more time… I should not have gotten upset when…  I shouldn't have let them… Maybe we should give them… I should be getting up, what with the baby yelling for me from her crib and all…
If you get that first paragraph, then you know what I mean when I say how it makes you feel when your children make good choices… despite all your mistakes, something is getting through.
Well, here's my little triumph in the food dept… my girls count Grilled Chicken Breast Salad as one of their favorite meals. We have it at least every other week. It's hard to get a healthier meal than this, really… fresh veggies, hard-boiled egg, lowfat mozzarella cheese, some croutons, and grilled (not breaded or deep-fried) chicken breast. In the tortured mental games that I sometimes put myself through, them liking salad seems like it, in some way, compensates for the times I say yes to ANOTHER piece of candy or that lazy Saturday when we had ice cream cones for breakfast (hypothetically speaking, of course, not like any responsible parent would ever actually allow that, or do it herself), or those times when I let the girls fend for themselves for lunch and it's anything but a square meal, a triangle meal at best.
Chicken Breast Salad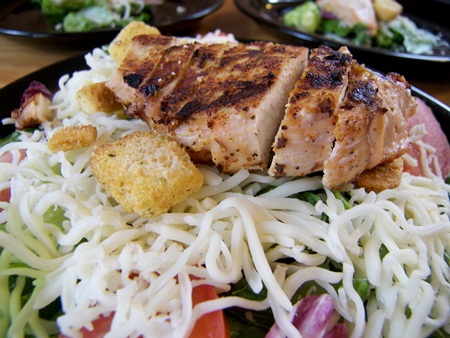 I'll show you how a meal that involves grilling is a joint effort for us… I'll color code it just to humor myself.
Shannon's 1st job: Starting the grill, either charcoal or gas. This particular time, he used gas because it gets ready faster.
My 1st job: Thawing the chicken breast. Here's how I do it. It goes from freezer to thawed in 5 minutes… which is good news to any of you who don't always plan ahead and don't get the meat out the night before to begin thawing!  
Take this out of the freezer:

Put the frozen chicken pieces out on a dinner plate.

Put the plate in the microwave on High for 1 minute. Flip the pieces, reposition them so what was on the outside is now on the inside, and if one was on top, don't put it on top the next round… in general just move them around at random.
Repeat that step 4 more times. If we're having rolls or breadsticks to go with it, during those minute intervals is when I'd be getting them in the oven. Trim off some fat and drain off the juice. Your plate of chicken breasts should look like this, thawed and ready to hand over to the master of the grill.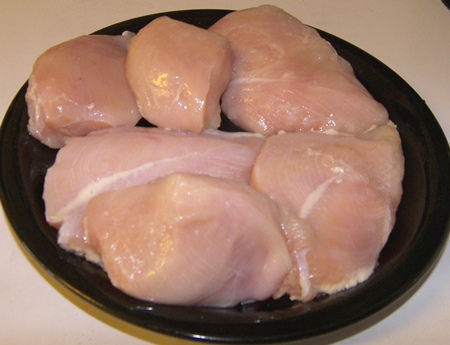 He seasons them with Chef Paul Prudhomme's Blackened Steak Magic seasoning. You can season more boldly when it's going on a salad than if you'd be eating the meat by itself. If you notice the 2 small ones with little seasoning, those are the ones the girls will eat. Their tastebuds seem to not be mature enough yet to handle the extra kick, so theirs get only Lawry's Seasoned Salt and I think Shannon might sprinkle some Lawry's on ours too. And then he puts them on the grill.

Meanwhile, I'm making salads…
Lettuce
Tomatoes
Mushrooms
Hard-boiled eggs
Shredded cheese
Croutons
Whatever else you want or have on hand like Carrots, Bacon, Italian seasoning, whatever. And they don't all need to be the same… personalize them to each person's taste.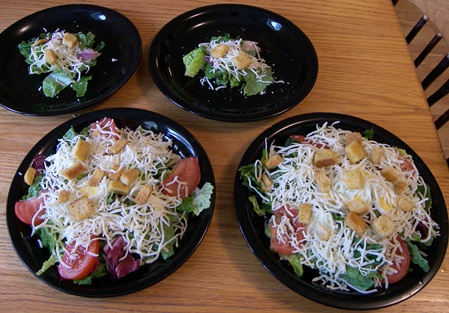 Looks kinda refreshing on a hot day, huh?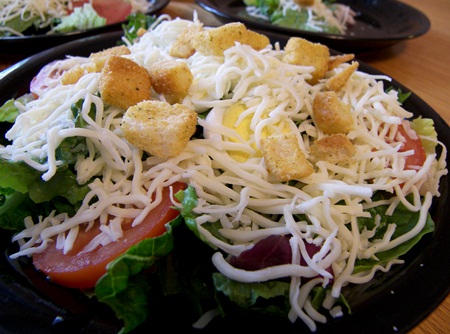 Meanwhile, the chicken is on the grill. I left my salad-making and followed Shannon out to the grill when he went out to flip them…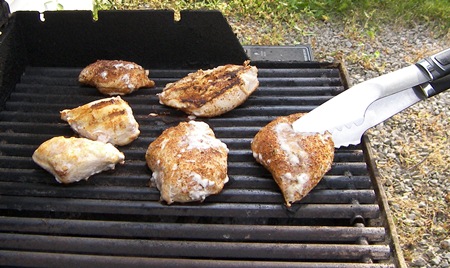 Those of you who want to make this salad, I hope you sorta know how to grill chicken breast because when I asked Shannon what he did and how and time on the grill and stuff, I got very sketchy details, but I also got some great tips.
For example, I asked how long they were on before he flipped them and he didn't know. He said you need to be on the edge of your comfort zone with it, though, and not overdo it. He said alot of people freak out about making sure chicken is done and then end up with dry rubbery chicken. You want it so it's just so done, not pink anymore, and juicy. So, of course, I asked how to know when that is and he said, "You just go by instinct."
So, yeah, good luck with that.
You could use a meat fork thermometer. Shannon used to have one, but hasn't for quite awhile because, uhhhh, one time yours truly immersed it in water because the handle was messy and, you know, of course one time of immersion wouldn't matter… famous last words. Yet, grilled chicken breast around here always ends up being perfect… done, but still juicy.
My only job left is to get out the cutting board and the knife… HIS knife, I should say. Yeah, we each have our own knife this size and we each think our own is THE best. Sometime, I should put them both on here and take a poll. I'll best mine would win because, if for no other reason… it has a case! ????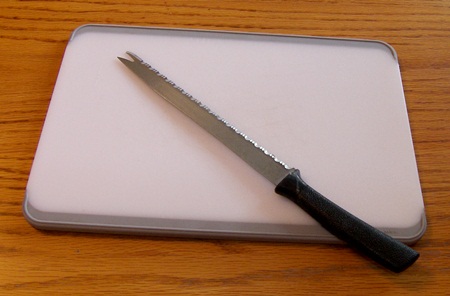 Soon, he brings the chicken in, slices it,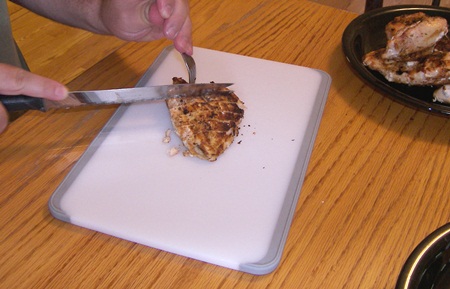 and places it on top of the salads.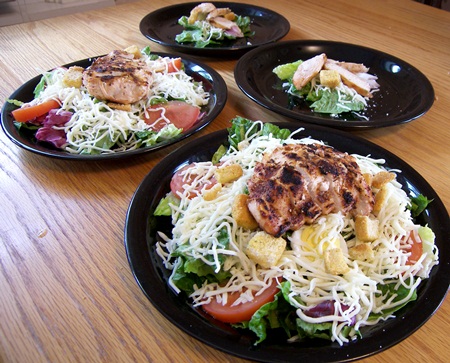 Zig-zag some Ranch dressing over it…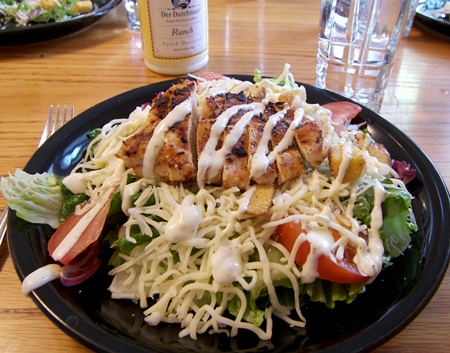 And dig in!
You don't think this salad is so healthy that it could actually take away those cavities caused by the extra pieces of candy, do you?
Comments