My food group was on for salad and dessert for carry-in at church a few weeks ago. I made a veggie and dip tray and Chocolate Peanut Supreme dessert. I try to make my featured recipes like the recipe says, but the dessert recipe has a substitution in it. But I'm fine with that because it's an idea you might like to use sometime… you know how when you're baking cookies and something comes up (like, the baby needs attn, you get to talking on the phone, or you just plain forget about them) and then that batch gets darker, which makes them crunchy instead of soft and bend-able, and nobody wants to eat them? Well, when that batch cools, crush them with a rolling pin and put the crumbs in a bag in the freezer, then when you make a recipe that calls for graham cracker crumbs or crushed Oreo crumbs for the crust, just pull out your ready-made crumbs and use them. Saves you from having to eat dark crunchy chocolate chip cookies!

Chocolate Peanut Supreme …from the 2000 Quick Cooking cookbook.
1/2 cup chunky peanut butter (didn't have chunky, so I just used creamy)
1/3 cup butter or margarine, melted
1 1/2 cups graham cracker crumbs (I substituted the above-mentioned cookie crumbs)
1/2 cup sugar (I used about 1/4 cup because the cookies were sweeter than g.c. crumbs)
1 pkg (5.9 oz) instant chocolate pudding mix
3 cups cold milk
1 carton (12 oz) frozen whipped topping, thawed
1 cup chopped peanuts (I skipped the peanuts and sprinkled some cookie crumbs on top)
In a bowl, combine peanut butter and butter. Stir in cracker crumbs and sugar; mix well. Press into a greased 9×13 pan.


Prepare pudding with milk according to package directions, spoon over crust.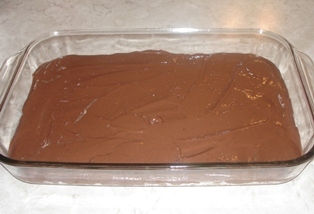 Spread with whipped topping.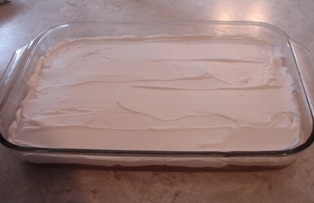 Sprinkle with peanuts.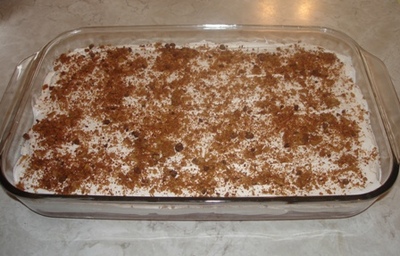 Cover and refrigerate for at least 1 hour or until set. Refrigerate leftovers. Yield: 12-16 servings. This was SO good, but I do want to try it the right way sometime (without substitutions)!

And here's the veggie tray…