Ham in a Hurry
Easy Potato Pancakes
Crescent Rolls
Broccoli
Peach Freeze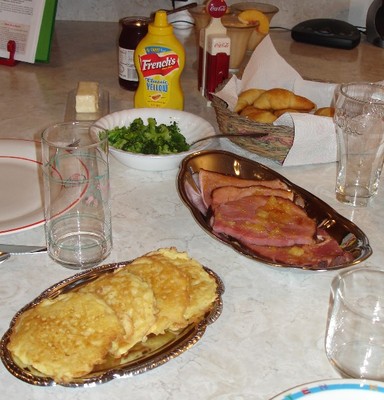 This meal is taken from the 2007 Taste of Home Annual cookbook. I added cooked broccoli (because it was on the picture with the ham and potatoes) and crescent rolls. I made it one evening last week and didn't take time to post it then.
Ham in a Hurry …the actual recipe with the meal is Ham with Pineapple Salsa , but beside the recipe is a box that says, "Ham in a hurry …If you can't take the time to make the salsa for the ham w pineapple salsa, just sprinkle a little brown sugar over the ham. Then top it with crushed pineapple with its juice before popping the ham in the oven. You can also make an easy, delicious glaze by blending apricot preserves with some mustard, lemon juice, and a dash of cinnamon. Simply heat the glaze in a pan and brush it on the ham during the final minutes of baking." I did the brown sugar/pineapple variation (it was very good! And easy!),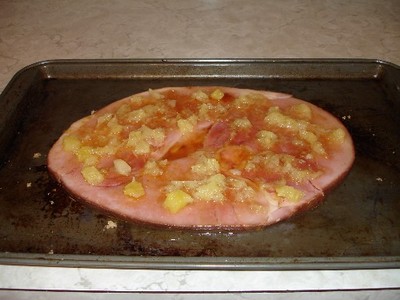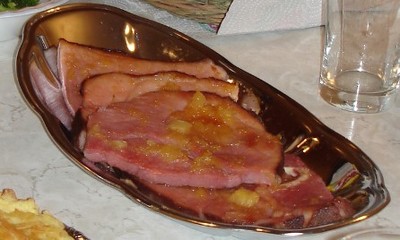 then broiled it with the Ham w Pineapple Salsa directions. Here is that recipe if you want to try it. I might try it sometime, but I didn't this time because I only had 2 of the 6 ingredients on hand and also I thought the brown sugar one sounded better.


Ham with Pineapple Salsa
1 can (8 oz) crushed pineapple, drained
2 Tbsp orange marmalade
1 Tbsp minced fresh cilantro
2 tsp lime juice
2 tsp chopped jalapeno pepper
¼ tsp salt
1 bone-in fully cooked ham steak (1 ½ pounds) Mine wasn't quite that big.
For salsa, combine the 1st 6 ingredients into a small bowl; set aside. Place the ham steak on an ungreased rack in a broiler pan. Broil 4-6 inches from the heat for 8-10 min or until a meat thermometer reads 140, turning once. Cut into serving-size pieces; serve with salsa. Yield: 4 servings.
Editor's Note: When cutting or seeding hot peppers, use rubber or plastic gloves to protect your hands. Avoid touching your face.
Easy Potato Pancakes
3 cups frozen shredded hash brown potatoes
2 Tbsp flour
2 eggs, beaten
3 Tbsp butter, melted
1 ½ tsp water
½ tsp salt
1 Tbsp vegetable oil
Place the hash brown potatoes in a strainer; rinse with cold water until thawed. Drain thoroughly; transfer to a large bowl. Add the flour, eggs, butter, water, and salt. Mix well.
Heat the oil in a large skillet over medium heat. Drop the batter by 1/3 cupfuls into oil;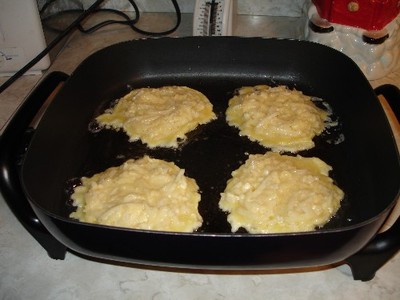 fry until golden brown on both sides. Drain the pancakes on paper towels. Yield: 4 servings. (It makes 5 pancakes.)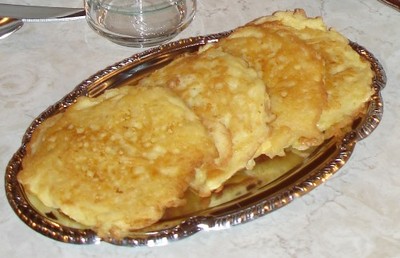 We had a problem knowing what to put on them because they seemed bland without anything. My mom used to make something like that for breakfasts and we ate them w syrup. I tried syrup, but it didn't seem right. Ketchup didn't seem right either. So, if I make them again, I might try to jazz them up with chopped peppers or spices. Tiffany LOVED them! I cut one up and she ate it as a finger food.
Crescent rolls
I'll feature them this time. We have them a lot and it's always Lexi's job to make them.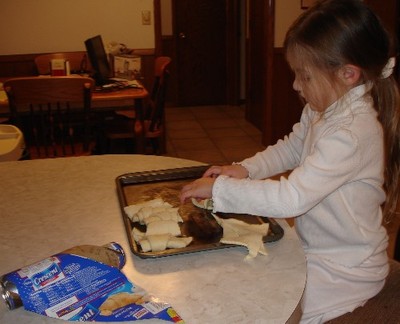 You can see what kind they are (maybe?) by the empty can sitting there. Baking instructions are on the can. I'd recommend these if you aren't sold on them already!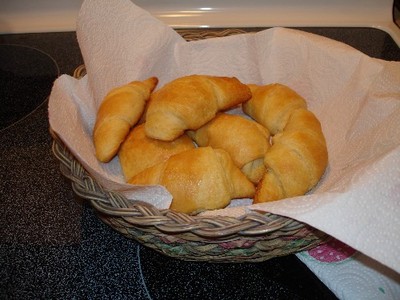 Broccoli
This was just frozen broccoli florets, cooked and salted.
Peach Freeze
2 cups vanilla ice cream, softened
1 1 /3 cups frozen unsweetened peach slices
1/8 tsp ground cinnamon
1/8 tsp vanilla extract
In a blender, combine ingredients;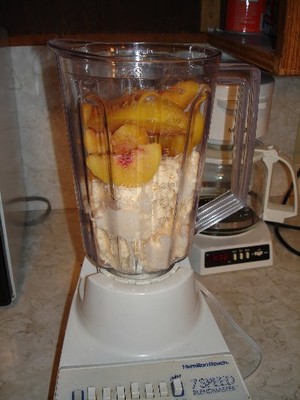 cover and process till smooth.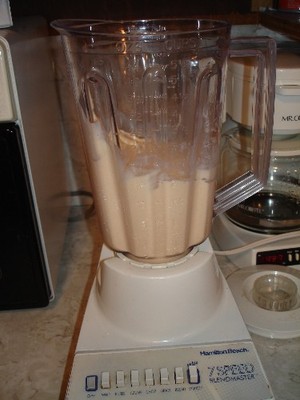 Pour the mixture into small freezer-safe dessert dishes; cover and freeze until serving. Yield: 4 servings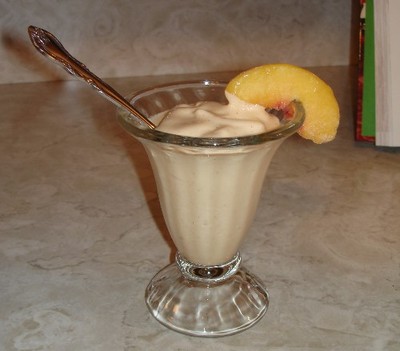 This is a winner! Easy to do and very refreshing! But I'll probably just make it in the summer mostly… it was almost too refreshing for a snowy evening in WI! The cinnamon in there is what makes it great, I think.