This is a slow cooker recipe that I did in the oven. From the 2006 Quick Cooking Annual Cookbook.
1 pkg (2 lbs) frozen cubed hash brown potatoes
1 can (10 3/4 oz) condensed cream of chicken soup, undiluted
1 1/2 cups milk
1 cup shredded cheddar cheese
1/2 cup plus 1 Tbsp. butter, melted, divided
1/4 cup dried minced onion
1/2 tsp. salt
1/8 tsp. pepper
3/4 cup crushed cornflakes
In a large bowl, combine hash browns, soup, milk, cheese, 1/2 cup butter, onion, salt, and pepper. Pour into a greased 5-qt slow cooker. Cover and cook on Low for 4 1/2 to 5 hours or until potatoes are tender. Just before serving, combine the cornflake crumbs and remaining butter in a pie plate. Bake at 350 for 4-6 min or until golden brown. Stir the potatoes; sprinkle with crumb topping. Yield: 12 servings. I baked this (covered) right along with the meat loaf… Bake at 350 for 50 minutes. Spoon glaze over meatloaf (and put cornflake crumbs on potatoes). Bake 10-15 min longer. I also stirred the potatoes before putting the crumbs on.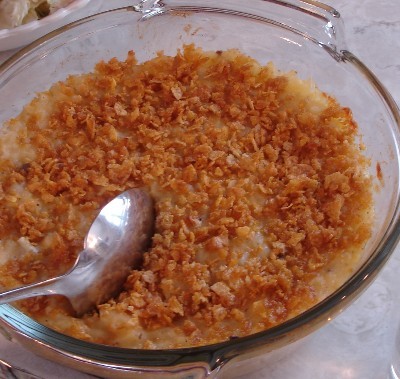 The potatoes turned out GREAT! We liked them. They were nothing outstanding, but just another good way to fix potatoes.
Serve potatoes with:
Glazed meat loaf
Salad
Crescent Rolls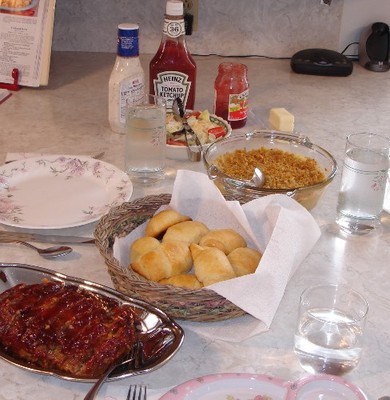 Note: I made the glazed meatloaf again (featured about 5 posts before this), this time with carrots. I would NOT recommend the carrots. They didn't seem to go with meatloaf in looks or taste. I crossed out that ingredient on the recipe in my cookbook.