Tired of scones by now?

This recipe is taken off of ilovecooking's site. She has progressive pictures too, but I'll put mine on anyway in case you don't get over to her site. She posts new recipes pretty often (with pictures) and it's very interesting!

Italian Bread Wedges
1 T. dry yeast
1 cup warm water
1 t. sugar
*edit* 2 Tbsp oil, sorry! Thanks, kanadian_mom!


1 t. salt
2 1/2 to 3 cups flour
1/3 cup Italian salad dressing
1/4 t. garlic powder
1/4 t. dried oregano
1/4 t. dried thyme
dash pepper
1 cup shredded mozzarella cheese (I used more.)
In mixing bowl dissolve yeast in warm water and sugar. Let stand 5 minutes. Add oil, salt and 2 cups flour. Beat until smooth. Stir in enough of the remaining flour to form a soft dough.. Knead until smooth and elastic. (I do this in my kitchen-aid.) Place in greased bowl, cover and let rise in warm place until doubled, about 40 minutes. Punch dough down. Press onto greased 14 inch pizza pan.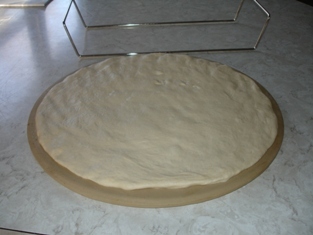 Spread with salad dressing. Combine seasonings. Sprinkle over dressing. I mixed the seasonings in the dressing before spreading. I figured it would get more evenly seasoned that way. I also used creamy Italian dressing (instead of regular) because that's what I had on hand.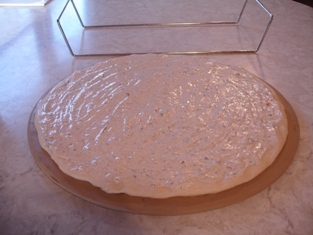 Top with cheese.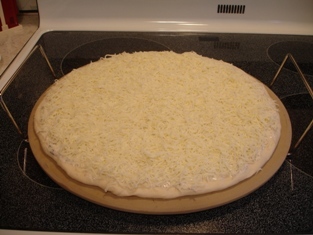 Bake at 425 15-18 minutes or until golden brown.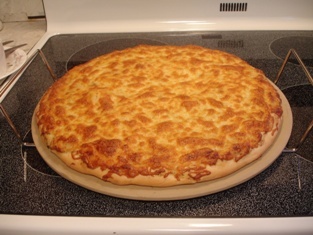 I usually cut into 16 slices. Serve with pizza sauce for dipping. These look good and are good! It's made alot different than pizza as far as the sauce and seasonings, but it's amazing how much it tastes like pizza! It's easy to make and looks very nice to serve. Yum!
And here was the rest of our meal… fried chicken breasts, cooked veggies.