Posted on October 20, 2008
Filed Under Salads, Side dishes
Because Mom's is always the best, isn't it? No matter who 'Mom' is.
This potato salad is not my mom's recipe, it's just potato salad that's like hers… just basic potato salad, with no fears of biting into a piece of celery or a pimiento. The reason it's not her exact recipe is because there is none. She just cooks a few potatoes, cooks a few eggs, and makes the dressing, which is a few dollops of salad dressing, a bit of milk, a squirt of mustard, a scoop of sugar, etc., then she tastes it and adds more as needed.
I think that's what makes a truly good cook… when you don't need recipes, yet the food turns out great. My sister Jan inherited that style of cooking, but not me. I do really admire that style of cooking and am impressed when I ask someone for a recipe and they say 'I don't actually have one'. But the times I've tried to fling it without a recipe, it's been mostly flops, so I'll stick to recipes.
This recipe doesn't have progressive pictures because I wasn't planning to post it when I made it, but then after tasting it again, I changed my mind because I just love it. But, you didn't miss much by no progressive pictures, it's pretty basic.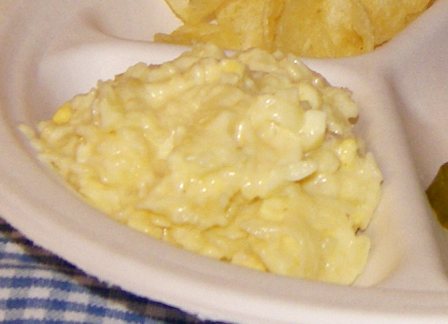 Mom's Potato Salad
6 hard boiled eggs, cut up (I put them thro' the egg slicer one way, then the other)
5 medium potatoes, cooked, then peeled, then cooled, then shredded
Dressing:
1 1/2 cups salad dressing
1 1/2 Tbsp. Dijon mustard
2 Tbsp. vinegar
1 heaping cup of sugar
2 tsp. salt
1/4 cup milk
Pour dressing over potatoes and eggs and stir slowly till evenly mixed. Refrigerate. It can be made ahead… it's just as good or better the next day. Enjoy!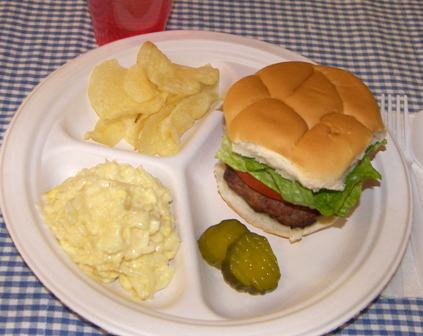 Comments