Our suppers last night… or maybe you call it 'dinner' (I am, after all, from the boonies in northern WI!)

That was so fun to get some supper ideas! Thanks!!!! You can leave that in a comment anytime… I'll make it my header for awhile.

Just some comments on some of them…
There were a couple breakfast ones. I want to start doing that once every week or so, since we never eat breakfast together in the morning. Rufusannie gave me a breakfast haystack recipe that I'm dying to try. At home, we used to have a breakfast supper every Wed eve. We didn't eat b-fast together either, so this way we still got to eat b-fast foods now and then. I wonder if Mom still does that.
I've never heard of fried zucchini patties. I like other squash and I like zucchini bread (I know, it's nothing like bread

), so I might like them. Care to share your recipe, Twila?
Those potatoes with sw cond milk & velveeta sounds good! Actually everything sounded good and some good quick summer ideas too… like leftovers.

I also love the idea of just cutting up watermelon and making blt wraps and taking it out to the family!
We had an easy meal last night too… very little prep time, but oh, so good!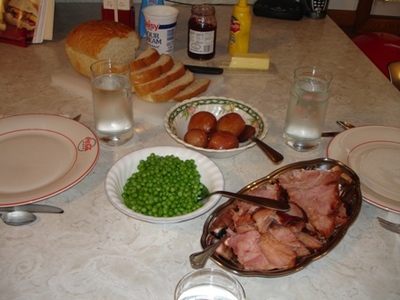 Apricot Baked Ham (recipe below)
Baked potatoes (just threw them in the roaster with the ham)
Peas (cooked in the microwave, then added S&P and butter spray)
Fresh bread (don't let this fool you, it IS fresh-baked, but it was frozen dough bought from the store, NOT from scratch)
Apricot Baked Ham …recipe comes from Taste of Home 2nd Edition cookbook, one of my oldest cookbooks, I got it as a wedding gift almost 11 years ago)
1/2 fully cooked ham with bone (5 to 7 pounds)
20 whole cloves
1/2 c. apricot preserves
3 T. dry mustard
1/2 c. packed light brown sugar
Score the surface of the ham with shallow diamond-shaped cuts. Insert cloves in cuts.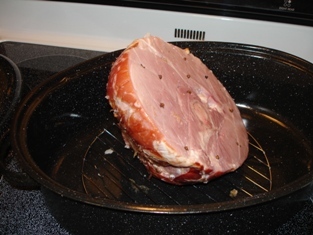 Combine preserves and mustard; spread over ham (I didn't put all of it on) .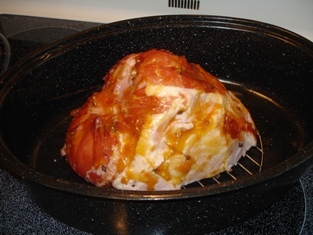 Pat brown sugar over apricot mixture.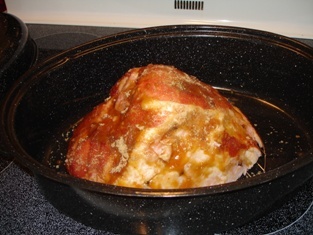 Place ham on a rack in a roasting pan. I also put about 1/4 cup water in the bottom of the pan. Seemed like it might keep it more moist. Bake at 325 for 20 min per pound or until ham is heated thro' and thermometer reads 140. After about 1 1/2 hours, I got some of the liquid off the bottom of the pan and basted the ham with it. Yield: 10-14 servings.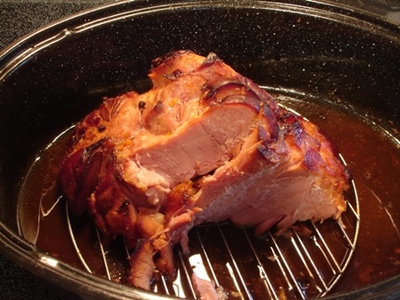 I forgot to take a picture till I had sliced some off already and got the potatoes out, but here it is anyway. I was a little worried about the apricot tasting ok on there because I don't think I really like apricots, but the ham was delicious! I couldn't have picked out the apricot flavor if I didn't know it was in there. Nice and moist too!