Posted on June 29, 2009
Filed Under Side dishes
While we were eating this at lunch today and someone said, "I'll take some more broccoli", the person passing it said, "It almost seems wrong to call it broccoli". Getting your vegetables by eating this broccoli dish is kinda like getting a fruit by eating strawberry jam. ???? Besides the broccoli, this has: sour cream, Parmesan cheese, buttered toasted crumbs, and cheese. I don't think I need to tell you whether or not it was good!!! We've got a winner here. A recipe that will be repeated in this household.
Another reason that this recipe will be repeated is because it's fast. I made it for lunch today. When we got home from church, I hadn't done anything ahead of time for this. It took a couple minutes to cut up the head of broccoli, then during the 7 min that it was cooking, I toasted the crumbs, measured the sour cream and Parmesan cheese, and grated the Swiss cheese. It took a minute to throw it together in the dish and then several minutes under the broiler. So, from start to finish, about 15-20 minutes total. Not bad. And I could've even saved a couple minutes by cutting up the broccoli earlier.
I don't know where this recipe comes from… it's an anonymous clipped recipe in my mammoth clipped-because-I-want-to-try-it-sometime recipe collection. Sometimes I wonder if I'll ever get thro' them. The reason I wonder that is because I think I keep clipping them faster than I'm trying them! Beside the recipe, it says, "Meal Ideas: Baked ham, oven-roasted potatoes, broccoli au gratin, apricot tart". Our meal was: Beef roast, herbed new potatoes, broccoli au gratin, crescent rolls, and fresh strawberry pie.
Broccoli Au Gratin
1 large head broccoli (about 1 1/2 pounds)
3/4 cup sour cream
1/4 cup grated Parmesan cheese
3 Tbsp. butter
1/2 cup bread crumbs I always use cracker crumbs when a recipe called for bread crumbs. They're tastier.
1/2 cup shredded Swiss cheese
Trim broccoli; cut off florets. Peel stalks; cut into 1″ chunks. In a saucepan, bring one inch of water to a boil over high heat. Add broccoli stalks; cover and cook for 2 min. Add florets; cover and cook until crisp-tender, about 5 min. Drain.
Melt butter in small skillet. Add crumbs and stir until coated with butter and toasted.

Combine sour cream and Parmesan. Stir in the broccoli. Pour broccoli mixture into a baking dish.

Sprinkle with bread crumbs and Swiss cheese.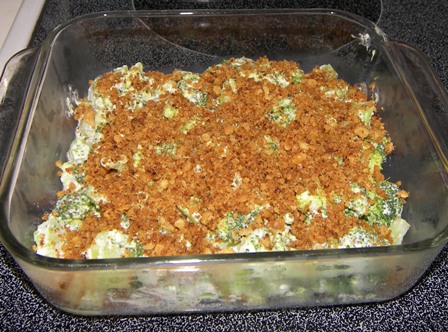 I don't know if you can tell it, but at this point is when I thought of it that there's no salt in this recipe, so I sprinkled s&p over it. Oh, and the cheese… I didn't measure it so I could put more on.

Broil until cheese melts. 4 servings. 4 servings is right… we had 3 adults and 2 kids and we had just a teeny bit left over.

Comments