We had a carry-in/fellowship meal/potluck/whatever you call it at church today. I tried one new recipe and one old faithful. These 2 recipes would be well worth your time. Both are just great! The new recipe sorta turned out as a flop for looks, but was just delicious! I know now what happened, so I'm going to try it again sometime.
First of all, the new one… This recipe comes from the Treasured Recipes for our Mothers cookbook. Recipes submitted by Mr. Kolb and the 3rd and 4th grade class at the Lebanon Valley Christian School. We got this cookbook as a wedding gift from Elvin Martins.
Banana Split Ice Cream Dessert
3 bananas
1/2 gal. vanilla ice cream (in a square box)
1 c. nuts (I used walnuts , not chopped… more crunch that way!)
1 c. chocolate chips
1/2 c. butter
2 c. 10X sugar (in WI, we call it powdered sugar

)
1 1/2 c. evaporated milk
1 t. vanilla
1 pt. whipping cream or Cool Whip (I used Cool Whip)
1 1/2 c. graham crackers
1/4 c. sugar
1/4 c. butter
Cover bottom of 11″ x 15″ pan with graham cracker crust made from last 3 ingredients. Save 1/2 cup crumbs for top. I don't have an 11×15 pan, so I put it in a 9×13. It worked fine, but the pan was full to the top… and that's not why it flopped.
Slice bananas and layer over crust,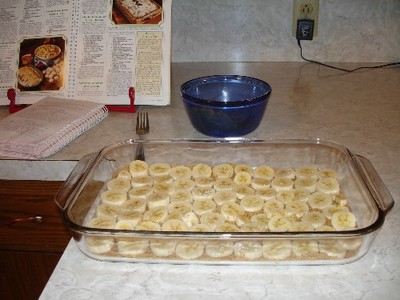 slice ice cream in 1/2″ slices over bananas,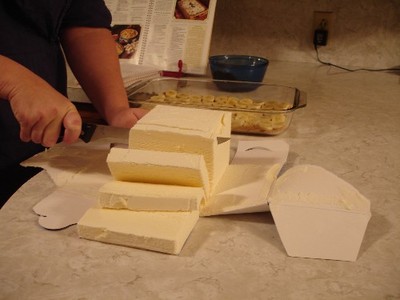 sprinkle nuts over ice cream.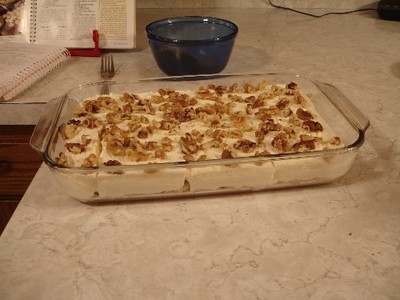 Freeze to firm. Melt the choc chips & 1/2 cup butter, add 10x sugar and evaporated milk. Cook mixture until thick and creamy, stirring constantly. Remove from heat and add vanilla. Cool, spread over ice cream, freeze until firm. Whip cream until stiff (unless you're using Cool Whip ), spread over choc layer and top with remaining crumbs. Store in freezer. Remove about 10 min before serving. Will keep several weeks!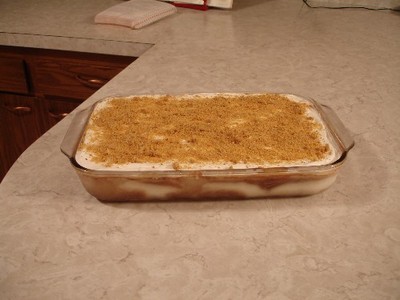 My take on it: Absolutely tops! Definitely on my "would make again" list!!! It's also fun to make, esp the slicing the ice cream part.

With all those ingredients together, you know you can't go wrong!!!
Now, the 'flop' details… There's a misprint in this cookbook. In the directions above, it says 'cool' instead of 'cook' until thick and creamy. That was very confusing to me, how you'd cool it, then remove it from the heat! So, anyway, my choc mixture never did cook, thus it never got very thick. But I poured it over the ice cream anyway and then panicked as it worked it's way down into all the cracks and slowly but surely, traded places with the i.c.layer!

Then I was laying in bed stressing about it and a lightbulb came on in my head that it prob meant cook instead of cool! But it still tasted just GREAT and nobody at church probably knew anything was wrong with it.
—————————————————————————-
And now the old faithful… This is something my mom used to make when I was still at home (and still does). I remember requesting it for my birthday meals. It comes from the Taste of Home Recipe Book Second Edition . This cookbook was also a wedding gift, from Lee Rhodes'.
Four-Fruit Compote
1 can (20 oz.) pineapple chunks
1/2 c. sugar
2 T. cornstarch
1/3 c. orange juice
1 T. lemon juice
1 can mandarin oranges, drained (we've never made it w oranges, and always sub 2 c. of grapes instead)
3 to 4 unpeeled apples, chopped
2 to 3 bananas, sliced
Drain pineapple, reserving 3/4 cup juice. In a saucepan, combine sugar and cornstarch. Add pineapple juice, orange juice, and lemon juice. Cook and stir over medium heat until thick and bubbly; cook and stir one minute longer.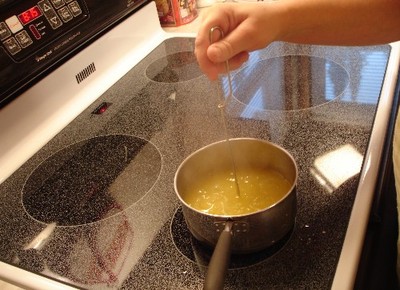 Remove from the heat; set aside. In a bowl, combine pineapple chunks, oranges, apples, and bananas.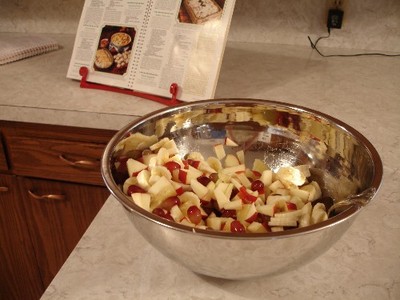 Pour warm sauce over the fruit; stir gently to coat. Cover and refrigerate. Yield: 12 – 16 servings.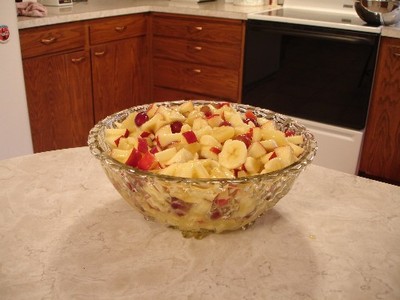 This can be made a day ahead, except the bananas should be sliced into it right before. They start getting brown and mushy after a few hours, but the apples hold up great. If you like glazed fruit salads, you've gotta try this one! It's been my favorite as long as I can remember.

Sometimes Mom would add marshmallows or raisins.
———————————————————————–
Recipe Request
For the one who asked for a rice crispie roll recipe , I looked in about 15 of my cookbooks, including all my Taste of Home and Quick Cooking, and didn't find one. So, I went online and found this one . It's great… there are detailed step-by-step instructions with pictures and they look SO neat!!! I just might have to try them myself! Hope that's what you were looking for!