This is dessert that we had for supper last night with the Martins. It's sorta made up, although there is a tweaked recipe involved. Kinda weird with all the recipes around here, to make something up.
We'll call it…
Cream Cheese Angel Food Cake Roll … well, that sounds sorta long… maybe Cream Cheese Cake Roll would be better.
Angel food cake mix
Mix according to directions. Pour HALF of it in jelly roll pan. Add 1/8 cup cocoa to the other half. Mix well and pour into the other end of the pan. Spread both to meet evenly in the middle … 2 spatulas, one in each hand, would be good here (that's why there are no pics of this process… my hands were full and the 2 people able to take pictures were taking Sunday aft naps

).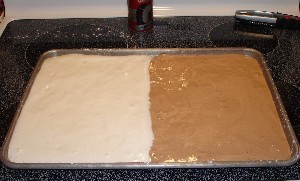 Bake for about 18 minutes. Get it out of the oven and flip it over onto a towel or parchment paper or something.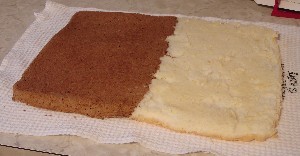 Let it cool a few minutes, then roll it up and let it cool about an hour (that's how long I did and it seemed to be about right). Unroll and spread with cream cheese filling (the stuff left over from making the Raspberry Cream Cheese Rolls (Dec 11, 2006 post)… you didn't forget about them, did you?!

Then, spread with Danish dessert …recipe taken from the Derstine cookbook.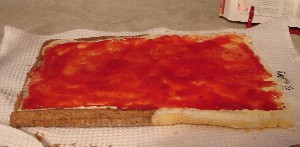 1 1/2 Tbsp. cornstarch
1 1/2 cups juice or water
1/4 tsp. salt
1/4 cup jello, any flavor
1/3 cup sugar
Heat to boiling 1 cup liquid. Combine jello, sugar, and cornstarch. Make a paste of it with remaining 1/2 cup liquid. Stir into boiling juice until thick and clear. Cook about 1 minute. I did it to here, then added about a cup of strawberries pureed in a food processor (because some people at supper just like the 'goo' and not the 'chunks'). When it was chilled, it wasn't as thick as I wanted it (I was afraid it would just run down off the top of the roll), so I put about a 1/2 pack of unflavored gelatin into 1/2 cup boiling water, mixed it in and when it was chilled, it was thicker. Anyway, here's the rest of the written recipe for Danish dessert if you ever want to make it for something else: Pour over mixture of drained canned fruit and chill well. For delicious strawberry danish dessert, add 2 to 3 cups frozen strawberries.
Roll the cake back up.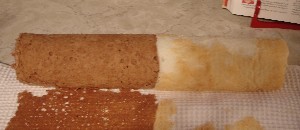 Cut it where the 2 colors meet. Put the 2 rolls side by side on a round platter. Pour rest of Danish stuff on top…. why am I telling you all this, you can see it on the pictures!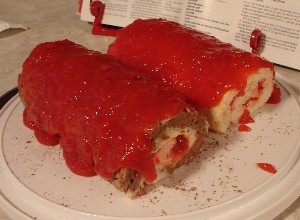 Now it's time for the Cool Whip… just do something fancy with it. I opted for the zigzag-it-across-the-top technique, then I still had some left over in my 'decorator bag' (which was actually a plastic 1 gallon storage bag with the corner snipped off), so I just made little piles, one on each end.

Yeah, whatever, but hey, it worked. The dessert got licked clean and I heard some good compliments on it. I also heard comments about the chocolate one looking like meatloaf with ketchup and sour cream on top! They were making jokes about how it would be a good April Fools thing… serve it with potatoes and watch people's reaction.

So, my advice would be not to mess around with the cake mix and just leave it all white.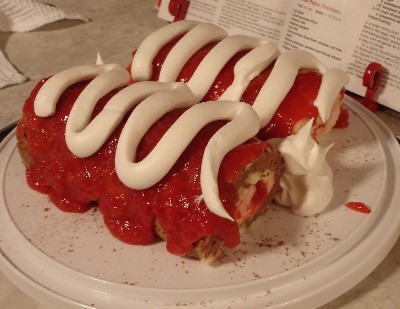 Comments