Posted on March 23, 2008
Filed Under Desserts, Pies
I'm featuring a fudge sundae pie today that is just tops. One glance at the ingredients and you'll see why you can't go wrong here. There are not alot of recipes that each separate ingredient would be good by itself. I am, in fact, eating a piece right now. I'll be taking a bite every couple sentences. I don't usually eat at the computer, but I make exceptions now and then.
I remember Mom making this when I was still at home. And I've seen this recipe now and then in different cookbooks. The cookbook I used for it this time is Cooking with the Horse and Buggy People. It says the recipes were shared by Amish ladies from Holmes County and Wayne County. So, you readers from there, here you go, a recipe from your neck of the woods…
Fudge Sundae Pie
1/4 cup corn syrup
2 Tbsp. brown sugar
3 Tbsp. oleo (oops, what I said about each ingredient tasting good by itself, I take that back here, forgot about the butter when I said that!)
2 1/2 cups Rice Krispies
Combine syrup, sugar, and oleo and cook over low heat until mixture begins to boil. *Another bite* Man, this stuff is good!!!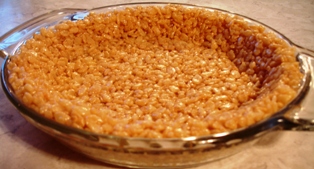 Remove from heat and add Rice Krispies. Press evenly in greased pie pan.
Mix:
1/4 cup peanut butter
1/4 cup fudge sauce
3 Tbsp. light Karo (I used the same stuff as the corn syrup above)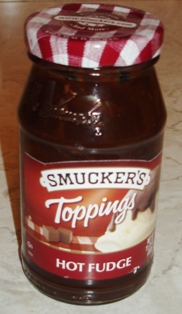 I actually didn't know what they meant by fudge sauce, but I thought I couldn't go wrong with this, so this is what I used.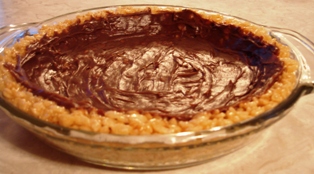 Spread half of mixture over crust.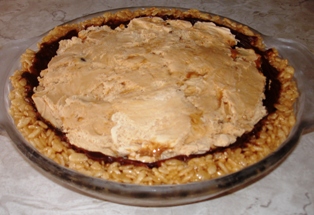 Spread 1 quart vanilla ice cream over mixture. Ok, I usually try to follow recipes exactly so I can feature them accurately, but once in awhile, I just can't help but substitute, like now… Caramel Collision ice cream won over boring vanilla ice cream here.
Freeze. Before serving, warm remaining sauce and drizzle over the top.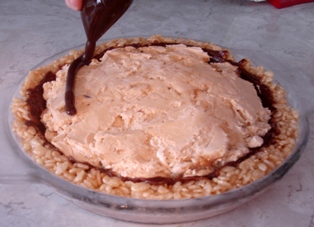 It didn't exactly drizzle (and I warmed it till it was bubbling), so I put it into a baggie and snipped the corner off and piped it on. Maybe I used the wrong 'fudge sauce'.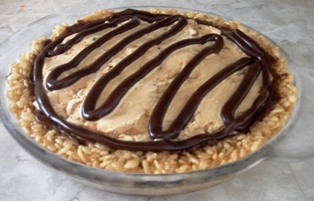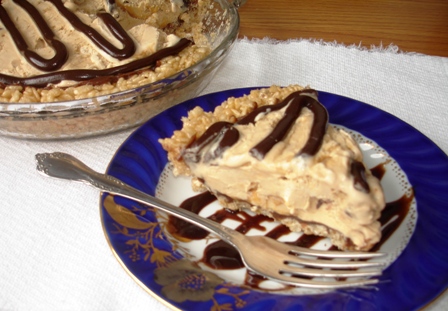 All I can say is YUM!!!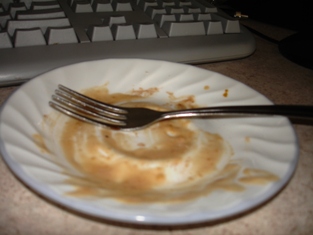 Comments