Posted on January 9, 2008
Filed Under Desserts
I just really like that section in my Quick Cooking Annual Cookbooks… with only 5 ingredients in a recipe, there's a better chance that I'll have them all on hand.

I do have a cookbook that most recipes have about 15-25 ingredients… the stuff in that cookbook dances with flavor! I'll feature it sometime. But for now, we have…
Easy Cherry Tarts …from the 2003 Quick Cooking Annual Cookbook
1 tube (8 oz) refrigerated crescent rolls
1 pkg (3 oz) cream cheese, softened
1/4 cup confectioner's sugar
1 cup canned cherry pie filling (I used strawberry, it's better

And I also put it in the food processor to get rid of the big chunks)
1/4 tsp. almond extract
Place crescent dough on a lightly floured surface; seal seams and perforations.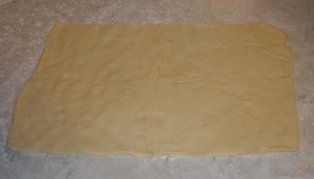 Cut into 2″ circles. Place in greased miniature muffin cups.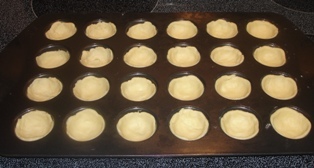 In a small mixing bowl, beat cream cheese and sugar until smooth. Place about 1/2 tsp in each cup.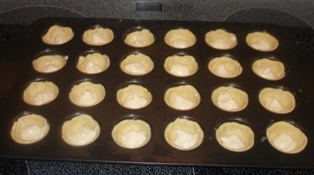 Combine pie filling and extract; place about 2 tsp in each cup.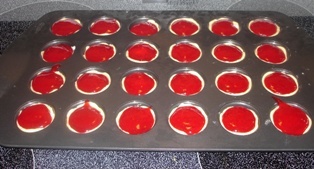 Bake at 375 for 12-14 minutes or until edges are lightly browned. Remove to wire racks to cool. Refrigerate until serving. Yield: 2 dozen.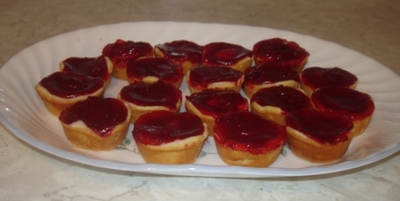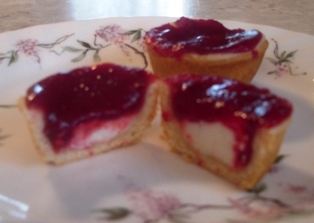 These little things are GOOD! And yeah, easy too! But mine did get a bit messy. The filling bubbled over out of the cups and they didn't look near as neat as they do in the cookbook.

But I would recommend them!