Posted on May 5, 2008
Filed Under Desserts, Main dishes
Today is Cinco de Mayo. I'm not going to go into that and show my ignorance in history. I do, however, know that it's not Mexico's independence day… For a long time, I thought it was because ours is "Fourth of July" and I thought maybe that's the format for independence holidays, using the date and putting the number first. Ok, now I'm showing some ignorance! Let's get to the food.
One of the lines often used to describe Mexican food is 'south of the border'. We live about as far north as you can get without being a Canadian, so around here if you use that term, you'd be most likely referring to the Canadian border, not the Mexican border. So, I'll stay away from using that line.
The first  recipe today comes from a Country Woman magazine, the Jan/Feb 2007 issue, to be exact. I was glad to see a couple of the things at the end of the recipe having 'optional' at the end. Guacomole: I've tried it, with an open mind, and I just cannot eat the stuff. Avacados are the same way. I got a Cobb salad one time and ended up picking out all the avacado and setting it aside. Black olives: they're ok, I don't mind them in stuff, but I don't eat them on purpose.
Don't be expecting Mexican crusine here… I don't eat REAL Mexican food except at restaurants. I love Mexican food! I get cravings for it, so it's unfortunate that we live 1 1/2 hours away from a Mexican restaurant, not counting the fast food ones like Taco Johns. Closest I come to making Mexican in my own kitchen is Wet Burritos, Steak Fajitas, Nachos, and now today: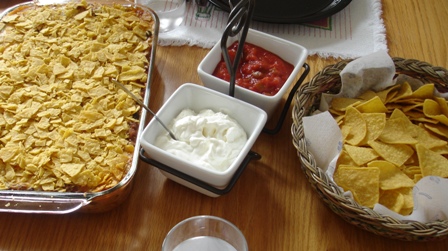 Mexican Lasagna
1 1/4 lbs ground beef
1 medium onion, chopped
4 garlic cloves, minced (I used the stuff from a jar, featured at the end of this crabmeat post)
2 cups salsa
1 can (16 oz) refried beans
1 can 15 oz) black beans, rinsed and drained
1 can (10 oz) enchilada sauce (I stared and stared at the shelves at the store till I finally found enchilada sauce!)
1 can (4 oz) chopped green chilies
1 envelope taco seasoning
1/4 tsp. pepper
6 flour tortillas
3 cups (12 oz) shredded mexican cheese blend, divided (I unded up using a bit more, maybe 4 cups or so)
2 cups broken tortilla chips
Sour cream, sliced ripe olives, guacomole, and chopped tomatoes, optional
In a large skillet, cook beef, onion, and garlic over medium heat until meat is no longer pink; drain. Stir in salsa, beans, enchilada sauce, chilies, taco seasoning, and pepper; heat through. Here's a picture before it got stirred. The hamburger is almost covered, but you should be able to see all the different ingredients so far, except the onion and garlic that's already fried w the hamburger.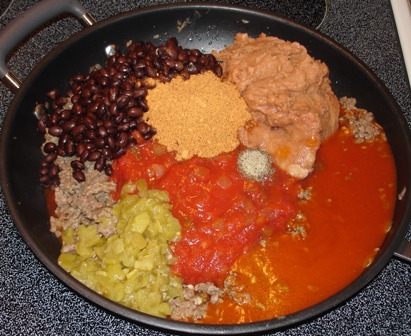 And here it is all mixed together. Looked like a tremendous amount of meat mixture for only 6 tortillas!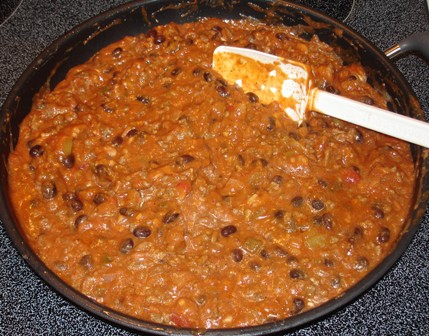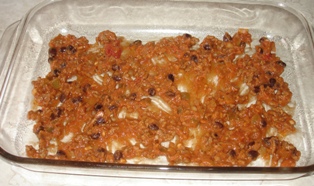 Spread 1 cup sauce in a greased 9×13 baking pan. Huh? Sauce? What sauce? There was no sauce in the ingredient list that doesn't get mixed in and it calls the meat stuff 'meat mixture'. But, I assumed it meant the meat mixture for the sauce anyway.

  Layer with 2 tortillas,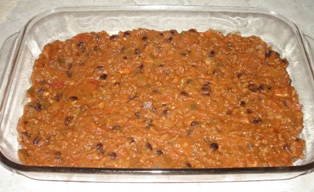 a third of the meat mixture,
and 1 cup of cheese.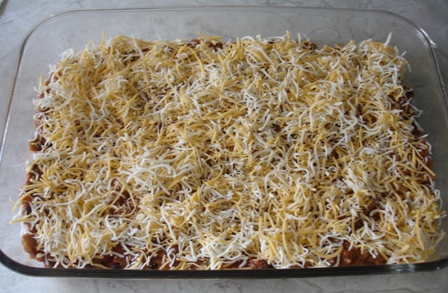 Repeat layers. Top with remaining tortillas and meat mixture. The pan will be FULL.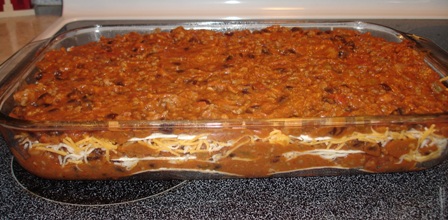 Cover and bake at 375 for 30 minutes.

Uncover; sprinkle with remaining cheese and top with tortilla chips. Bake 10-15 minutes more or until cheese is melted. Let stand 10 minutes before serving. I always like when recipes say that… gives me time to take pictures.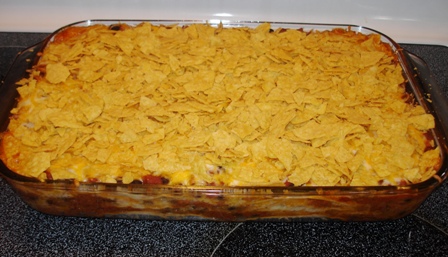 Garnish with sour cream, olives, guacamole, and tomatoes if desired. Yield: 12 servings.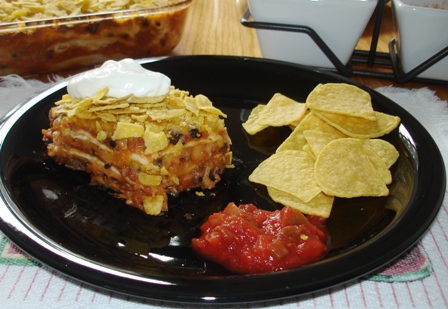 I was a bit leary about this stuff because of all the ingredients in the meat mixture, but it was really good! I'd make it again. Also, I think I'll try tweaking the Wet Burrito recipe to incorporate some of the ingredients that are in this meat mixture. The chips on top added a nice crunch. We also ate it with chips and Lexi thought it was funny that our chips were our forks, then we'd 'eat our forks along with the bite'. It's got some kick to it… made our noses run. It's very filling for no more than you eat.
And for dessert, we had:
Mexican Fried Ice Cream
1 pt. vanilla ice cream
1/2 cup crushed Corn Flakes
1 tsp. cinnamon
2 tsp. sugar
1 egg
Oil for deep frying
Honey
Whipped cream
Scoop out 4 balls of ice cream.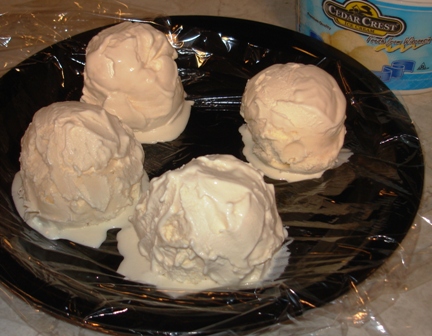 Return to freezer. Mix crumbs, cinnamon, and sugar. Roll frozen balls in crumb mixture and return to freezer.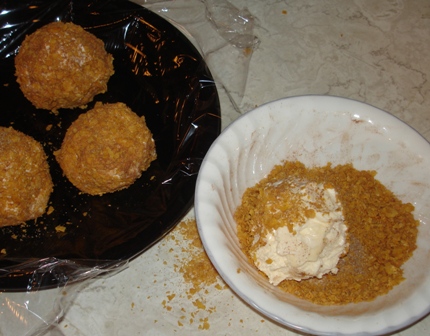 Beat egg and dip frozen balls in egg, then roll again in crumbs. (I had to make more of the crumb mixture, most of it was used up the first time I coated the balls.)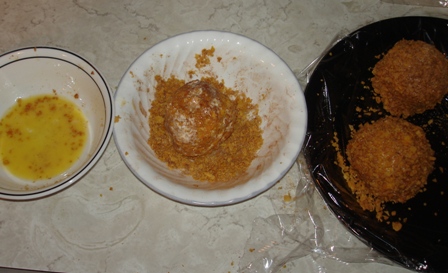 Freeze until ready to use. For thicker coating, repeat dipping in egg and rolling in crumbs. I did the extra coat. When ready to serve, heat oil to 350. Place 1 ball in oil. Fry for 1 minute. They floated, so I turned them with a fork a few times.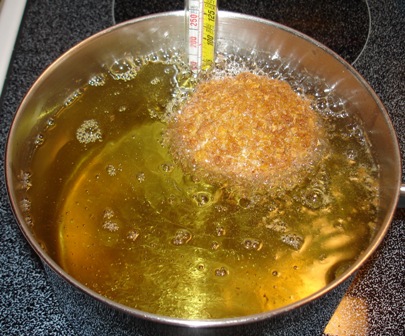 Remove from oil and place on dessert plate. I set it on a paper towel first to soak up some of the oil.   Drizzle with honey and top with a dab of whipped cream. Fry remaining balls one at a time. Balls will be crunchy on the outside and just beginning to melt on the inside. Yield: 4 servings.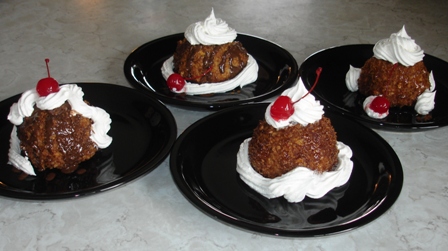 I couldn't help but put chocolate on a couple of them instead of honey. Crazy thing was, chocolate lover that I am, the ones with honey were much better!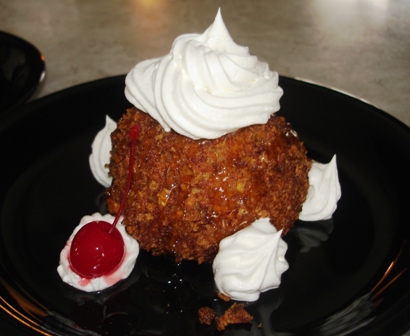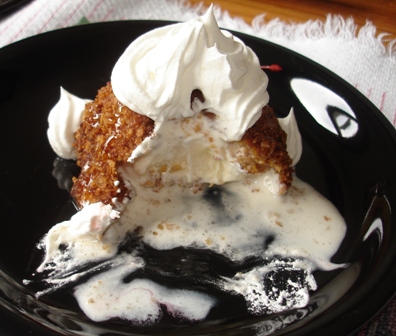 As Dora the Explorer would say, "Yum, yum, yum, yum, yum, delicioso!"
This was fun to make and of course tasted great, but I don't know that I'd go to the bother of making it again. It was kind of time consuming for only 4. It did settle my curiosity though that yes, you can put ice cream in hot oil for a whole minute, with only an 1/8″ wall of crust between the ice cream and oil, and not end up with a big melty oily mess. We were all pretty amazed.
Well, I need to go clean my kitchen and empty my sink. I mean, sinko. Oops, I mean, cinco.
Comments