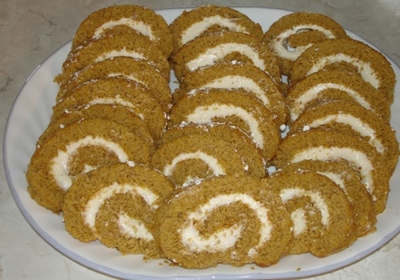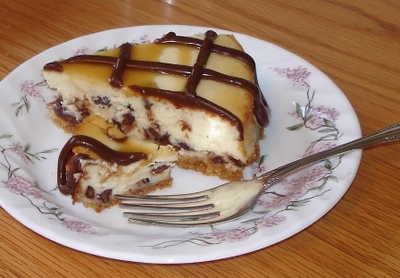 ———————————— First the old —————————————————–
I have made this recipe so many times and it turns out great every time. I don't know where it came from, it's handwritten (by me) in my blank cookbook that isn't so blank anymore!
Pumpkin Roll
3 eggs
1 c. sugar
2/3 c. pumpkin
1 tsp. lemon juice
1/2 tsp. salt
3/4 c. flour
1 tsp. baking powder
2 tsp. cinnamon
1 tsp. nutmeg
1/2 tsp. ginger
Beat eggs for 5 min. Gradually beat in sugar. Stir in pumpkin and lemon juice. Stir together dry ingredients. Fold into pumpkin mixture.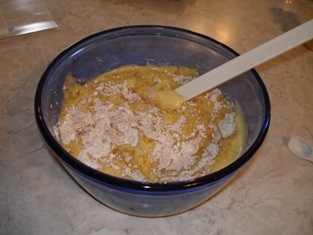 Spread in greased (I greased and floured it) 15″x10″ pan.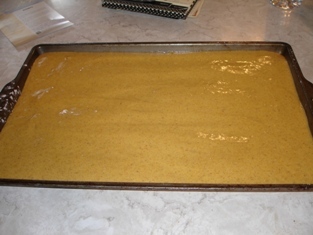 Bake @ 375 for 15 min. Turn out on towel sprinkled with powdered sugar. I usually run a pie server around under it to make sure it's loose before turning it onto the towel.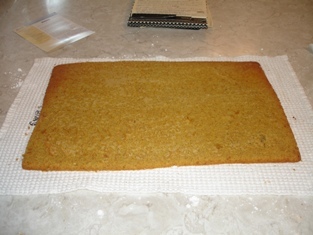 Roll towel and cake together. Cool.



Unroll and spread with filling.
Filling:
1 c. powdered sugar
8 oz cream cheese
4 T. butter
1/2 tsp. vanilla
Beat until smooth and creamy. Spread over cake.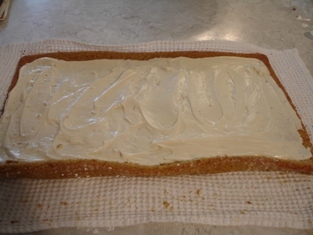 Roll and chill before slicing. I put it in the freezer to chill… the firmer it is to slice, the better. Well, I guess I've never had it frozen solid. It might not cut very easy then. You could roll it either way, it depends on how big you want the pieces to be.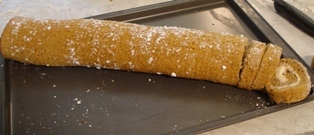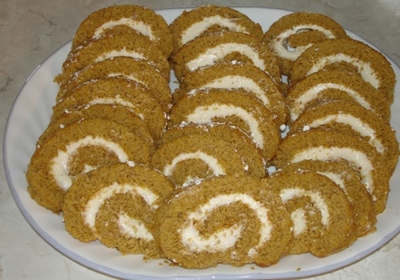 —————————————- And now the new ———————————————–
This recipe comes from an Easy to Bake Easy to Make recipe card. I did a bit of variation to it. Look at the pictures…I don't ned to tell you if it was good or not!

Easy Chocolate Lover's Cheesepie … I actually made it into a cheesecake instead of a cheesepie, so in this case, it's Easy Chocolate Lover's Cheesecake
3 pkgs (8 oz each) cream cheese softened
3/4 c. sugar
3 eggs
1 tsp. vanilla extract
2 c. (12 oz pkg) Hershey's mini semi sweet chocolate chips (I use regular-sized chips and used milk chocolate)
2 T. whipping cream
1 extra-serving-size packaged graham cracker crust (9 oz) (I mixed 1 1/4 c. graham cracker crumbs, 3 T. sugar, and 1/3 c. melted butter together and pressed it in the bottom of a springform pan. Then I chilled it in the fridge until I was ready to pour the batter in.)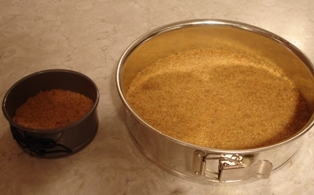 Heat oven to 450. Beat cream cheese and sugar until well blended. Add eggs and vanilla; beat well. Stir in 1 2/3 cups choc chips; pour into crust.

Note: I'm always asked to share some of my crust and batter when I use a springform pan because of my little helper in the kitchen with some of her own mini bakeware.
Bake 10 minutes. Without opening oven door, reduce temp to 250 (I don't have a window in my oven. You wouldn't believe how hard it was for me to simply turn the oven down and walk away!); continue baking 30 minutes or just until set. Remove from oven to wire rack.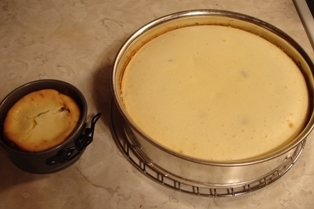 Cool completely. Cover; refrigerate until thoroughly chilled. Place remaining 1/3 cup choc chips and whipping cream in a microwave-safe bowl. Microwave on high 20 to 30 seconds or just until chips are melted and mixture is smooth when stirred. Cool slightly; spread over top of cheesepie. I put some caramel ice cream topping on, then piped the chocolate mixture on. I don't know that it was really any better, just felt like doing it that way.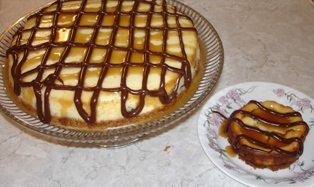 Refrigerate 15 min or until topping is set. Cover; refrigerate leftover cheesepie.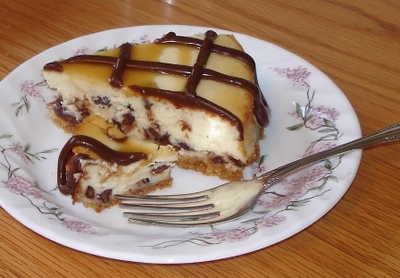 ——————————————- This and that ——————————————————
I just paged down and it's looking pretty desserty lately! Time to get some main dishes and side dishes on here again! We have not been just eating desserts!

Actually, all those desserts happened to be food to take away somewhere. Can tell what I like to make the best when I have to take food somewhere!
What are you having for supper tonight? Sometimes I'm stumped and I'm sure some of you are too. Let's have some suggestions for us all!

I have a ham in the fridge and am planning to make that for supper tonight. Not sure what's gonna go with it yet.