Posted on April 27, 2009
Filed Under Chicken and Turkey, Main dishes
Sometimes I feel stuck. In a rut. With cooking, that is. Well, other things too, but we'll just stick with cooking. ????
I have a certain style of cooking and I don't deviate from it much. I want to change that. Maybe doing some more 'Out of my Comfort Zone' foods would be a good idea. I don't make stir-able casseroles. Pretty much the only all-in-one casserole type things I make are wet burritos and lasagna. Other than that, it's sandwich-type things (like these melts) and most of the time it's meat, potatoes/pasta, veggies, and rolls. And I pretty much use the same seasonings too. So, this evening for supper, I was browsing a cookbook for new recipes and passed up the Chinese Beef and the Sirloin Squash Shish Kabobs and landed on something 'safer' like Chicken Cheese Melts. I use way more chicken breast than any other meat and I never buy the dark meat unless I get a whole rotisserie chicken. Other meats I keep on hand and regularily use are ham, ground beef, beef roasts, and bacon. And that's pretty much it. Other kinds of meat are very rare. Over the summer (think, more grilling), I buy pork chops, brats, and steaks.
Do you think I need a bit of help here with diversity?

  What's your style of cooking? I'd love to hear it! Tell us in the comment section!
Meanwhile, here is a recipe using exotic ingredients like chicken breast, butter, cheese, and bread. Just kidding about the exotic part. This recipe comes from my newest cookbook, which I've owned for a little over 48 hours now… What's Cookin', compiled by the Schlabach family. Makes it more fun because I'm good friends with some of these Schlabachs. And I like seeing their names under a recipe now and then.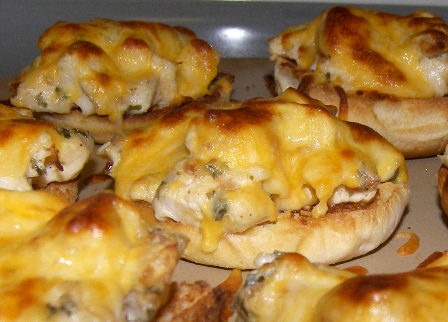 Chicken Cheese Melts
1 cup chicken, cooked and chunked (I used more like 1 1/2 cups, you can never go wrong with more meat ???? )
1/4 cup margarine, melted (I used butter)
1/4 cup sour cream
2 Tbsp. onion, chopped
1 Tbsp. parsley flakes
Shredded cheese
Saute onions in margarine briefly.

Mix together all ingredients.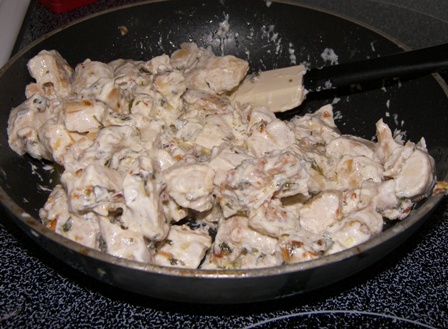 Put on slices of French bread or any other bread. I used hamburger buns. And toasted them first.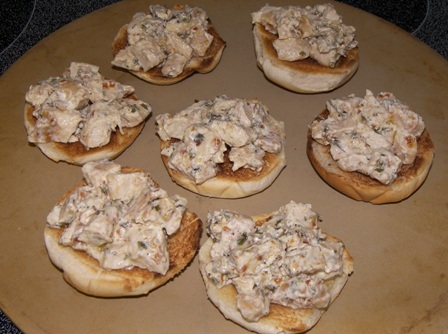 Top with cheese.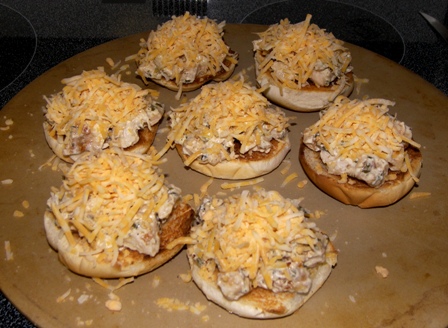 Bake at 350 until cheese is melted. The cheese was melted after about 5 minutes, but then I turned on the broiler because I like cheese to have a bit of browning on top.


These, by the way, got rave reviews and were thrown into the 'Yum! Make again!' category. And they were easy and fast too, esp since I pulled chunked up fried chicken breast out of the freezer.
Now, I wanna hear about your this-is-the-norm-for-me cooking. Also, do you plan menus? I've seriously thought of doing that. Seems like that would eliminate the 4:00 p.m. staring in the fridge/freezer/cupboards/cookbooks for a supper idea!
Comments